We believe the REIT market has gotten extremely inefficient with Medical Properties Trust (NYSE:MPW) serving as a prime example. We will open by detailing the environment which has facilitated the mispricing and follow with the buying opportunity at MPW.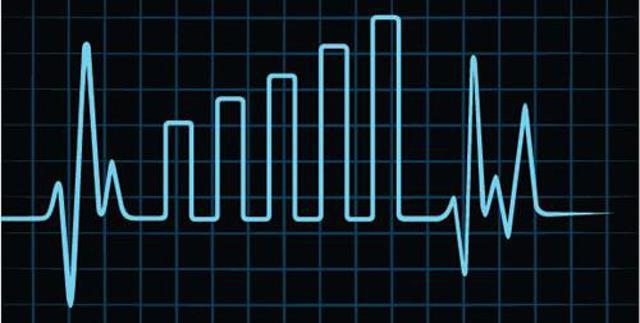 Theoretical justification
A market remains efficient or at least somewhat efficient when there are enough rational participants correctly weighing the known information. Recently, however, this relationship has broken down due to a reduced ratio of intelligence to information.
Information flow has increased exponentially with the advent of real-time reporting technology, yet the quantity of intelligence has remained relatively constant. While people may be slightly more educated now than in previous generations, the physiological capacity of the brain remains largely unchanged. There is an inherent tradeoff between breadth of information and depth of information, so as the ratio of intelligence to information drops, the depth of analysis necessarily becomes either more shallow or ignores large chunks of information. Given the current barrage of powerful macro factors, I am inclined to believe that most analysts are choosing to be broad and shallow.
This leads to stocks trading on their category rather than their company specifics; a behavior expected of top down analysts, but now even a fundamental analyst would look at the fundamentals of the company's category and may be stretched too thin to look at the specifics. We believe this effect is even more pronounced in the REIT space which has very few dedicated analysts relative to other sectors of the economy.
Consequently, REITs have been trading almost entirely on macro factors with minimal intra-industry deviation.
Clear-cut example
Medical Properties Trust reported 4Q15 earnings on the 2/9/16. It was a stellar report with MPW beating on both FFO and revenue and reporting solid operating metrics across its property portfolio. Its stock, however, closed down 3.58%.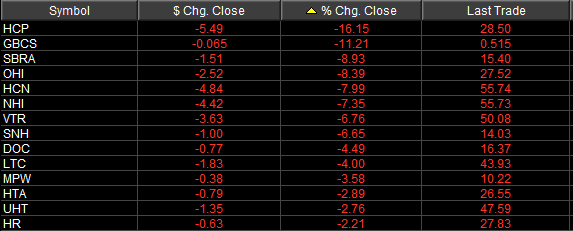 It so happens that fellow healthcare companies HCP inc (NYSE:HCP) and Brookdale Senior Living (NYSE:BKD) reported around the same time, each giving weak guidance for 2016. Healthcare REIT tenants like Manor Care and Genesis, etcetera are having some difficulty operationally which in turn increases the risk to their leases with the healthcare REITs.
Digging deeper, we can see that MPW is not exposed to either troubled tenant and it has a different property type altogether. MPW's hospitals have materially different fundamentals than the SNF and senior living assets of HCP and BKD. Therefore, the threat expressed by the other companies should not affect MPW's price, but in a world where anything is correlated with everything, the macro trend sellers overwhelmed the fundamental buyers causing MPW to sell off with the rest.
Those who read the MPW report may suggest that it was trading down on their weak guidance which came in at $1.29-$1.33 as compared to consensus estimates of $1.33. I disagree with this view as the 2016 weakness is directly related to MPW's strategic choice to reduce leverage by as much as $500mm and to term out its debt. With the ten year treasury at 1.73%, MPW is picking an excellent time to term out its debt, locking in the low rates. This deleveraging is intended to be financed with asset sales at prices materially above book value.
A reduction of leverage is also quite reasonable as MPW is above its target leverage due to financing its recent European acquisitions with debt. Given the increased cost of long term debt as compared to credit facility debt and the anticipated sale of properties, it is actually quite impressive that FFO is still expected to come in above 2015 levels.
Opportunity
Given the unwarranted recent selloff, MPW is trading at just 7.8X its fresh guidance. We see this as absurdly cheap given that MPW's operational fundamentals are arguably the best in the sector with tenant EBITDAR coverage of 3.7X. Take advantage of the market's mistake by buying at the freshly exaggerated discount.
Disclosure: 2nd Market Capital and its affiliated accounts are long MPW. I am personally long MPW. This article is strictly for informational purposes. It is not a recommendation to buy or sell any security and is strictly the opinion of the writer.
Disclosure: I am/we are long MPW.
I wrote this article myself, and it expresses my own opinions. I am not receiving compensation for it (other than from Seeking Alpha). I have no business relationship with any company whose stock is mentioned in this article.