The current economic conditions are making it extremely difficult for the investor to find value in the stock market. Many analysts are predicting that this is the beginning of a bear market, and that company valuations which are unrealistically high will continue to correct over a period of time.
Despite all this uncertainty, the pharmaceutical and healthcare sector has a strong demand-side pull. The recent outbreak of Ebola in Africa and the spread of the Zika virus in South America has attracted global attention and increased public demand for investments in healthcare and pharma research. Therapeutic areas like diabetes, oncology and personalized medicine are attracting significant investments. All these factors will combine to make this a relatively recession-free sector.
The last two years also saw several merger & acquisition (M&A) deals in this sector.
However, investing in a specific company in this sector can be very challenging as well as risky. ETFs can help to diversify this risk. The PowerShares Dynamic Pharmaceuticals Portfolio ETF (NYSEARCA:PJP) tracks the Dynamic Pharmaceuticals Intellidex Index. PJP is a quantitative ETF which is designed to create value through dynamic indexing. It is a methodology that is designed to identify stocks within a particular market segment that have the greatest potential for capital appreciation.
Traditional indexing methods use market cap- and float-weighted methodologies. This may not lead to a well-diversified portfolio. The Intellidex methodology, on the other hand, evaluates companies based on various criteria, such as:
Price momentum
Earnings momentum
Quality
Management action
Value
PJP has a portfolio of 23 companies. These companies are principally engaged in the research, development, manufacture, sale or distribution of pharmaceuticals and drugs of all types. The fund as well as the index are rebalanced every quarter. Rebalancing ensures that the holdings are always in line with the index criteria.
The top 10 holdings of this ETF are as follows: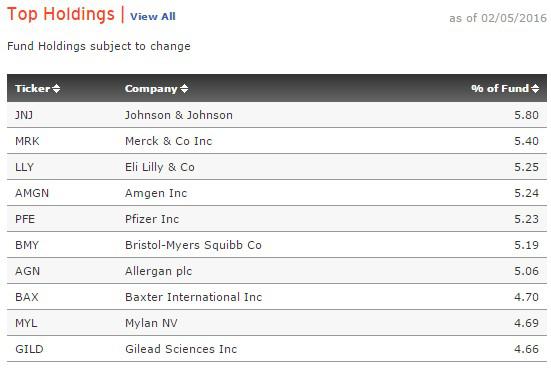 (Source: Invesco)
The fund's market cap allocation is as follows: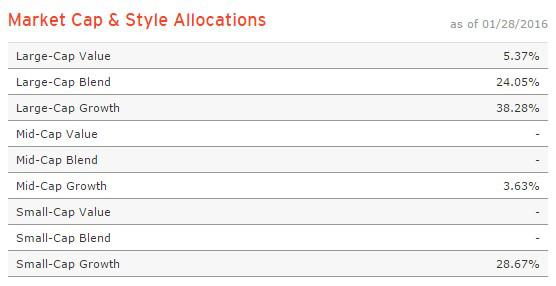 (Source: Invesco)
PJP has a good balance of large-, mid- and small-cap growth and value stocks. This lowers the risk and also ensures that the buyer has exposure to the entire sector.
Earnings analysis
The table below shows the earnings analysis of PJP as on January 31st, 2016. As we can see, the fund has delivered a 3-year annualized return of 22.58% and a 5-year annualized return of 25.13%. This is despite the current choppy market conditions. The dividend yield for 2015 was 4.46%, which is one of the highest for this sector.
While it may appear that the fund has delivered a negative return in the last year, if you factor out the impact of the current market turbulence, the return for the year December 15th, 2014 till December 15th, 2015 is +8.6%.

The chart below shows that PJP has continuously been on an upward trend since 2010.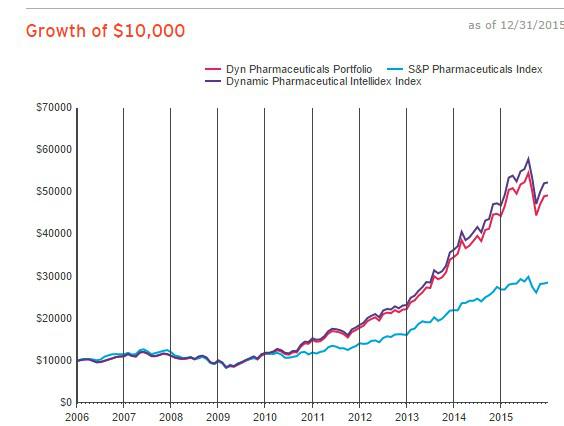 (Source: Invesco)
Valuation
PJP has a P/E ratio of 26.78. Considering the current S&P 500 P/E ratio to be around 20, the valuation seems to be on the higher side. However, the ROE on December 2015 was 47.83%, which can be considered to be very good.
Bottom line:
Actively managing your investments is essential when the market volatility is high. The Intellidex indexing methodology will ensure that your funds are always invested in good-quality stocks.
The high dividend yield definitely comes as a bonus.
The slightly higher expense ratio and P/E ratio are justified considering the high ROE and the past return that the fund has delivered.
High return, a good dividend and strong demand will ensure that investors who are willing to ride out the short-term market turbulence can benefit in the mid to long run. Considering that this fund has lost nearly 20% in the last 50 days, it is a strong value buy.
Disclosure: I/we have no positions in any stocks mentioned, and no plans to initiate any positions within the next 72 hours.
I wrote this article myself, and it expresses my own opinions. I am not receiving compensation for it (other than from Seeking Alpha). I have no business relationship with any company whose stock is mentioned in this article.
Additional disclosure: I am not a investment advisor. This is not to be considered as a investment advise.