As has become an annual tradition, Tesla (NASDAQ:TSLA) opened the year by promising that this is finally the year when it will show profits and positive cash flow, this time driven by its new minivan, the Model X. It also posted a record quarterly loss: $320 million.
Meanwhile, in honor of Tesla losing a record $320 million in the quarter, Nissan (OTCPK:NSANY) didn't waste any time by launching a new 5.6 liter, V8-powered SUV that may yield 19 MPG just minutes after Tesla's conference call ended.
Speaking of Nissan, earlier in the day, it had already started taunting Tesla by reporting $3.7 billion in net income for the nine months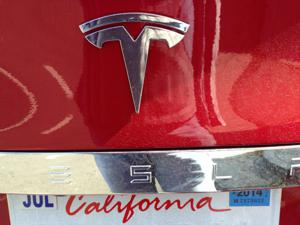 ending December 2015. During the same nine months, Tesla racked up losses of $734 million. Ouch.
We already knew how many cars Tesla had sold in the December quarter, for it reported an estimate of this metric already on January 3. At 17,478 cars, it was up 51% from the previous quarter. That's an annual run-rate of almost exactly 70,000 cars.
One would think that with such a huge percentage increase in sales, the loss per car would have dropped dramatically from the previous quarter's $19,810 per car. As it turns out, it dropped only fractionally from the all-time high, as you can see in the table below:
| | | | |
| --- | --- | --- | --- |
| | GAAP loss | Cars sold | GAAP loss per car |
| 4Q 2015 | $320,397,000 | 17478 | $18,331 |
| 3Q 2015 | $229,858,000 | 11603 | $19,810 |
| 2Q 2015 | $184,227,000 | 11532 | $15,975 |
| 1Q 2015 | $154,181,000 | 10045 | $15,349 |
| 4Q 2014 | $107,629,000 | 9834 | $10,945 |
The loss per car fell only from $19,810 to $18,331, despite the annualized sales volume increasing from a little over 46,000 to 70,000. What does that tell you in terms of what it will take to get to breakeven?
The negative free cash flow was a lot better this quarter than previously. It was essentially cut in half, from $51,344 per car to $25,236 per car.
| | | | |
| --- | --- | --- | --- |
| | Negative cash flow | Cars sold | Negative cash flow per car |
| 4Q 2015 | $441,071,000 | 17478 | $25,236 |
| 3Q 2015 | $595,743,000 | 11603 | $51,344 |
| 2Q 2015 | $564,681,000 | 11532 | $48,966 |
| 1Q 2015 | $557,854,000 | 10045 | $55,535 |
| 4Q 2014 | $455,063,000 | 9834 | $46,274 |
How come this good news? In the December 2015 quarter, Tesla sold 3,441 more cars than it produced - "only" 14,037 cars. You can make whatever assumptions you want with respect to the extra cash flow coming from those 3,441 cars sold from existing inventory. If you think Tesla got $75,000 for each of those inventory cars, that's $258 million. The number could be higher or a lot lower, but the point is that it doesn't take all that much to see that adjusted for this factor, Tesla's negative cash flow per car sold may not have been down all that much from previous quarters.
In the end, the financial results are the bottom line. Gross margins are interesting, depending on how they are defined, but nobody gets paid in terms of gross margin. The only thing that pays any shareholder back is the net margin. So how has the net margin evolved over the last five quarters?
| | | | |
| --- | --- | --- | --- |
| | GAAP revenue | GAAP losses | GAAP negative margin |
| 4Q 2015 | $1,214,379,000 | $320,397,000 | 26.38% |
| 3Q 2015 | $936,789,000 | $229,858,000 | 24.54% |
| 2Q 2015 | $954,976,000 | $184,227,000 | 19.29% |
| 1Q 2015 | $939,880,000 | $154,181,000 | 16.40% |
| 4Q 2014 | $956,661,000 | $107,629,000 | 11.25% |
That's the fundamental problem with Tesla's finances, in one table. The net losses have steadily expanded as a percentage of revenue, from "only" 11.25% a year ago, to 26.38% now. Perhaps, they can now turn around and start the march to positive territory, but it sure has not happened yet!
This worsening bottom line has its roots in the falling gross margin. As you can see in the table below, it's been going from over 27% a year ago to 18% now. That's devastating.
| | | | |
| --- | --- | --- | --- |
| | GAAP revenue | GAAP gross profit | GAAP gross margin |
| 4Q 2015 | $1,214,379,000 | $218,564,000 | 18.00% |
| 3Q 2015 | $936,789,000 | $231,496,000 | 24.71% |
| 2Q 2015 | $954,976,000 | $213,370,000 | 22.34% |
| 1Q 2015 | $939,880,000 | $260,073,000 | 27.67% |
| 4Q 2014 | $956,661,000 | $261,697,000 | 27.36% |
Again, it's entirely possible that the company can and will turn this around, but this last quarter was devastating not just to the bottom line, but also to the gross margin.
Yet, the stock traded up approximately 10% in the immediate reaction to the earnings report and conference call. What gives?
First of all, does that 10% immediate jump sound familiar? It should. I took that paragraph straight from last quarter, when the stock was close to 50% higher.
The stock jumped a similar 10% this time for largely the same reasons as the last time. First, the bar is naturally lower in such a heavily shorted name that's seen such a spectacular decline over the last six months. At some point Wednesday, the stock was down approximately 50% from where it had been ($280 to $140, basically).
The other reason is the happy-talk around improving gross margin, net margin and cash flow, that the company is promising for the future, as usual. It all starts with the number of units of cars sold. The company guided to 80,000-90,000 for the year, a heroic number indeed, compared to the 50,568 in 2015. At the mid-point, that implies growth of 68%.
However, if you compare the 2016 guidance to the annualized 2015 exit rate - approximately 70,000 - the 85,000 number doesn't look quite so impressive. More like 21.5%. Solid to be sure, but many other auto brands and major product lines put up numbers of that general magnitude in 2015, and from far more elevated starting points.
The conference call and what's important: All about the Model 3
There was much to be said on the conference call (link is to conference call Webcast), and I encourage everyone who hasn't already listened to a replay or read the transcript to do so. As far as what I think will serve as a stock impact for the next 90 days, however, I think there were only two things that were of real importance:
The Model 3 unveil on March 31
Tesla set the date of the Model 3 unveil to March 31 and now had to clarify what it will really show at this event. In my view, this is a huge swing factor. At the heart of it, Tesla is a product story, so what the product is that they will show, will be of paramount importance.
Until less than two weeks ago, I had thought that Tesla was going to show "the whole thing" - at least one fully functioning car, potentially also the crossover version one might expect to hit the market 1-2 years after the initial Model 3 version. But then, CEO Musk made remarks to the effect that we would not see the whole thing - whatever that means - at this event in March.
Opinions differ as to whether this means we will only get to see a picture, only a "shell" of a car, perhaps with blacked-out windows, or whatever else that would fall short of "the whole thing." There are two ways to think about this:
Positive
Let's assume that Tesla shows "the whole thing" - just like it did at the Model X reveal on February 9, 2012. That would maximize Tesla's ability to get deposits, which presumably would be the best outcome for the stock and the ability to raise more money at a higher valuation.
Negative
By showing the Model 3, Tesla would reduce current demand for the Models S and X. Tesla got that question on the conference call, and insists that cannibalization is not a concern. They point to the thesis that the Model X has not cannibalized the Model S. Well, considering that the Model X has barely begun shipping - a few hundred to date - we cannot really know this one way or the other.
More importantly, the Model X is more expensive than the Model S, with the models now in production carrying Monroneys of up to $160,450. It was also a more controversial design than the universally-beloved Model S. In contrast, the Model 3 will be half the price of the Model S. It should be obvious that what held true for the Model X, does not at all hold true for the impact of the $35,000 Model 3.
In other words, there is a downside to Tesla showing the Model 3 this early. Basically, it could cause many people to skip on the idea of buying a $71,200-$160,450 Model S or X, that happens to be 77.3 or 81.6 inches wide, in favor of a $35,000 car that will fit in smaller spaces.
That's the difficulty in Tesla's position right now: Show the Model 3 and take the most deposits, or not show so much and save the current Model S and X sales.
The cost of the Model 3: Is $35,000 feasible?
The subject of the feasibility of the $35,000 Model 3 is a long and sore one, going back years. It's been covered, pro and con, by several people on Seeking Alpha in numerous articles.
The subject came up again on the 4Q 2015 conference call. The challenge was answered basically this way: The Model 3 will be, conceptually speaking, 20% smaller than the Model S. Furthermore, there will be 30% additional cost savings resulting from scale, efficiencies and other technical advancements. Voila! There you have a 50% reduction in cost (20% plus 30%).
As a result, the price goes from $70,000 with today's Model S to $35,000 for the Model 3.
Sounds good, right? Well, not really. Did you already forget that Tesla just lost $18,331 per car sold this quarter alone? Cutting these costs 50% will not do the trick.
The bottom line: Where do EPS estimates go?
The 4Q report had a lot of happy talk about turning things around - this year, it's supposed to be for real. It remains to be seen whether the market will believe it this time.
In the meantime, the thing to watch will be this: Where do 2016 EPS estimates go? Do they go up or do they go down, on the back of this report? We'll know in a few hours.
Disclosure: I am/we are short TSLA.
I wrote this article myself, and it expresses my own opinions. I am not receiving compensation for it (other than from Seeking Alpha). I have no business relationship with any company whose stock is mentioned in this article.
Additional disclosure: At the time of submitting this article, the author was short TSLA. However, positions can change at any time. The author regularly attends product launches, press conferences and equivalent, sometimes hosted in whole or in part by the automakers.