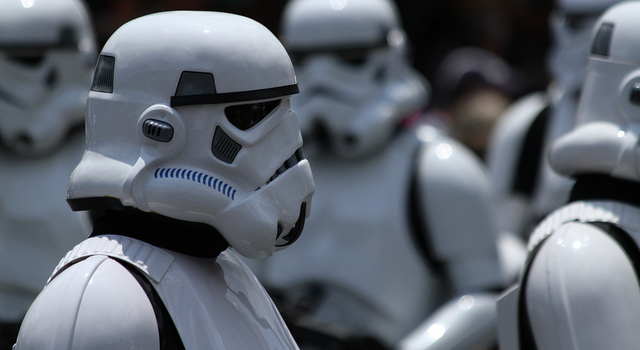 I recently reviewed some of the bullish and bearish arguments surrounding media conglomerate Walt Disney (NYSE:DIS).
My fair target was set at $92.54. The stock had been sitting below here for a couple of days leading up to the Q1 2016 results. Now, as I scribble away, in after-market trading it is currently trading down a further 2% at $90.
Why? Well, we'll have a quick look to see to what extent this is justified, and whether the Q1 results should see me finally opening a position in the House of Mouse or whether it should see me scurrying away from Disney.
Let's take a look.
Strong Revenue Growth
Disney has done very well on the revenue front. All sectors saw sizeable revenue growth: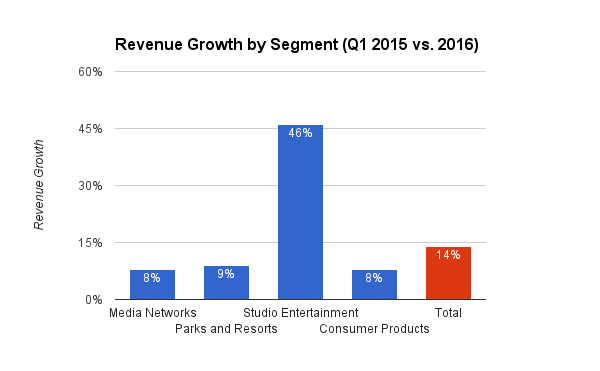 Clearly, the studio segment saw the greatest uplift riding high on the Star Wars franchise. It was not just the new movie which helped propel revenues, but the legacy movies too.
However, taken from an operating income perspective, the laggard which seems to have fed the negative sentiment in Disney rears its heads again: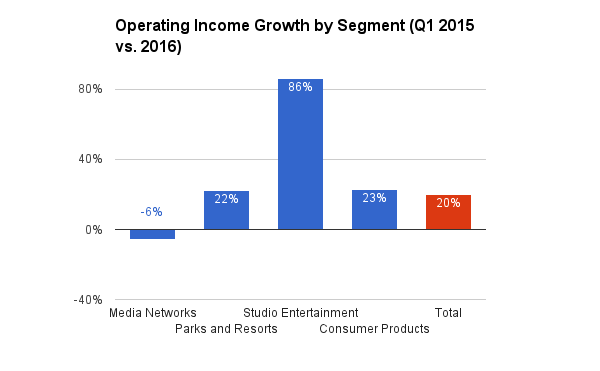 Parks and Resorts benefited from the fact that the quarter ended on 2nd January, 2016 compared to the 27th December, 2014 end for Q1 2015. As a result, the New Year's holiday period fell in the Q1 2016 period this year. Nonetheless, it is clear that the performance of Disney's second-largest segment by revenue was going strong.
The Media Segment Hits Disney Again?
Again, it is the media networks segment which seem to have hit Disney from a market perspective. This is understandable, as I have noted previously, as the media networks segment remains by far the largest: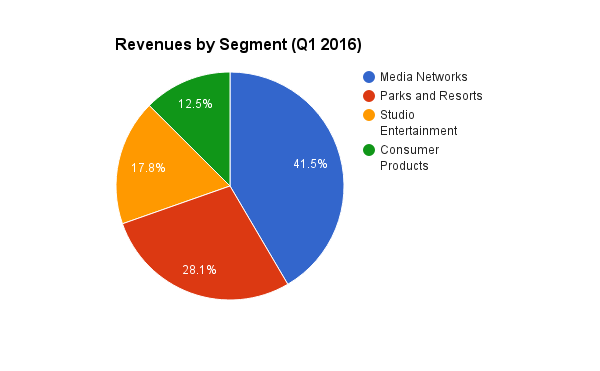 ESPN again led the worrying way in this. Certainly, as I noted in my last article, one thing which had allayed my fears here was that revenue and EBIT had continued to grow as subs declined. With income falling in Q1, my worries may be judged to have grown. Not quite.
Why? Well, there were mitigating circumstances for this operating profit decline:
The decrease at ESPN was due to higher programming costs, partially offset by an increase in advertising and affiliate revenues. Results for the quarter were negatively impacted by the timing of our fiscal quarter end relative to when College Football Playoff bowl games were played, which resulted in an increase in programming costs and advertising revenues. Six CFP games were aired in the current quarter that were aired in the second quarter of the prior year.
This is fair enough. It should mean that there will be a reverse movement in Q2 2016 which everyone will be looking for.
Also, despite no specific subs details being provided by this quarterly update, Disney CEO Bob Iger did note in the earnings call that:
Turning to a subject that has gotten a lot of attention lately, ESPN and the status of the bundle. In the last couple of months, we have actually seen an uptick in ESPN subs which is encouraging.
However, as the "uptick" was only recent:
The uptick that we talk about really didn't have much of an impact on this quarter. So what we believe we've seen or what we have seen, recently is that subscriber trends going in the negative direction have abated somewhat. We're not making any predictions about them going forward, because we really don't know.
Previously, I noted that Disney may well continue to see a secular decline in its subs, but that the company's pricing power should see the impact for the next few years fairly limited. The reactions to ESPN-related details still seem extremely exaggerated. I therefore can't help but agree with Iger when he says:
We just feel great about the product and we believe that, again, the projections that many have made are more dire than they should be.
In the short to medium term, I agree. It is a product which will continue to appeal to large numbers of people, and will thus be able to pull in subs even if growth has to be derived from pricing rather than subs.
Long term, I suspect a spin-off or sale will be in the offing. But right now, things just do not look as bad as the share price declines or analyst calls suggest. For me, this does not detract from the investment case for Disney.
Super-Strong Cash Flow Performance
The overly negative response to come of the headwinds facing Disney in the media networks space is really highlighted when we dig deeper in the fundamentals of the Q1 2016 results.
For instance, the company continues to see incredibly strong cash flows: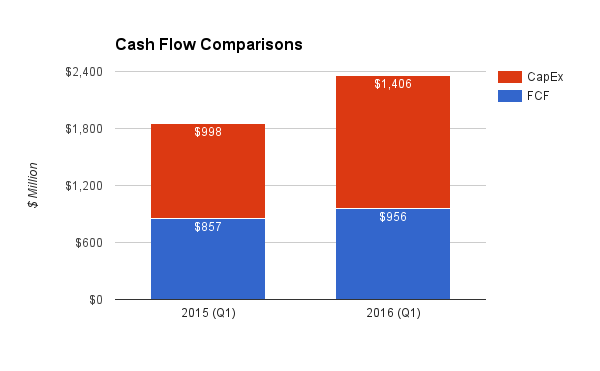 In other words, operating cash flow was 27% higher than the same time last year at $2.36 billion (in 2015, it was $1.85 billion).
Free cash flow saw a more modest growth at about 11.5%, because, as you can see, CapEx was much heavier (40%, in fact) in Q1 2016 than in 2015.
Why? Well, the biggest cash flow drain was the Parks and Resorts segment. CapEx here grew from $877 million in Q1 2015 to $1234 million in Q1 2016. As the company noted in the quarterly report, this was:
primarily due to higher construction spending for new attractions at Walt Disney World Resort, Disneyland Resort and Hong Kong Disneyland Resort, partially offset by lower construction spending for the Shanghai Disney Resort.
Again, this is encouraging to see. Disney is investing heavily in the Parks and Resorts segment, which continues to see excellent growth. It is a unique segment, and one which really reflects the power of the intellectual property. The company's expansion beyond traditional Western parks is a welcomed CapEx.
I'd also to expect CapEx begin to come back down in coming years, which will help turbocharge FCF growth in the near future. All good, in my eyes.
Strong CROIC
This is not all. Disney also saw a strong CROIC (cash return on invested capital) performance in this quarter.
This is quite remarkable considering the fact that two aspects worked against it. First, the significant leap in CapEx noted above. Second, invested capital (the sum of its debt and equity) grew about 3.5% from this time last year, largely due to a $2.4 billion lift in debt levels.
Despite this, the massive operating cash flow growth saw its CROIC expand from 1.41% in Q1 2015 to 1.52% in Q1 2016.
Ok, this is not a massive improvement. However, it does mean that the company produced $15.20 in FCF for every $100 of capital invested, as opposed to $14.10 in 2015.
What this does mean is that Disney has a good chance of improving its cash generation efficiency, judged by its CROIC to above 11% for the year again. This would be the first time since 2013, from when it has seen modest declines: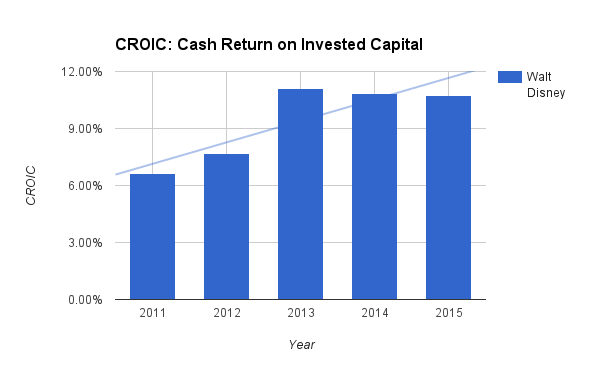 This is precisely what I want to be seeing, and certainly prods me closer to opening an investment in the company.
Operating Profit Margins Continue to Expand
The margins were no less great to see. Q1 2016 has seen margins expand heftily above both the equivalent margins of FY2015 and the same quarter last year: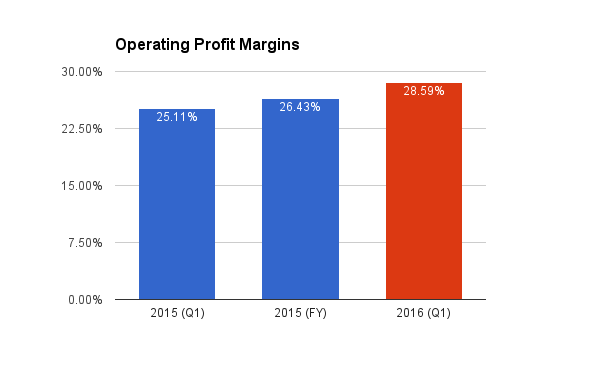 Margins are now over 2% higher than they were at the end of FY2015 and over 3% higher than they were at the same time last year. Again, this emphasizes the pricing power that Disney has.
It brand portfolio is strong, and its ability to leverage that to increase margins is very impressive. The company has continued to prove adept at using this power to generate stunning results despite headwinds in the economy at large and within certain aspects of its business.
Buybacks Accelerate
Also interesting for long-term investors is that Disney has taken advantage of weaker share prices in deploying quite heavily its buyback authorisation.
In Q1 2015, the company returned a fairly significant $1.3 billion to shareholders. This was a buyback yield of about 0.81%.
In Q1 2016, this had been hiked further to $2.35 billion - a buyback yield of around 1.35%.
With share prices having dropped even further since, I suspect to see Disney up its buyback program further in Q2. The company's buyback yield has averaged 4% over the last five years. I would be surprised if it were not around similar levels this year, especially in light of the moves already made in Q1.
With the dividend yield now sitting at nearly 1.3% as well, Disney continues to look an extremely generous company to its shareholders. Some may wish the dividend was higher, but I find the admittedly mixed diet of shareholder return attractive for long-term investors.
Conclusion
Overall, I am pretty impressed with the Q1 2016 results. Media segment performance continues to disappoint. However, some encouraging noises were coming from Iger and the team that ESPN subs declines, in particular, have been stabilizing at least in the last few months.
Long term, I still suspect ESPN and Disney's futures will be separate. But right now, it remains an attractive facet of the business. News of its death have - as is often the case - been exaggerated. However, it continues to deflect attention from the remarkably strong performance experienced across the business as a whole.
The cash flow performance really impresses me and means that I have to make some adjustments to my valuation. I think FCF of around $7 billion is highly likely come the end of the year. Using this figure alongside the company's historical enterprise to FCF valuation over the last five years (22.85) provides me with a revised fair value of $95.27.
Would I buy right now? Yes, I would. Sitting around the $90 mark, it offers a historical P/E valuation of just 17.5. This seems good value for a business that continues to see extremely strong revenue and cash flow growth. I can find little to fault with Disney from a fundamental perspective, and now that it is in the low $90s, I find the valuation hard to fault too.
More share price weakness may be coming in the short term. However, right now I'd consider the company fairly valued and attractive to begin opening a position. It is a great company with great intellectual property and a remarkably resilient growth future. There is little not to like!
Notes: Unless otherwise stated, all graphs and the calculations contained within them were created by the author. Creative Common image reproduced from Flickr user gordontarpley.
Disclosure: I/we have no positions in any stocks mentioned, and no plans to initiate any positions within the next 72 hours.
I wrote this article myself, and it expresses my own opinions. I am not receiving compensation for it (other than from Seeking Alpha). I have no business relationship with any company whose stock is mentioned in this article.