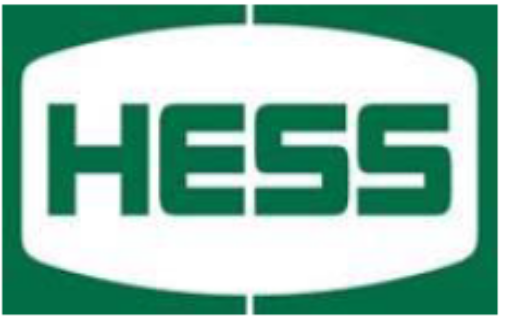 Source: Hess Corporation
There was a particular quote from Hess Corporation's (NYSE:HES) Q4 2015 conference call that caught my attention. John Hess, the CEO, stated (emphasis added);
"Our focus is on value not volume and we do not think it makes sense to accelerate production in the current price environment, particularly given the recent further deterioration in the oil markets."
That is exactly the kind of mentality needed right now in the oil & gas market. Beyond the rhetoric, Hess plans to follow through with its fiscal discipline. The company will cut its E&P capex spending levels down to $2.4 billion this year versus $4 billion in 2015, which was down from $5.3 billion in 2014. When an upstream player's realized prices are lackluster, there is little reason to boost output if that operator could instead crank down expenditures.
Hess Midstream Partners LP, Hess' midstream JV that it owns half of, is spending $340 million on capex this year. $40 million - $50 million of that will come from Hess. Plans are still in the works for an IPO "when market conditions improve."
On the production side of things, Hess pumped out 368,000 BOE/d in 2015 (excluding Libya and asset sales, up 18% versus 2014). That will slip down to 330,000 BOE/d - 350,000 BOE/d this year, but there is always room for some upside through continued operational gains that helped prop up its shale production volumes in last year. While Hess will produce less hydrocarbons, a 40% reduction in capex levels will help shrink its cash flow shortfall.
Financials and shareholder dilution
Hess, after its $3 billion cash infusion from selling off half of its midstream assets, ended 2015 with $2.7 billion cash on hand. That provides the company with a very strong liquidity position that isn't dependent on accumulating debt and thus additional interest payment liabilities. A $4 billion revolving credit facility that is currently undrawn further enhances Hess' liquidity position, offering plenty of financial flexibility regardless of where energy prices go.
With a debt load of $6.5 billion, that is something to watch. Low oil, natural gas, and natural gas liquids prices compelled Hess to keep its cash infusion from its midstream move. This was so Hess could have the financial flexibility to ride out the storm, instead of paying down its debt, which increased from $5.9 billion at the end of 2014. However, management is still wary of Hess' debt load.
On February 4, the company announced that it was going to issue out an additional 25 million common shares and 10 million depositary shares worth 1/20th of its Series A Mandatory Convertible Preferred Stock (worth $50 per depositary share). That will raise around $1.43 billion, depending on whether or not its underwriters decide to purchase an additional 3.75 million common stock and 1.5 million depositary shares. Shares will take a hit in the short term, as Hess dilutes existing shareholders, but it will provide the company an even larger war chest during the bottom of the downturn.
Some big questions arise from this recent move, including does Hess not see a pricing recovery anytime soon and feels the need to protect its balance sheet? Is there a possible acquisition in the works? The press release noted (emphasis added);
"Hess plans to use the net proceeds from these offerings to strengthen the Company's balance sheet and for general corporate purposes including funding its longer term capital needs and the cost of the capped call transactions described below."
Taking that at face value, Hess appears to want to either bring down its debt load and/or bolster its liquidity position. Dilution always irritates and/or infuriates existing shareholders, including myself, but if Hess emerges a better company because of it then so be it. Only time will tell. Either way, Hess should have done a better job communicating this move, especially considering it just held its Q4 2015 conference call not that long ago.
Building on exploration success
As I have mentioned in previous articles, Hess and its partner Exxon Mobil (NYSE:XOM) struck liquid gold off the coast of Guyana in South America. The Liza-1 well, which Hess owns 30% of, hit 295 feet of "high-quality oil bearing sandstone reservoirs". That discovery could hold around 500 million BOE of recoverable resources that is heavily weighted towards crude oil. 3D seismic testing is currently underway to find other potential reserves to explore across 17,000 square kilometers.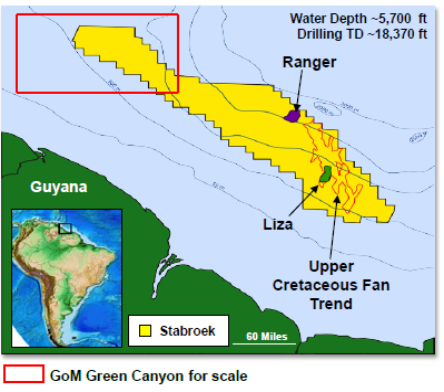 Source: Hess Corporation Presentation
Drilling will commence (if it hasn't already) on the Liza-2 well during the first quarter of 2016. If Hess and Exxon Mobil can expand on its initial success, the Stabroek license could hold a lot more crude than the market is giving them credit for. Keep in mind this is oil that won't be produced in commercial quantities for a while, theoretically post-pricing recovery, offering Hess a source of growth once its current major developments are completed.
Another bullish aspect is that it seems the saber rattling between Venezuela and Guyana has died down enough that exploratory drilling can continue. Venezuela lays claim to the Essequibo jungle area in northern Guyana and the associated sea region, which would include Guyana's recent discovery, an assertion Guyana denies. A UN mediator is being brought in to calm the situation down.
Final thoughts
Hess Corporation's fiscal discipline is what will enabled the company to survive as the oil & gas industry grapples with an environment that is reminiscent of the 1986 crash. The sharp 40% capex cut is what management needed to do, value is more important than volume when WTI/Brent are hanging around $30/barrel. If Hess were to cut down its dividend to further preserve cash flow, it wouldn't be out of desperation at this point in time considering its relatively strong financial position.
The shareholder dilution was somewhat unexpected, as it didn't appear to be necessary in the short to medium term. It could have something to do with Hess having roughly $400 million in debt maturing in 2017, or it could just be a defensive maneuver. Whatever the reasoning, Hess clearly is hunkering down for the worst. When it appears that the current oversupply of crude oil is starting to move in a positive direction, Hess Corporation is a solid company to bet on.
Disclosure: I am/we are long HES.
I wrote this article myself, and it expresses my own opinions. I am not receiving compensation for it (other than from Seeking Alpha). I have no business relationship with any company whose stock is mentioned in this article.