The latest OPEC Monthly Oil Market Report is just out. The the data is "Crude Only" production and do not reflect condensate production.
Also the charts, except for Libya, are not zero based. I chose to amplify the change rather than the total. The charts do not include Indonesia. That will be added within the next few months when I am able to get better historical data for Indonesian crude only production.
All data is in thousand barrels per day.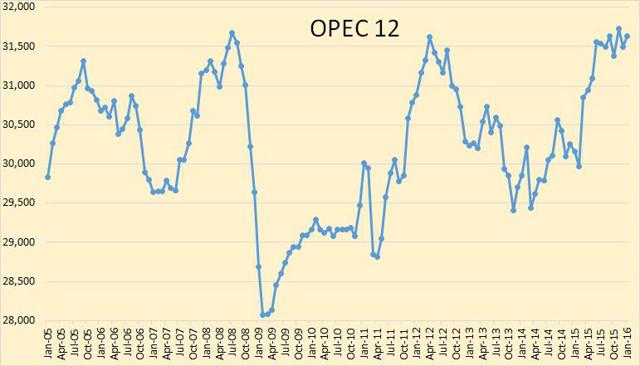 Click to enlarge
OPEC production, not including Indonesia, was up 130,700 barrels per day in December.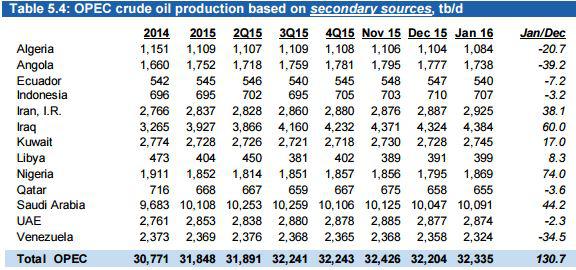 OPEC uses secondary sources such as Platts and other agencies to report their production numbers. These numbers are pretty accurate and usually have only slight revisions month to month.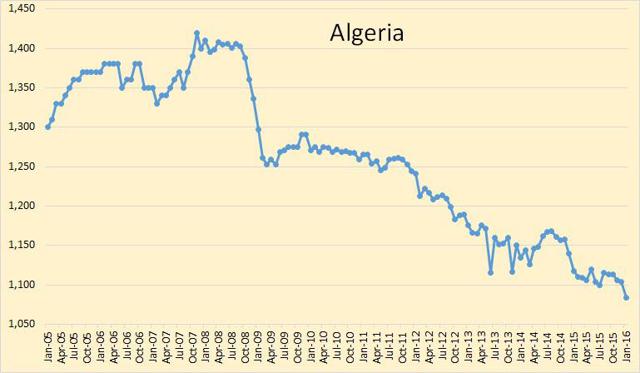 Click to enlarge
Algeria peaked in November 2007 and has been in a steady decline since that point.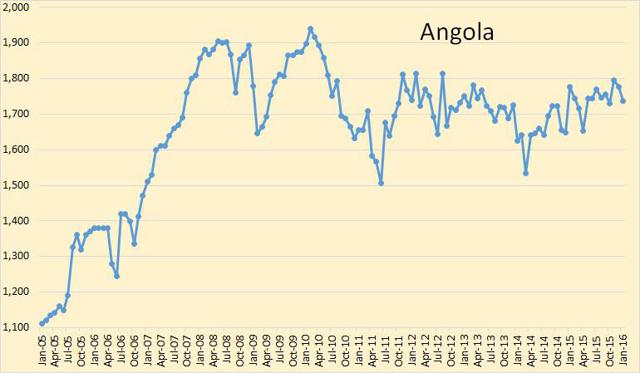 Click to enlarge
Angola has been holding steady since peaking in 2008 and 2010.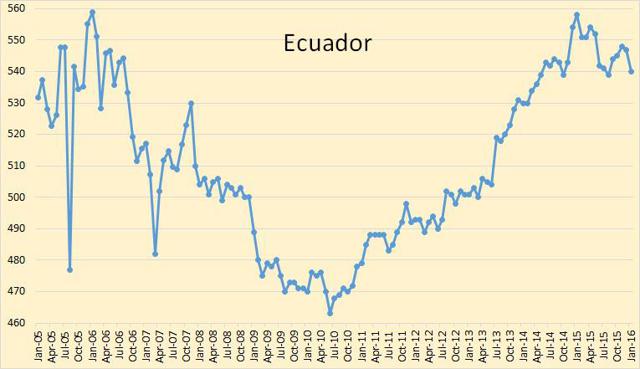 Click to enlarge
Ecuador appears to have peaked last year. It is likely production will be down, but only slightly, in 2016.
Click to enlarge
Sanctions were just lifted, in the middle of January, on Iran. I expect their production to be up by about half a million barrels per day by year's end. However, I believe Iran will be the only OPEC nation with any significant production increase in 2016. Most other OPEC countries will, I believe, be flat to down slightly.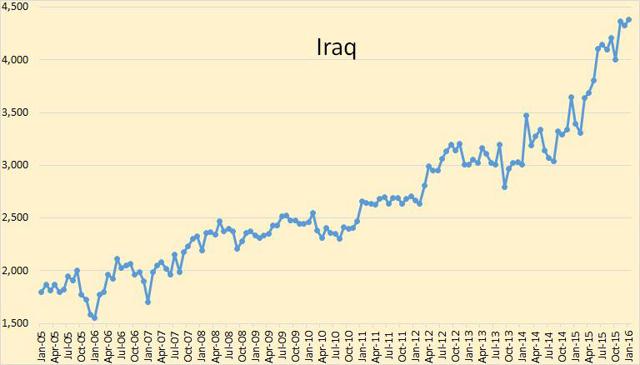 Click to enlarge
Iraq increased production more than any other OPEC nation in 2015. However I believe their increase in 2016 will be very moderate, if any.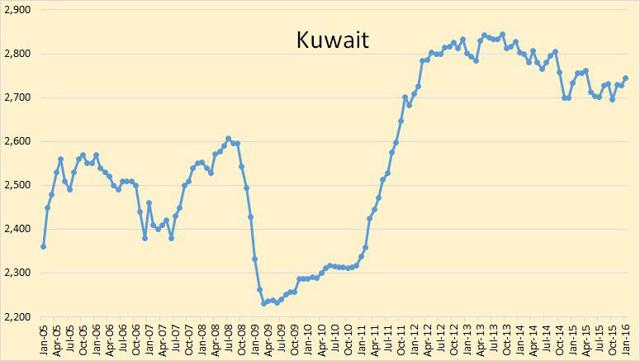 Click to enlarge
I expect Kuwait will continue its slow decline from its peak in 2013.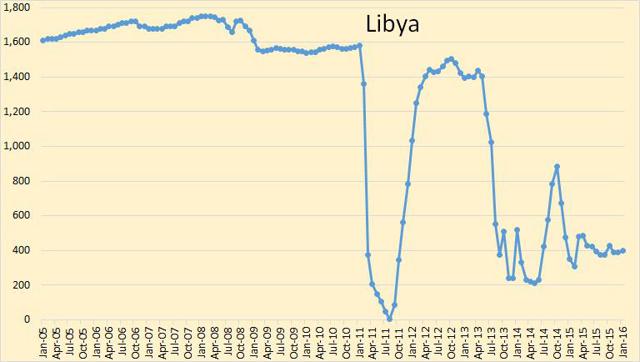 Click to enlarge
Libya is struggling with their own Arab Spring. There is no way of knowing when, if ever, peace will break out there. I think it extremely unlikely they will produce as much as 1,000,000 bpd within the next 5 years or so.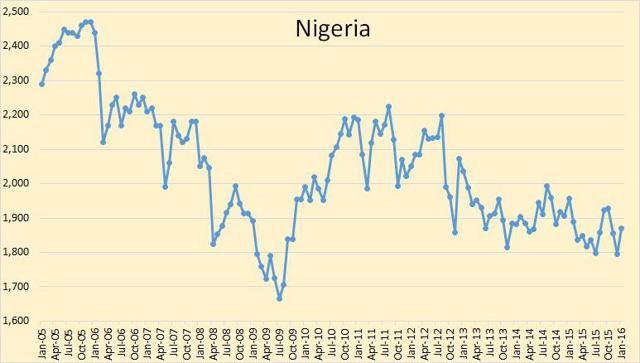 Click to enlarge
Nigeria is struggling with their own political revolution. But it appears they are in decline regardless of their political problems. However they had the largest increase in January, up 74,000 bpd.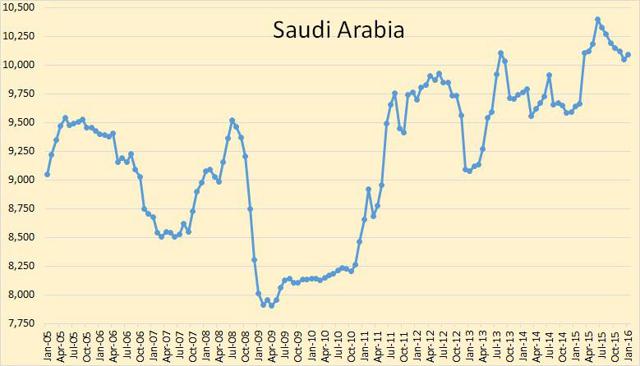 Click to enlarge
I believe Saudi is producing every barrel they possibly can. They will be lucky to hold this level for much longer.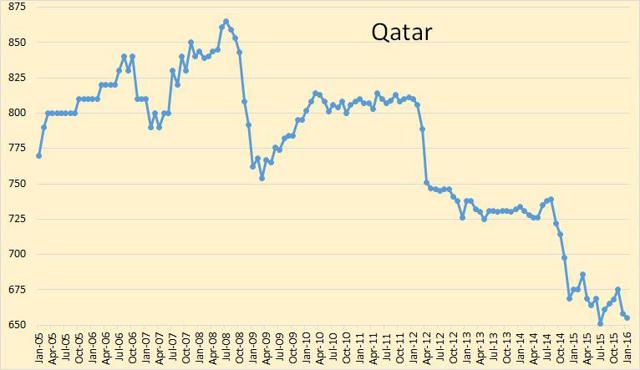 Click to enlarge
Qatar has lots of natural gas but their oil production has clearly peaked and is now in decline.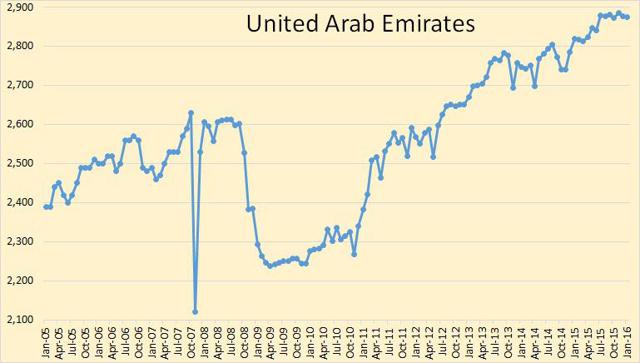 Click to enlarge
From 2005 through 2010 the oil rig count in the UAE averaged around 12. In November their oil rig count stood at 48, 4 times their average. They have managed to increase their production about 11% above their 2008 peak. I believe UAE production is about to follow Kuwait's lead and rollover. The UAE's rig count stood at 44 in January.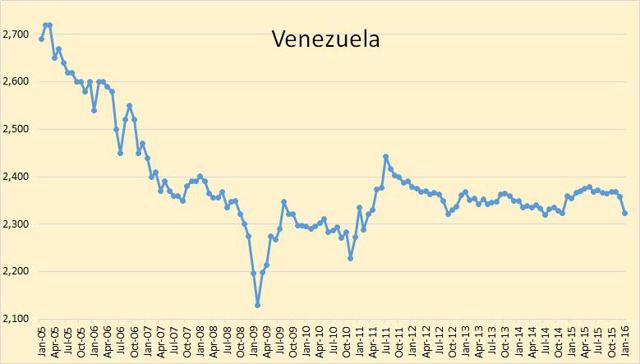 Click to enlarge
Not much can be said about Venezuela. Their conventional oil is in decline but their bitumen production is keeping production relatively flat. They took a hit in January, however, down 34,500 bpd.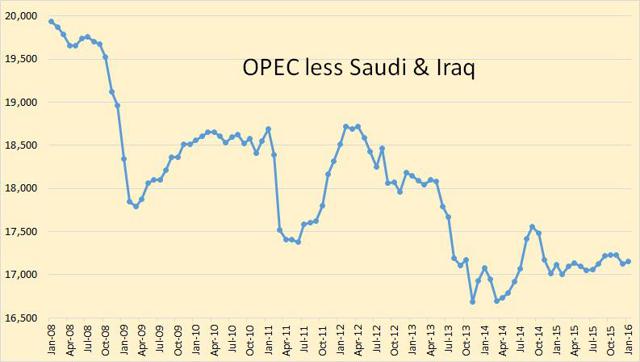 Click to enlarge
The combined production of OPEC, less Saudi Arabia and Iraq, peaked in January 2008 at 19,931,000 bpd and is down 2,778,000 bpd since that date 17,153,000 bpd.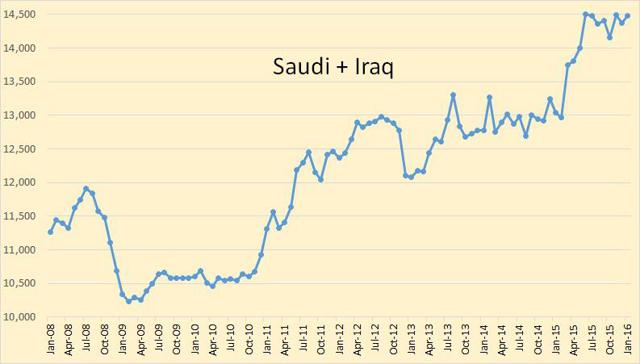 Click to enlarge
Since the combined production of the other OPEC 10 nations peaked in January 2008, Saudi and Iraq have increased their production by 3,625 bpd, from 10,850,000 bpd to 14,475,000 bpd. That is 33,000 bpd below their peak in June 2015.
Again, none of this data includes Indonesia. Historical crude only data for Indonesia is not available. I will include Indonesia in OPEC charts when I can calculate those numbers.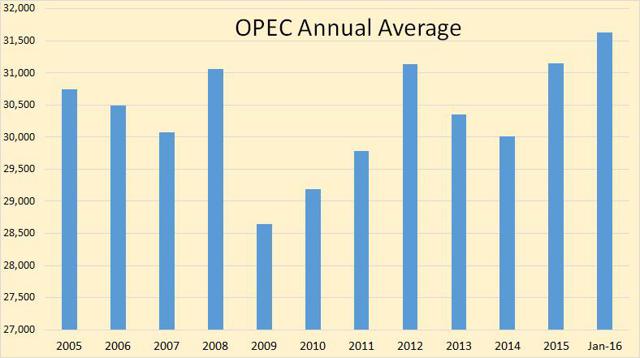 Click to enlarge
OPEC average crude only production in 2015 was 31,152,000 barrels per day. In January their production was 31,628,000 barrels per day.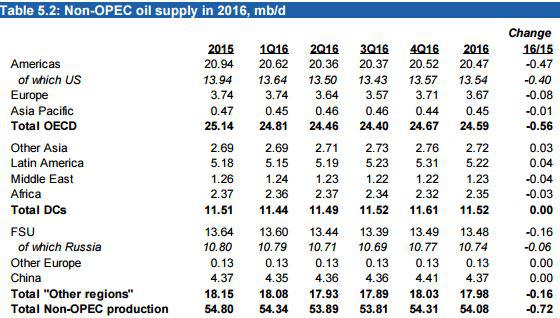 OPEC expects non-OPEC liquids production to be down 720,000 barrels per day in 2016. If OPEC manages to hold production relatively flat from January, their 2016 production will be up 475,000 bpd. That is, their gain would be about 250,000 bpd short of non-OPEC's decline.
However, I expect OPEC to be slightly up this year due to Iran increasing production. But the increase will be modest as the rest of OPEC will likely be down. However, I believe non-OPEC will be down a lot more than 720,000 barrels per day.
China, the world's fifth largest oil producer, has peaked and will suffer a sharp decline in 2016.
Why Declining Chinese Oil Production Is Good for Global Prices

China's role as a big oil consumer has become a crucial factor in energy markets in recent years. Now, its role as a major producer is gaining attention as well.

China is among the world's top five oil producers, but its fields are growing depleted and are increasingly expensive to pump. The country's leading companies are choosing to leave more of their oil in the ground and some analysts now say Chinese oil output may have peaked.

Cnooc Ltd., China's third-largest oil producer-which produces most of its oil from offshore fields-also said last month it expected output to decline by 5% this year, after years of rapid growth.

As China's production starts to decline, demand for oil from overseas should remain firm, which would be good news for prices, which have been languishing near multiyear lows amid a global supply glut and weak demand in the rest of the world.