Based on a chart published by Statista in 2014, Goodyear (NYSE:GT) is the third largest tire producer in the world and currently number 166 on the Forbes' Global 500 list. Goodyear has a $7.3 billion market cap, while it employs over 67,000 employees worldwide.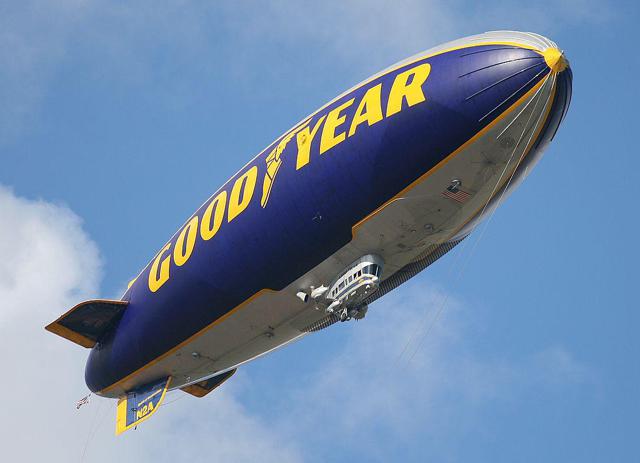 Click to enlarge
History
Goodyear started as a small company 118 years ago. In 1898, Frank Seiberling founded the tire company under the name Goodyear, which was named after Charles Goodyear, the inventor of vulcanized rubber.
Goodyear's instant success was due to the fact that the tires were easy to detach and required little maintenance.
In 1926, Goodyear was the largest tire manufacturer in the world. 1926 was also the year when competition began to rise. As you know, this always happens when a company has tremendous success with a new invention. New companies want a piece of the new market. About one year later, Goodyear listed its stock at the NYSE.
During the second world war, Goodyear produced the F4U Corsair; a plane that was mainly stationed on aircraft carriers.
On October 1986, 11.5% of Goodyear shares were bought by the investment group Hanson. They threatened to take over the entire company. To avoid this, Goodyear bought Hanson's stake at an above-market price, and additionally bought 40 million shares from other shareholders. Goodyear bought in total more than 40.4 million shares back.
This resulted in a huge restructure plan. Goodyear had to close plants all over the world to stay liquid. At the end, they succeeded, but had a company that was a lot smaller.
In 2008, Goodyear was awarded as most respected company of the US by the Reputation Institute.
Quick Overview
100% of Goodyear's revenues are from the tire segment. Tires are mostly sold in North America where about 45% of the sales come from. Europe, Middle East and Africa provide 34% of sales. Asia Pacific 11.5%, followed by Latin America 9.9%.
According to The Motley Fool, about 70% of Goodyear's sales come from replacement tires. This provides stability in difficult economic times since car sales will decrease rapidly if the economy declines.
Note that Goodyear is still an extremely cyclical stock, but with the advantage of a tailwind from replacement tires.
Past Performance
Goodyear's sales and revenues bottomed in 2009 after the great recession. The stock price was about $13.70 when earnings started soaring and is now around $29 USD (+112%). Sales went from $16 billion in 2009 to $16.44 billion at the end of 2015. An increase of just $440 million or 2.8%. Earnings went from a loss of $812 million in 2009 to $307 million at the end of 2015.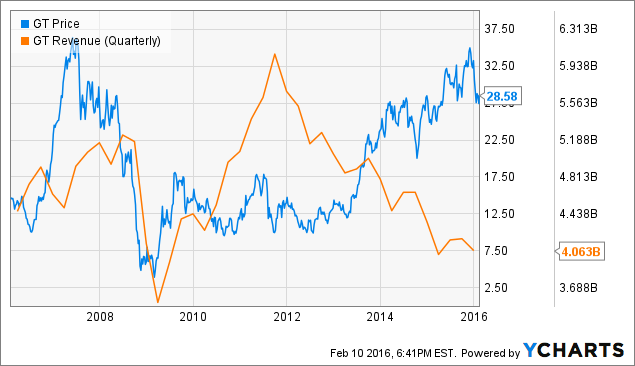 GT data by YCharts
It is quite alarming that sales are in a decrease since 2011. However, history does not move a stock. The outlook is what moves markets.
Goodyear's Outlook
The plastics & rubber industry sentiment is declining since September 2014. The graph, as seen below, shows the Goodyear share price and the 12-month average plastics & rubber sentiment.
Although the fact that sales peaked in 2011, the share price had a good run till 2014. Sentiment improved and investors expected better results from Goodyear. However, it did not happen and the share price plunged at the end of 2014.
Nonetheless, the stock soared after the correction and reached new multi-year highs, while sentiment continued to decrease.
Not only are sales decreasing, the outlook for the entire industry is getting darker. In my opinion, this should put tremendous pressure on the stock.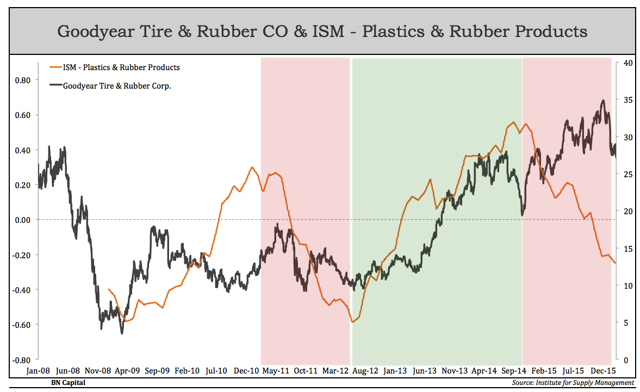 Click to enlarge
The opinions of analysts are extremely divided. Goodyear has three strong buy recommendations and two buy recommendations. Two analysts advise you to hold while two analysts expect the stock to underperform.
Overall, the mean price target is +19% from the current price. The highest target is reached if the stock soars 47% while the most pessimistic target is down 26% from this point.
Even more important is the EPS outlook. In 2016, analysts expect earnings to increase more than 19%. The first decrease is predicted to be in 2017 (-7.4%). On average, growth is expected to be 6.5% for the coming five years.
I think these expectations are too high and will be revised. There is no way that earnings can be increased sustainably over the next five years at a 6% average.
Valuation
Goodyear is currently trading at 2.8 times earnings; one of the "cheapest" stocks. The PEG ratio is almost as low as 0.40.
The average PE ratio of Goodyear's sector is 14.5 while the industry average is at 6.60. A low PE ratio means that it is a discount stock with low expectations. Not only is the rubber and plastic industry trading at a huge discount, Goodyear's stock is even 'cheaper'. This confirms my view when it comes to the future outlook. Investors have low expectations and refuse to pay a premium.
This does not mean that discount stocks can't rally; it just means that the company is not expected to outperform in the near future and that there might be something wrong.
Balance Sheet Overview
Goodyear does not have any problems servicing short-term debt & other liabilities. The current ratio is at 1.24 and therefore not alarming. Debt/equitym howeverm is quite high (2.97).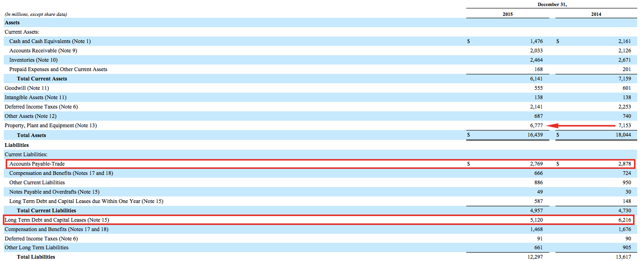 Click to enlarge
Source: SEC
The largest part of liabilities is long-term debt with an average interest rate of 6.55%. Also note that PP&E is decreasing. This decrease started at the end of 2013 and is likely to continue if the company does not start expanding.
Note that Goodyear does not pay a high dividend. Dividend yield is currently at 0.90% and not interesting for long-term investors.
Summary
Goodyear Tire & Rubber is an amazing company. Thousands of people are employed, and the company is respected all over the world. However, it could be a trap for investors.
The stock looks expensive at these levels. Of course, words like expensive and cheap don't mean anything if you don't explain what they mean. In this case, I don't recommend the stock because the overall sentiment is decreasing (along with the economy). Moreover, the decline of sales started years ago and has decreasing chances of ending in the near future.
Analysts are divided and even for long-term value investors, there is almost nothing to be positive about.
To end this article, I advise you to avoid this stock if you are a long-only investor. If you are shorting stocks, this might be a good stock to sell. However, note that going net short is a risk when it comes to short squeezes and market rallies. A hedge might be appropriate.
Disclosure: I/we have no positions in any stocks mentioned, and no plans to initiate any positions within the next 72 hours.
I wrote this article myself, and it expresses my own opinions. I am not receiving compensation for it (other than from Seeking Alpha). I have no business relationship with any company whose stock is mentioned in this article.