Royal Gold: It's Time for Some Share Buybacks
Royal Gold's (NASDAQ:RGLD) stock just isn't getting the valuation it deserves. Despite an excellent fiscal Q2 2016 earnings, the stock continues to underperform its streaming peers.
Shares are now up just 3.87% year-to-date, compared to a 7.85% gain in the share price of rival Franco Nevada Corp. (NYSE:FNV), and a 12.56% gain in shares of Silver Wheaton (NYSE:SLW).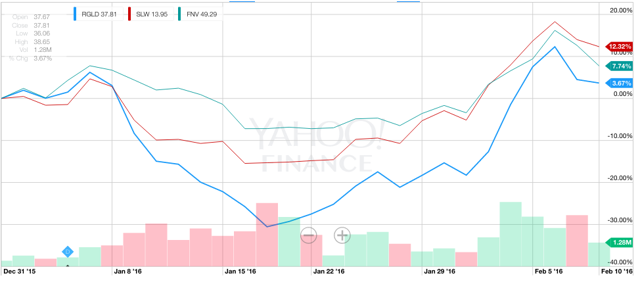 Click to enlarge
(Credit: Yahoo Finance)
First, I'll discuss Royal Gold's recent earnings, its current valuation, and explain why I think share buybacks would be a great idea here.
Royal Gold earnings: 74% increase in production, 75% jump in cash flow
Seriously, what's not to like about Royal Gold's recent earnings report?
The company killed it, reporting a 60% increase in revenue to $98.1 million and a 74% increase in volume of gold equivalent ounces to 88,700, both records. Operating cash flow surged 75% to $52.1 million, with a 46% increase in adjusted EBITDA to $70 million. Net income was $15.1 million, or $.23 per share, compared to a loss last year.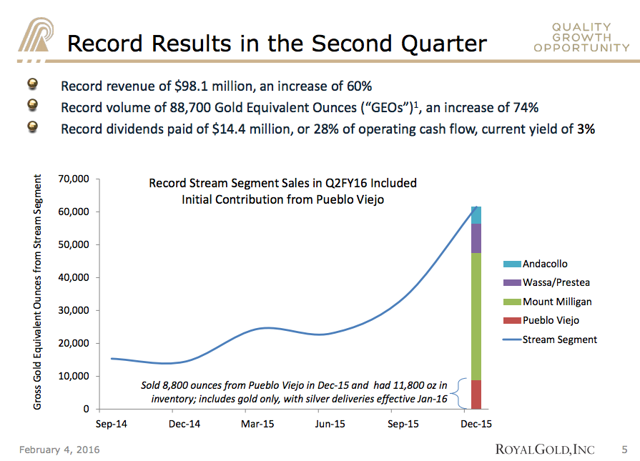 Click to enlarge
(Credit: Royal Gold corporate presentation)
The strong performance was led by a stream on the Mt. Milligan mine, which contributed 38,700 GEOs and $42.29 million in revenue; the Wassa/Prestea and Pueblo Viejo streams were the next biggest contributors, with a combined 17,600 in GEOs and $19.17 in revenue.
This performance supports the company's dividend payment of $14.4 million (28% of operating cash flow), and shares now yield a healthy 2.35%. What's more: these results are in spite of lower average realized gold prices of $1,106 per ounce. Gold prices have actually increased since last quarter, so investors should expect even better results next earnings.
As for the balance sheet, it remains pretty strong, as Royal Gold ended the quarter with $142.3 million in working capital; with the $300 million available under its revolving credit facility, Royal Gold has total liquidity of $442.3 million.
As for the valuation, Royal Gold just looks cheap here compared to peers: the stock trades at a forward P/E of 29 and an EV/EBITDA of 13.72, compared to Franco Nevada's forward P/E of 92.7 and EV/EBITDA of 23.3, and Silver Wheaton's forward P/E of 25.3 and EV/EBITDA of 16.57. Royal Gold also has the highest yield of the group at 2.35%.
Mt. Milligan: An attractive asset
The stream on Mt. Milligan is clearly Royal Gold's most important asset, as it made up 43.1% of its revenue in the quarter.
The project's operator, Thompson Creek Metals, is a small copper/gold producer with a $73 million market cap (on the TSX) and a pretty large net debt balance of $600+ million. So, the main"risk" to Royal Gold is if Thompson Creek goes bankrupt and the mine stops producing. This is perhaps the main reason for Royal Gold's current undervaluation.
Yet, the mine continues to perform very well and it remains a strong asset. Thompson Creek recently reported production of 58,300 ounces of payable gold during its last quarter, an increase of 42% over the prior year quarter. The company surpassed the mill design capacity of 60,000 tonnes per day during the last week of December, while gold grades increased by 17% year-over-year. For calendar 2016, Thompson Creek forecasts annual gold payable production of 240,000 to 270,000 ounces, an increase of approximately 10% to 24% over calendar year 2015 production of approximately 218,000 ounces. More importantly, it's a profitable mine, as its expected to produce copper at by-product cash costs between $.25 to $.70 per copper pound. I think this makes Thompson Creek a takeover candidate for a larger copper/gold miner that can handle taking on the company's debt.
Now, I realize that Thompson Creek as a company may not survive past this year due to its high debt load. Thomson Creeksays it is currently valuating strategic and financial alternatives, including debt refinancing and restructuring, new capital transactions and asset sales.
However, investors should understand that this doesn't necessarily mean the Mt. Milligan mine will stop producing in bankruptcy, nor does it mean Royal Gold will lose its interest in the mine. If the company or the mine is sold, Royal Gold's stream on the mine remains. If the company goes to bankruptcy, the mine will likely still be in production since it is producing positive cash flow.
The Case for Share Buybacks
"In my opinion, our valuation has never been more compelling as we trade at levels not seen since the financial crises." CEO Tony Jensen on the Q2 2016 financial results call. Source: SA Transcripts.
As Jensen mentions, Royal Gold is trading at levels not seen since the financial crisis in 2008, when its cash flow per share and dividend peer share were 41% and 30% lower than today.
Royal Gold only has 62.26 million shares outstanding to begin with. But I think it needs to reduce its share count further to create shareholder value. With $200+ million in annual operating cash flow at current gold prices and $442.3 million in total available liquidity, the company has the firepower to do this.
In my opinion, a $100 million share buyback would be a great start, as it would reduce the share count by 2.59 million shares, or by more than 4%. It would send a message to investors that management really feels shares are undervalued, and the best investment it can make is in itself.
The Bottom Line
Royal Gold is profitable, growing, pays a solid dividend that has increased for 15 straight years, and is undervalued compared to peers. In fact, the valuation has not been this compelling since the last financial crisis. The next step is a share buyback.
Disclosure: I am/we are long FNV.
I wrote this article myself, and it expresses my own opinions. I am not receiving compensation for it (other than from Seeking Alpha). I have no business relationship with any company whose stock is mentioned in this article.