Skechers (NYSE:SKX) reported 4Q15 earnings Wednesday, 2/10, after the close. The ER surprised investors enough to send shares up more than 9% in after-hours trading. We were bullish on the company heading into the report. Post-earnings, we maintain a bullish stance on the stock as we feel an attractive valuation coupled with secular tailwinds in international athleisure imply significant share price appreciation over the next 12 months.
As we expected, the company reported strong international sales, with the international wholesale business growing 64.9% paced by triple-digit gains in China and the Middle East. Worldwide comps at company-owned SKX stores were 9.1%, and the China business grew from $86 million last year to over $220 million this year. This comes on top of Under Armour (NYSE:UA) reporting 85% sales growth internationally and Nike (NYSE:NKE) reporting 20% ex-FX growth in worldwide futures orders. While the domestic market may be reaching saturation (SKX reported growth of 8% in domestic wholesale), we believe there exist substantial international tailwinds in the athleisure space that will propel strong Y/Y sales growth over the next several quarters.
Management clearly believes this as well, as they remain focused on growing the international business to 50% of sales (40% currently). The company cleared inventory in Japan and Brazil to begin 2016 with a fresh product, and expects Japan to profitably grow. In Q4, the company began shipping to Panama, Peru, Colombia, and Peru, further expanding its Latin American footprint. The company is also increasing the capacity and efficiencies of its European distribution center to prepare for accelerated growth in Europe.
We believe management is making the right moves to appropriately position SKX to capitalize on strong international athleisure tailwinds. This sets the company up for multi-year sales and earnings growth.
The company has reported $1.50 in LTM diluted EPS. Taking out roughly $2.75 in net cash per share from the after-hours quote of $29.70, we get an ex-cash trailing P/E of ~18x. This is on trailing earnings growth of 65%, 1Q16E earnings growth of 35-48%, and Fy16E earnings growth of 37%. We are attracted by a valuation dramatically discounted to both trailing and forward expected growth.
In comparison to UA (~70x P/E) and NKE (~27x P/E), SKX is also very cheap. This cheapness comes despite SKX having higher expected EPS growth in 2016 (37%) than both UA (25%) and NKE (16%). As the chart below points out, SKX has traded mostly in-line with NKE on a P/E basis, and given continued strong earnings growth from SKX, we see little reason why SKX's earnings multiple should be much lower than NKE's earnings multiple. Scale of business is also something to consider here, as SKX's revenue is still small relative to NKE's revenue, so there is still plenty of runway for sales growth.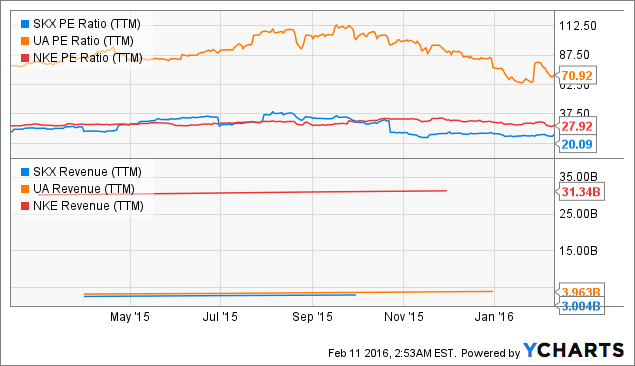 SKX PE Ratio (NYSE:TTM) data by YCharts
In sum, we believe SKX is considerably undervalued considering its growth prospects in international markets. We remain long SKX even after a 9%+ after-hours rally in shares. We will closely watch the P/E multiple in hopes that it can re-track NKE's P/E multiple, at which point we will consider unloading shares.
Disclosure: I am/we are long SKX.
I wrote this article myself, and it expresses my own opinions. I am not receiving compensation for it (other than from Seeking Alpha). I have no business relationship with any company whose stock is mentioned in this article.