On February 16 Yandex (NASDAQ:YNDX) plans to report its earningsfor the fiscal Quarter ended December 31. After the falling stock price, the management of the company must bring positive news to the shareholders so that they can remain confident in company's bright future. However, I believe that Yandex's best days are far behind it and there is no light at the end of the tunnel so far. And here are the reasons why:

1. Its main markets are in a downfall
Since the annexation of Crimea in February 2014, the Russian economy started to fall apart. And it had a great impact on all of the post-Soviet states that have a close ties with the country. Unfortunately, Yandex has a big exposure to those markets. Company's major sources of revenue are coming from Russia, Ukraine, Belarus and Kazakhstan.
In the last two years Russia has fallen into a recession, its biggest export commodity oil quickly depreciated in value and the economic sanctions imposed by the European Union and USA has made thing even worse.
Its growth perspectives don't add anything bright into the picture: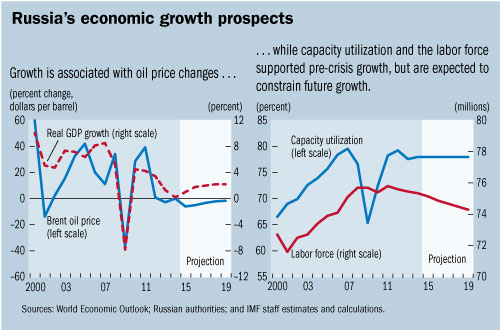 But what's even worse, the whole post-Soviet region was impacted by all of this. If we look at the 4 main currencies of the countries where Yandex has its presence, we would see that all of them greatly depreciated against the US dollar in the last year: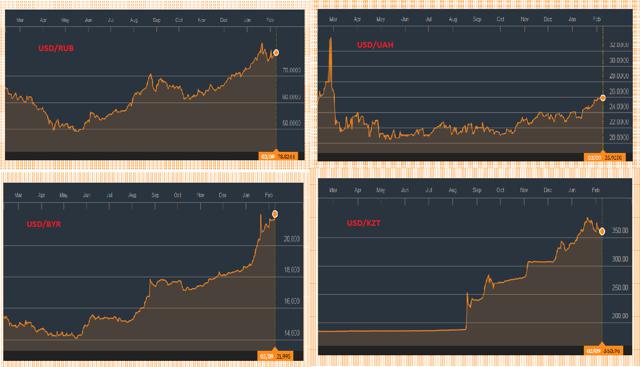 Click to enlarge
(Source: Bloomberg)
This puts a great pressure against the company, as less people are willing to spend their money on the Yandex's services. And later in this article we'll see that because of that, the company is losing its market share to the competitors and its net income is falling apart. But now let's go back to the bigger picture.
After its IPO in 2011, Yandex decided that it's time to explore the new markets and possibly establish a strong presence there. In September 2011 they launched its services in Turkey. The management believed that they could grab a 10%-20% of Turkey's internet market share and start its expansion into the other international markets. However, the experiment failed and Yandex currently controls about 5% of Turkish market. But what's worse is that in December of 2015 Russian-Turkish relations quickly started to fall apart after the Russian warplane violated Turkish airspace and was shot down by the Turkish air force. Russia denied the violation and imposed its own sanctions against the Turkey and Turkish business companies that are operating in Russia. The current situation is unstable and it's definitely not what Yandex wanted when it started its expansion into the Turkish market.
2. Its ecosystem is being threatened by the competition
Created as a search engine Yandex quickly became popular in major post-Soviet states. Over the years the company quickly progressed and created a strong ecosystem of products. However, the latest economic and political situations in the region, where Yandex is conducting its business, are signaling that the company would have a hard time to expand as fast as it did before. And as the competition looms, Yandex might not have the resources to fight back and could lose a big chunk of market that it currently owns.
Let's take search for example. According to Gemius, Yandex search website is the most popular among Russians. However, its main competitors from Mail.ru and Google (NASDAQ:GOOG) (NASDAQ:GOOGL) are not that far behind: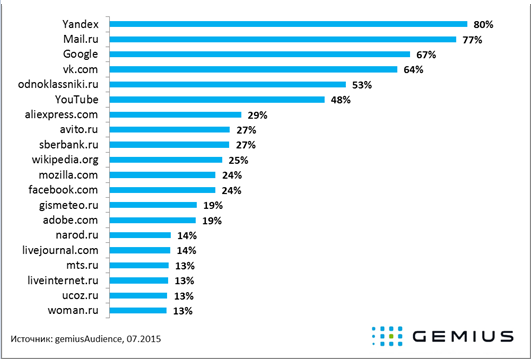 And Ukraine as its second biggest market is currently dominated by Google, with Yandex taking only the fifth place of the most viewed sites in the country: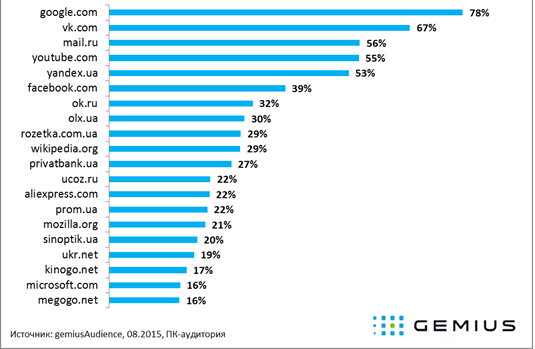 In addition to that, its advertising service Yandex Direct is not as popular as Google's AdSence. Thanks to the big international reach and a bigger click-through rate, Russian speaking users are making a choice to use Google's service on their websites to make more profit out of it.
Also, in 2011 Yandex launched its taxi booking service Yandex.Taxi. It quickly became popular in large urban centers like Moscow and Saint Petersburg. But in the last year it faced a big competition from GetTaxi and Uber, which expanded into the Russian market. And now, besides fighting its competitors, Yandex along with Uber and others are facing the protests from taxi drivers that aren't happy with the technology that helps to connect passengers with ordinary drivers for a small fee, considering the fact that taxi drivers in Russia are required to buy taxi licenses and currently their business is being wiped out by these online services.
Yandex's other services like Disk or Mail are also not that popular among consumers as Google and Mail.ru have a strong ties to these fields.
3. The forecast might be a problem
In its latest investor presentation, Yandex showed that its adjusted net income for the first nine months of 2015 is smaller by 13% in comparison with the same period last year: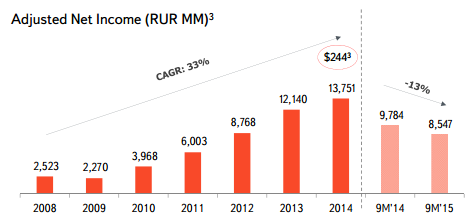 (Source: Presentation)
This fact alone is signaling that the next earnings results that will have the information for the whole 2015 might not beat the 2014 results. Another interesting fact is that Yandex in its presentation showed its net income for 2014 in dollars and rubles at an exchange rate of RUR56.2584 to $1.00 as of Dec. 31 2014:

Click to enlarge
(Source: Presentation)
And if you remember the currency graph of USD/RUB which I presented at the beginning of this article, you would see that throughout most of 2015 the exchange rate was well above RUR60 for a $1. This means that the depreciation of the Russian currency will continue to hit Yandex businesses and worsen its outlook.
Conclusion
Last year for Yandex shareholders was not very bright as the company's stock was falling most of 2015: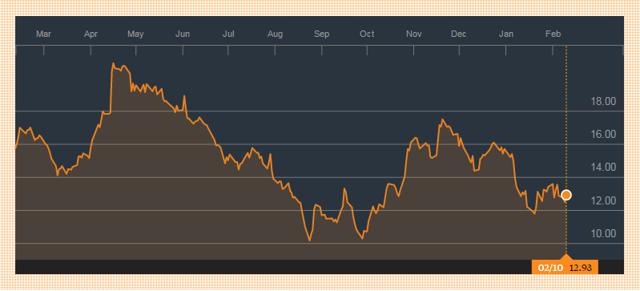 Click to enlarge
(Source: Bloomberg)
The three reasons that I described in this article are also signaling that it might continue to depreciate in value in the coming quarters. Unfortunately the company cannot control the macroeconomic and political situation in the markets in which it conducts business and the risk of losing more money by investing in the company's stock is very real.
Disclosure: I/we have no positions in any stocks mentioned, and no plans to initiate any positions within the next 72 hours.
I wrote this article myself, and it expresses my own opinions. I am not receiving compensation for it (other than from Seeking Alpha). I have no business relationship with any company whose stock is mentioned in this article.