Crude oil extended its slump yesterday, February 10, to a fifth consecutive day, sliding 1.8% to close at $27.45/barrel, a fresh 3-week low. The decline came amidst a surprisingly bullish EIA inventory report that showed an unexpected decline in both crude oil storage levels and domestic production. While the inventory report provided brief support for oil, allowing prices to climb back above $29/barrel, worries about the record-setting storage glut fueled by this week's IEA report indicating a global 2 million barrel per day supply/demand mismatch and Goldman Sachs' call for sub-$20/barrel oil quickly led to prices reversing. Given the potential improvement in the domestic fundamental picture and decade-low oil prices, investors might consider dipping a toe into a crude oil investment at these levels. However, significant challenges remain first for crude oil to finally find support for a sustained rally, and second for investors to even capitalize on any rally. This article discusses yesterday's inventory report while also discussing the headwinds facing investors seeking to go long crude oil.
In its weekly inventory report, the EIA reported that crude oil stockpiles declined by 754,000 barrels for the week ending February 5. This beat both the analyst expectation of a 3.6 million barrel rise in inventories and the 5-year average rise of 1.9 million barrels. The decline in stocks was driven largely by a 1.1 million barrel per day week-over-week decline in crude oil imports which countered a 105,000 barrel per day decline in refinery demand.
Despite the decline in inventories, total crude oil storage remains in record territory at 502.0 million barrels, second only to last week's all-time high of 502.7 million barrels. Inventories are 84 million barrels greater than this time last year and 135 million barrels greater than the five-year average.
With record high inventories, many investors have become justifiably concerned that the US may run of room to store the stuff come this spring. Beginning in mid-February, refineries begin shutting down for maintenance leading to a decline in demand for crude oil and a seasonal increase in inventories.
Figure 1 below plots crude oil inventories over the past six months and extrapolates storage for the next four months assuming that oil remains at the same supply/demand mismatch as is present now. Through the first six inventory reports of 2016, inventories have climbed 14.5 million barrels versus the five-year average of 11.4 million barrels, a weekly mismatch of 0.5 million barrels per week.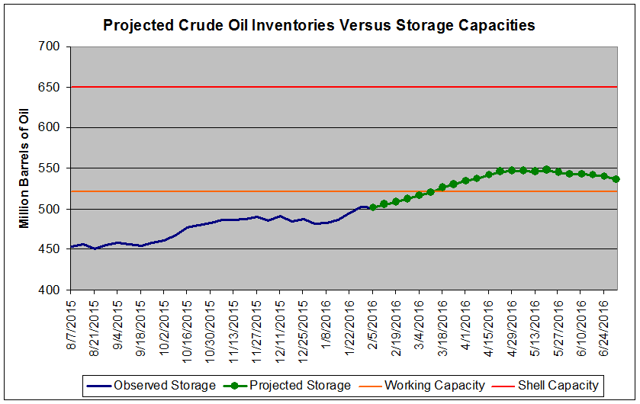 Figure 1: Crude oil inventories over the last 6-months and projected storage through June 2016 showing a peak above the working capacity should the current supply/demand balance remain unchanged. [Source: Graph is my own, data from EIA]
As Figure 1 shows, inventories are projected to peak at 548 million barrels the week ending May 20 and would easily exceed the storage working capacity of 521 million barrels but would fall well-shy of the estimated shell capacity of 650 million barrels. Working capacity is the maximum proven capacity of the US storage system, that is, the maximum level that tanks have reached at some point in their lifetime, just not all at the same time. Shell capacity includes tank bottoms and other contingency space that allows inventories to exceed working capacity without creating a safety hazard. It is an estimate of how much experts "think" we can cram into storage.
In the US, crude oil has never even reached the working capacity. In order for inventories to avoid reaching capacity, the supply/demand balance would have to tighten by 26.8 million barrels over the next 15 weeks, 1.8 million barrels per week, or 250,000 barrels per day. I would view that as a major victory for the bulls and a good 3-month goal.
With refinery inputs flat to down year-over-year (15,510 million barrels per day last week versus 15,564 in February 2015), that tightening would most likely have to come from the supply side. According to yesterday's EIA data, the market actually took a step in the right direction last week. Daily imports declined by 1.1 million barrels per day to 7.1 million barrels per day. Nonetheless, as Figure 2 below shows, imports have been highly variable over the last six months between 7 million barrels per day and 8.5 million barrels per day and, if anything have been trending higher.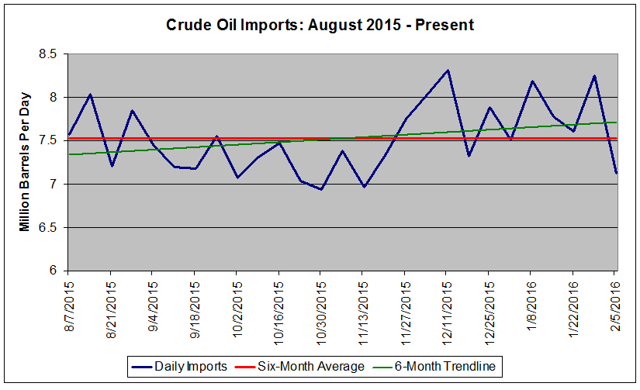 Figure 2: Crude oil imports over the last six months showing choppy and volatile but generally flat imports. The supply/demand balance is unlikely to be re-established here. [Source: Graph is my own, data from EIA]
With Iran ramping up production and Saudi Arabia seemingly committed to maximum production to maintain market share, I see no immediate catalyst for a decline in imports. And with multiple tankers waiting offshore just waiting to dock and dump their crude, I expect imports to bounce back over 7.5 million barrels per day in the next 1-2 weeks.
Perhaps the most significant piece of data contained in yesterday's EIA report was that domestic production declined by 28,000 barrels per day last week to 9.186 million barrels per day, a new 2016 low. Production is down 49,000 barrels per day over the past three weeks. After falling nearly 500,000 barrels per day from July through September, domestic production had stabilized around 9.2 million barrels per day for the past 4 months, but now appears to have resumed a downtrend.
More noteworthy than the week-over-week fall in production, however, is that last week's production now trails year-ago levels by 40,000 barrels per day, 9.186 versus 9.223 million barrels per day. Figure 3 below plots domestic oil production over the past 6-months versus year-ago levels showing a steady convergence and now, crossover.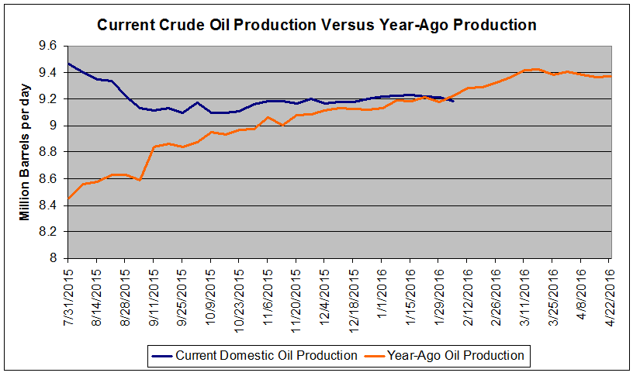 Figure 3: Domestic crude oil production versus year-ago production levels showing steady convergence over the past few months. This past week, domestic production is down year-over-year. [Source: Graph is my own, data from EIA]
It is the first time since August 2011 (disregarding 1-week hurricane-induced interruptions) that year-over-year crude oil production has declined. In the 319 weeks since the beginning of 2010, only 10 others, or 3%, have seen a year-over-year decline in production. Figure 4 below plots year-over-year changes in production since 2010.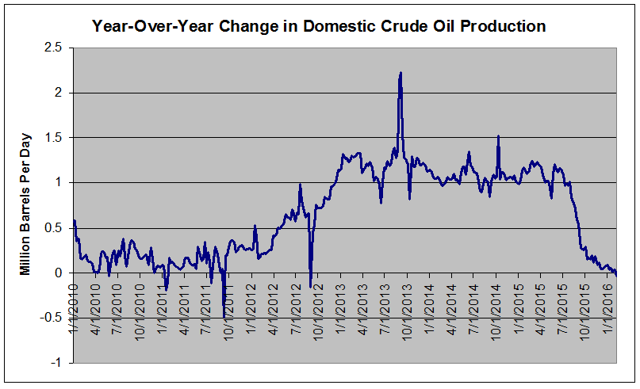 Figure 4: Year-over-year production changes on a weekly basis since 2010 showing a multi-year period of year-over-year increases in production of >1 million barrels per day. However, these gains have been trimmed markedly in recent weeks and, as of last week, are now a year-over-year production decline. [Source: Graph is my own, data from EIA]
And what did it take to achieve this contraction in year-over-year output? Just a 70% meltdown of domestic drilling activity.
Since drilling peaked at 1609 oil rigs in late 2014, Baker Hughes reports that drilling activity has slumped 71%. Just last week, the company reported a 31 rig weekly decline to 467, the largest weekly decline since last April, as active rigs plumb a six-year low. Depending on your perspective, the fact that a 71% decline in the rig count has prompted a mere 4.3% decline in production from its peak of 9.6 million barrels per day is either a bullish or bearish indicator. On the pessimistic side, if a near cessation of drilling activity can't bring supply and demand back into balance, then what will? On the optimistic side, more likely than not the 4.3% decline in production is just the start; there is a long way to go before the impact of the declining rig count manifests itself. While I am not by any stretch predicting a 70% decline in US oil production, I am an optimist and see US production declining in excess of 15% from its peak as production equilibrates with the rig count over the next year. As inventories get closer and closer to capacity, I expect this decline will accelerate as more companies throw the towel in, a trend that may have begun with last week's impressive 31-rig decline.
While last week's 28,000 barrel per day decline is only 10% of the average 250,000 barrel per day tightening of the supply/demand balance needed for inventories to avoid reaching capacity, I believe that this trend will accelerate in the coming month or two and that the supply/demand balance will re-establish itself, likely before crude oil reaches 521 million barrels. Furthermore, benefits of a downturn in US production extend beyond the immediate impacts on supply/demand balance. OPEC has been reluctant to cut production due to concerns about losing market share amidst record US production. Should US production fall off dramatically, these countries may be more willing to negotiate across-the-board production cuts as their market shares improve.
Since the most recent downturn in crude oil prices, I have stayed away from investing in oil except for a small legacy position due to the wild volatility. It is difficult to assess a "fair price" for crude oil given that the magnitude of the storage glut is unprecedented and any price targets are just educated guesses. The average, non-inflation-adjusted price for crude oil over the past 10 years is $80.60, 190% greater than yesterday's close. Inevitably, the current storage surplus will be erased as market forces re-balance. However, given the improvements in drilling technology and the ability to "turn the spigot back on," it is unlikely that crude oil will spend much time above this price for years, if not a decade or longer. However, even if it takes 2-3 years for the storage surplus to be completely erased, a potential upside of >50% per year still exists.
Now, given these discounts, I would ordinarily be buying the commodity hand-over-fist, if I thought I could realize 100% of the profits from an eventual rebound in oil, even if I had to wait a while and suffer some short-term losses before I saw it. However, thanks to the relentless downturn and concerns about crude oil reaching capacity, the commodity is trading at an extreme Contango in which later futures contracts are more expensive than the front-month contract. Because crude oil ETFs--the primary trading vehicles for commodity exposure for non-Futures traders--hold these contracts and must sell and rebuy each month prior to expiration, the ETFs lose value independent of the price of oil. Essentially, the funds are selling high and buying low for a monthly oil-independent loss equal to the percent contango of the front month and T+1 contracts. Figure 5 below plots the price of oil for the next six Futures contracts for oil and the total contango.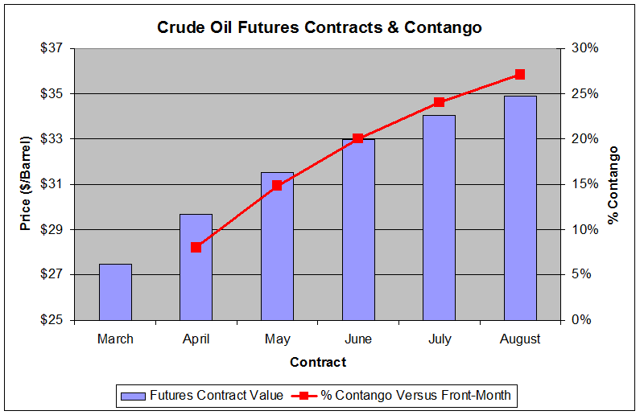 Figure 5: Crude oil Futures contracts for the next six months showing an exceptionally steep contango exceeding 25%, indicating significant price-independent losses for ETF holders should this pattern persist. [Source: Graph is my own, data from EIA]
The mere process of rolling over from the March to April Futures Contract--a process that is happening as we speak--will result in an 8% price-independent loss for holders of the popular 1x United States Natural Gas Fund (NYSEARCA:USO). Leverage magnifies these losses and holders of the VelocityShares 3x Long Oil Fund (NYSEARCA:UWTI) would see a 24% price-independent loss. Should the contango remain static, a 5-month hold would result in a 22.5% loss for holders of USO and a devastating 56% loss for holders of UWTI. While oil has drifted in and out of contango for decades, the magnitude of the current contango is highly unusual and is the largest since the last oil ) would see a 24% price-independent loss. Should the contango remain static, a 5-month hold would result in a 22.5% loss for holders of USO and a devastating 56% loss for holders of UWTI. While oil has drifted in and out of contango for decades, the magnitude of the current contango is highly unusual and is the largest since the last oil crash in 2008-2009 when the contango briefly reached as high as 30-40%.
Fortunately, contango tends to rapidly contract when the underlying commodity rallies as more volatile front-month contracts rebound quicker than later contracts. Thus, it is unlikely that an investor long USO would really see a 24% underperformance if crude oil rallies sharply in the second quarter. But, if crude oil continues to decline or even chops around between $25 and $30 per barrel for the next few months, a long investment in USO will likely significantly underperform. And even if crude oil does stage a rally, there is such a large contango that would need to be eroded that significant underperformance will persist. To illustrate, Figure 6 below plots the performance of crude oil against USO during the post-recession rally that began almost exactly seven years ago.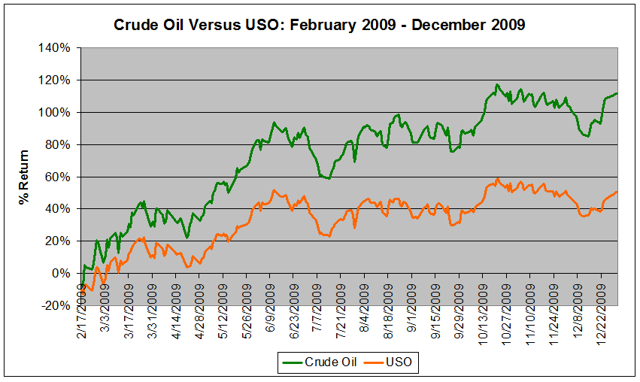 Figure 6: Crude oil versus the ETF USO during the sharp rebound in oil price in 2009 following the Great Recession. Despite a narrowing contango with the rebound, USO still underperformed USO significantly over the 10-month period. [Source: Graph is my own, data from Yahoo Finance]
As the chart shows, crude oil gained nearly 120% between February 2009 and the end of the year. However, thanks to residual contango and rollover losses,USO underperformed dramatically, gaining just 50%.
Thus, not only must an investor buying these vehicles hope for a rally, but it must be a sustained rally and it must happen soon. The "buy and forget about it" strategy is likely to significantly underperform should oil remain sub-$30 for the next few months, as it very well may. Unfortunately, there is no easy way to get around this ETF underperformance. In the past, I have shorted the inverse leveraged ETF, the VelocityShares 3x Oil Bear (NYSEARCA:DWTI), anticipating that the leverage-induced decay inherent to the ETF would counter the contango-generated losses. However, with oil volatility at historic highs with 5-10% daily moves, the risks of enormous losses with these products far outweigh any benefit and I advise avoiding them. An alternative strategy involves buying companies with significant oil exposure that trade in-step with the commodity. This avoids contango-generated losses. One such trade would be a long position in the Energy Select SPDR fund (NYSEARCA:XLE). This fund holds a basket of energy companies, thus distributing risk should one or more components of the fund declare bankruptcy. It is "only" down 32% year-over-year. For those with a larger risk appetite, individual larger oil companies such as Exxon Mobil (NYSE:XOM), Chevron (NYSE:CVX), and Schlumberger (NYSE:SLB) have significant upside should crude oil turn around. And for those who really want to role the dice, smaller energy companies such as Chesapeake (NYSE:CHK) that are facing imminent bankruptcy could see immense gains if they are bailed out by a commodity rally. Positions in such stocks can almost be treated as a stock option: either it returns multiples of its purchase value or it expires worthless.
In conclusion, I am cautiously optimistic on crude oil going forwards, as domestic crude oil production appears to have resumed a downtrend that may allow crude oil storage to avoid reaching capacity this spring. While I believe that the upside to oil outweighs the downside, I cannot rule out a further decline as prices try to establish a bottom. I have been looking for a bottom in crude oil for several months now, but the commodity keeps finding new sellers to drive it lower and it is only through careful risk management that I have been able to pare oil-related losses. While it is tempting to say "this time things will be different," a good trader knows not to go "all-in" and try to fight the crowd, even when prices are very attractive. And even when oil does bottom, capitalizing on a rebound using ETFs will require precise timing and a good bit of luck, although the position may very well underperform regardless. In this high volatility, high contango environment, a non-leveraged long ETF such as USO is the only option among ETFs. I do not currently own USO, but will strongly consider initiating a position over the next week or two, especially on any further weakness or decline in the rig count. I do own a small position in XLE which I will continue to hold going forwards, although I have no plans to add to it further. I would only consider dedicating a fraction of my portfolio, 2-4% to a dice-roll in CHK or its ilk.
Disclosure: I/we have no positions in any stocks mentioned, but may initiate a long position in USO over the next 72 hours.
I wrote this article myself, and it expresses my own opinions. I am not receiving compensation for it (other than from Seeking Alpha). I have no business relationship with any company whose stock is mentioned in this article.