The stock market has been beaten down to the point where people are selling and not asking questions. Multiples have been taken out of the high flying momentum stocks across the board. The stocks that typically have low PE Ratios, well they are even ridiculously lower.
Is the selling justified? Is the fear warranted? Do people have 2008 fresh in their minds and just can't afford to take that risk again? No simple answers there, but what we do know is that people are going to react to what is in front of them. And right now, there are only red numbers on their screens.
This panic currently being created allows opportunity to the patient investor. As I've mentioned before, investors need to start making a wish list of stocks to buy. Part of that list should include low PE stocks that create long-term value for a portfolio.
In order to find what we are looking for, I did a stock screen using Zack stock screener. Using the filter, I screened for Zacks #1 stocks, stocks with a Value score with "A", and stocks with a PE ratio under 10. I was able to narrow it down to four individual stocks to add to that market bounce wish list.
Cooper Tire (NYSE:CTB) is a Zacks Rank #1(Strong Buy) that manufactures and markets replacement tires around the globe. Founded in Findlay, Ohio in 1913, Cooper distributes tires for passenger cars and trucks as well as tires for racing, motorcycles, dealers and retailers.
The company has a market cap of $2 billion and a Forward PE just under 10 and pays a 1.23% dividend and expects EPS growth to come in at 3%. Cooper sports a Zacks Style Score of "A" in Value.
The stock has been punished over the last three months more than a value stock should be punished. Cooper was down 20% at one point versus the S&P 500 being down 12%.This situation creates an opportunity where long-term players can win with either market bounce, or when long-term value is realized.
The company reports earnings on the 23rd and there are hopeful signs that Cooper and the stock can see a turn-around. Consensus estimates have been rising over the last 60 days, for both the current quarter and fiscal year 2016. In addition, the last two quarters were met with an EPS surprise to the upside; a third should help get back a lot of what was lost over the last couple months.
Cooper's peer Goodyear Tire (NYSE:GT) is also a Zacks Rank #1(Strong Buy) and reported earnings yesterday. The company beat handily and caused Goodyear's stock to shoot up 4% higher. Cooper was up 2.5% in sympathy. Any more price pressure should create a nice value opportunity in Cooper leading into earnings.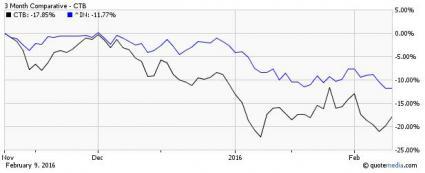 Delta Airlines (NYSE:DAL) is a Zacks Rank #1(Strong Buy) that is a popular international airline out of Atlanta, Georgia. The company offers more destinations than any other global airline and has more international capacity than all other U.S. airlines combined.
Undoubtedly, the company will be affected short term by Zika virus fears. This fear has led to selling in the stock with the overall selling in the market. This is creating a long-term opportunity in the value of Delta's stock, especially with the benefit of cheaper fuel helping the bottom line.
Delta has a market cap of $32 billion with a Forward PE of 6. The company sports Zacks Style Score ranks of "A" in Value and Momentum and also a "B" in growth.
Analysts are already on board with Delta, with revisions to the upside 100% in agreement. In the last 90 days, the consensus estimate has risen 21%, having gone from $1.06 to $1.29. For fiscal year 2016, estimates have risen 17% over the same period.
With the exception of the previous quarter, the company continues to have positive EPS surprises. Expect that trend continues once the Zika threat has passed and the market has found a bottom. Value shoppers will bid this stock up fast after short-term risks fade.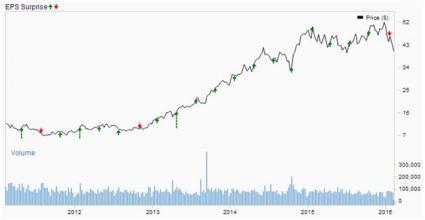 NeuStar (NYSE:NSR) is a Zacks Rank #1(Strong Buy) that provides real-time information services and analytics worldwide. The company is a provider of clearinghouse services to the communication industry and internet service providers.
NeuStar has a market cap of $1.1 billion with a Forward PE of 4.5. The company has a Zacks Style Score of "A" in Value and Momentum.
The company reported last week with Q4 coming in at $1.46 versus the $1.22 estimate. Revenue came in at $280 million verse the $275 million. Fiscal year 2016 guidance was hiked, to $5.03-$5.39 versus the $4.77, with revenue seen at $1.22 -$1.26 billion versus the $1.13 billion.
The stock didn't react well to the earnings, a sign of the current market environment. Analysts have been very aggressive raising estimates for fiscal year 2017, raising 244% over the last 60 days, from $1.28 to $4.41. Long-term investors have an opportunity after the sell-off to take advantage of NeuStar's value.


First Data Corp (NYSE:FDC) is a Zacks Rank #1(Strong Buy) that provides e-commerce and payment solutions for merchants, financial institutions and card issues on a global scale. The company specializes in merchant transaction processing, credit card processing and check verification.
First Data has a market cap of $2 billion with a Forward PE just under 10. The company sports a Zacks Style Score of "A" in Value.
Yesterday, FDC reported Q4 EBITDA at $762 million versus the $712 million expected. Revenue came in at $2.96 billion versus the $2.88 billion expected. Leading up into earnings, estimates were raised 3.5% over the last 60 days, from $1.08 to $1.12.
Just like NeuStar, the reaction to the First Data numbers was negative, as the stock fell 20% off the open. In the current market situation, investors are ignoring stocks unless they absolutely hit it out of the park. This selling is creating long-term value in the company's stock.
In Summary
Current market sentiment has created value opportunities in every sector. For long-term investors, this is an opportunity to take advantage of companies on sale. When markets bottom and indices recover, these stocks will bounce, enabling current investors to lock in prices that will be easy to hold over the long term.