Introduction
Back in November, I was cautiously optimistic about Coeur Mining (NYSE:CDE) as the high-grading strategy seemed to be paying off. The company has now released its full-year financial results for 2015, and I have to admit I'm quite disappointed, both with the results as well as with Coeur's outlook and guidance for 2016.
Q4 was good, but the company is still losing money
Credit where credit is due, Coeur Mining definitely surprised me with its production rate in the fourth quarter of 2015 as the company produced no less than 9.5 million silver-equivalent ounces. This also means Coeur no longer is a 'silver' miner but is now increasingly leaning towards being a gold company as in excess of 60% of the silver-equivalent production consisted of gold.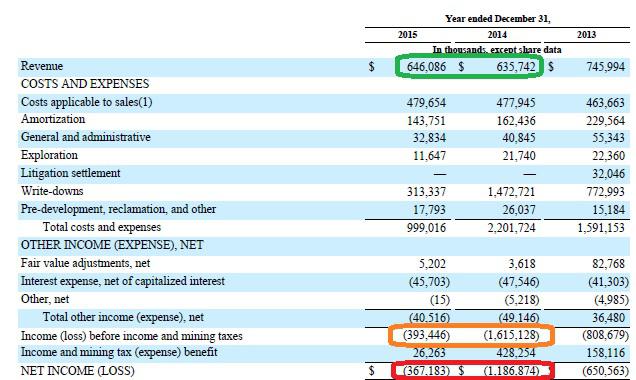 Source: press release
And that's also what 'saved' the company's quarter. The Kensington mine produced a superb 33,000 ounces of gold whilst the Wharf mine in the USA also posted a record production since Coeur became operator of this South Dakota mine. The gold production in Q4 at Wharf was almost 32,000 ounces of gold which compares really favorable to just 23,100 ounces in the previous quarter.
Whilst Coeur Mining has been able to beat the revenue expectations (it actually posted a total revenue increase in 2015), the remainder of the income statement looks pretty sad and disappointing. The pre-tax loss was almost $400M and despite a $26M tax benefit, the bottom line is showing a net loss of $367M, and that's not something to be proud of.
Of course, I have argued several times in the past that I don't necessarily care about the income statement of a mining company, and the cash flow statements are usually much more important. That's more specifically the case for companies with for instance hefty impairment charges, which essentially are non-cash charges that have no impact on a company's ability to generate cash flow.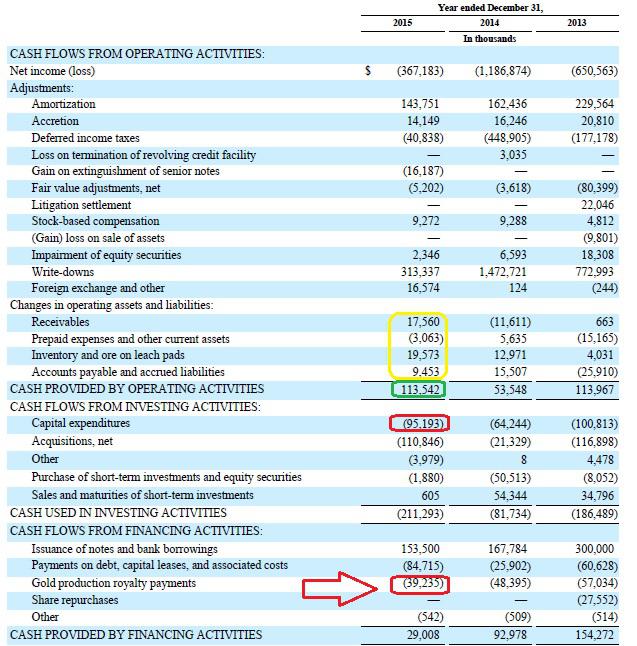 Source: press release
At first sight, you'd think a $114M operating cash flow is very nice, but after you isolate the changes in Coeur's working capital position, the operating CF is evaporating pretty fast and the adjusted cash flow was just $70M. Throw in the $95M in capital expenditures as well as the $39M Coeur had to use to meet its gold royalty payments, and you'll understand 2015 wasn't a great year for Coeur.
2016 will be another lost year
In the previous article, I also explained Coeur Mining has started to 'high grade' some of its mines. This essentially means the company will focus on the zones with the highest average grade in order to boost the short-term performance. Unfortunately, this strategy could only be used for a limited amount of years because at some point in time you'll have no other choice but to dig the lower grade stuff out of the ground as well.
So whilst there definitely was a high-grade effect in Q3 (and in Q4), the financial results remain quite uninspiring. After seeing those financials, I was hoping the outlook for 2016 would be better as this would allow Coeur to turn the corner and start to perform better.
Alas.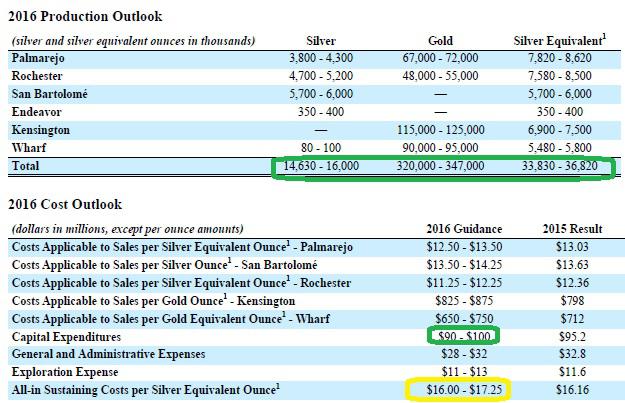 Source: press release
The anticipated production rate will be pretty good though with an expected silver production of 14.6-16 million ounces of silver as well as 320,000-347,000 ounces of gold for a total silver-equivalent production rate of 33.8-36.8 million ounces. Unfortunately, the production cost will remain at an elevated level, and Coeur expects to produce these silver-equivalent ounces at an AISC of $16-17.25/oz (midpoint: $16.62/oz).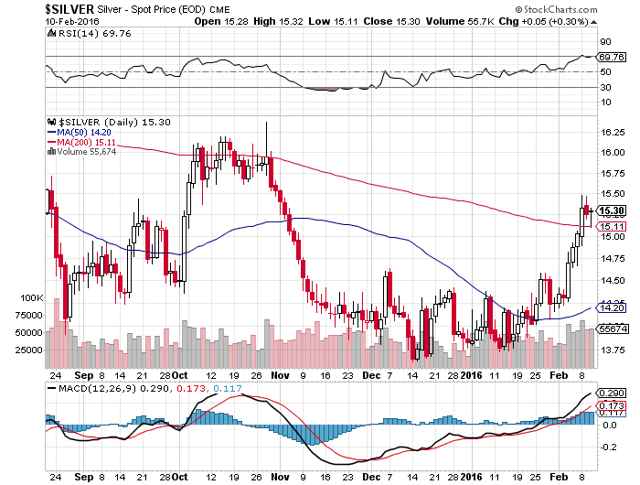 Click to enlarge
Source: stockcharts
As you can see on the previous image, the silver price is currently trading below the midpoint of Coeur's anticipated production cost, so every day the silver price is trading below $16/oz means the possibility to have a free cash flow positive year is being reduced, and that's most definitely disappointing. Using an average silver price of $14.5 in the first six weeks of the year, Coeur will need an average silver price of $17/oz to meet the midpoint of its all-in cost guidance.
Investment thesis
Coeur's operating performance was good, but it's overshadowed by abysmal financial results over the entire financial year. Unfortunately, the company's outlook and guidance for 2016 are very disappointing as well, and I'm unsure how Coeur thinks it will be able to survive the current downturn if the silver (and gold) price don't improve.
For now, I'm avoiding this company. Coeur is trying very hard to do all the right things, but the precious metals' prices simply aren't cooperating, so it might be best to be patient before taking any position.
Disclosure: I/we have no positions in any stocks mentioned, and no plans to initiate any positions within the next 72 hours.
I wrote this article myself, and it expresses my own opinions. I am not receiving compensation for it (other than from Seeking Alpha). I have no business relationship with any company whose stock is mentioned in this article.