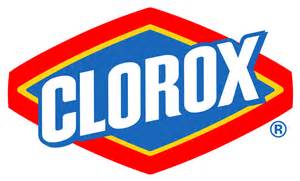 Consumer staple Clorox (NYSE:CLX) has absolutely defied gravity in recent months. The company's shares have completely ignored the fact that there is a significant correction (or worse) going on in the global markets as it has simply continued its multi-year uptrend. I've complained in the past about CLX' absurd valuation but instead of improving, it is getting worse. FQ2 results last week lifted the company's shares again and the stock is very near its all-time highs. CLX has shown unbelievable strength of late against the rest of the market but is that going to continue?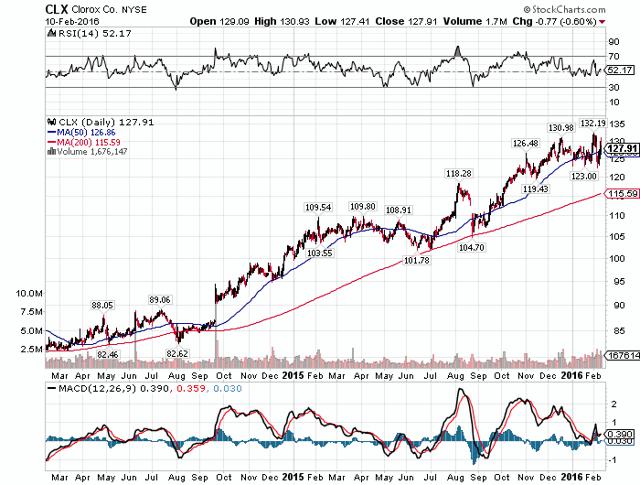 Click to enlarge
CLX saw flat sales in its FQ2 although ex-forex revenue was up 3%. This has been the story with CLX for some time; the company's top line is very tough to grow but CLX is getting its EPS growth in other ways. Still, volume growth was anemic again at 1% but pricing gains chipped in to raise the total level of sales. I always point out that volume is a much stronger indicator of sustainable sales growth than pricing is and unfortunately for CLX, its volume growth is almost nonexistent. This is one reason why I think the stock is overvalued; how will it grow the top line with virtually no volume growth? It can't raise prices forever so it needs volume to sustain its run and it simply doesn't have it.
One thing CLX has done that is above reproach is raise its margins. The company has done an amazing job at keeping costs under control while growing its margin base and in FQ2, we saw more of that. Gross margins improved 210bps to 44.6% - the highest level for a FQ2 in five years - as the company's input costs continue to see positive leverage. This is the story with CLX; it has terrible growth numbers but its margins are amazing and getting stronger. I love a margin expansion story but every story has a price and I fear that CLX' fair price was seen a long time ago.
CLX did take the occasion to raise its guidance in a few ways for FY2016 although it did leave its sales guidance unchanged. The company's reported sales should be flat to +1% in FY2016, no shocker to anyone that has followed this company. It seems volume growth is still going to be difficult to come by although one silver lining I'd suggest is that the weaker dollar we've seen so far in 2016 could be a sizable tailwind for CLX. The company is expecting to lose ~3% of its revenue this year to currency translations but if the dollar keeps moving down, that headwind could easily turn into a tailwind. I'm not saying that will happen but it certainly could as the Fed has completely lost credibility with currency traders and we could see a strong reversal in the dollar's recent up moves.
It also sees input costs declining further, allowing for 50 to 75bps' worth of EBIT margin expansion in 2016. That's outstanding and on a base of 18%, it represents something like 3% to 4% growth there. This also allowed CLX to raise its EPS guidance slightly to $4.75 to $4.90. Interestingly, analysts have this year's EPS $4.92, above the high end of the range CLX provided. And that brings us to our next point; the fact that CLX is sporting a ludicrous valuation.
To start, anytime a company's expectations from analysts are consistently above the high end of the range the company itself provides, I get nervous. That level of bullishness from the analyst community can be toxic even if the company gets very close to hitting its targets. I prefer the other way around where analysts are pessimistic and leave room for upside surprises; CLX has no room for upside surprises and the much more likely outcome is that it comes in somewhere in the range of EPS it provided and seriously disappoints analysts and investors. That's not a good situation if you're long.
With revenue growth virtually nonexistent, CLX' high single digit expected EPS growth must come primarily from margin expansion. But remember that the company's margin expansion guidance was for growth of 3% or 4%, not the 7% or so needed to hit expectations. And with revenue coming in at 1% or less, CLX is way off from its targets. That is why I don't like to buy stocks with such high expectations; it has to hit a home run simply to satisfy analysts and I don't think it can without some unforeseen tailwind to earnings. The dollar could be that tailwind in 2016 but we are very early on to be making a proclamation like that.
At 26 times this year's earnings and 24.5 times next year's, CLX is beyond a nosebleed valuation. The company's multiple has just become ludicrous at this point and I think investors buying now will get burned. There is simply no justification for paying that much for a stock that is growing earnings at 5% or so; it just doesn't make any sense. The recent market sell-off has created bargains in a variety of places so you can look pretty much anywhere and get a better valuation for businesses that are actually growing instead of paying a premium growth multiple for a company that doesn't grow. I think CLX's fair value is probably closer to $90 to $100 and that is a long way down from here. But with its egregious overvaluation, something will give eventually and investors will realize what a terrible price CLX trades for.
Disclosure: I am/we are short CLX.
I wrote this article myself, and it expresses my own opinions. I am not receiving compensation for it (other than from Seeking Alpha). I have no business relationship with any company whose stock is mentioned in this article.