CenturyLink (NYSE:CTL) stock deserved all of the near 8% gains it saw in afterhours trading on Wednesday. After all, it has been a long, hard decade for CenturyLink, as the company has had to reinvent itself from being a landline phone service provider to broadband internet and TV services. Problem is, that transition has taken longer than the market expected. However, there is a silver lining: It is better late than never.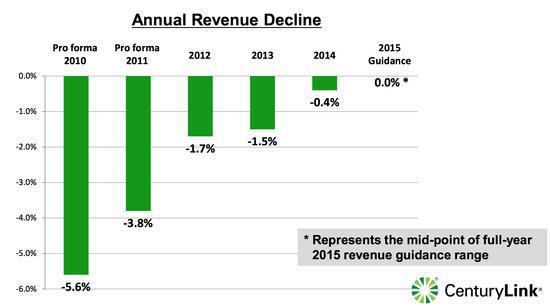 CenturyLink showed investors the above chart in early 2015. As illustrated, CenturyLink's operating losses had been significant in the years prior to 2015, but the key takeaway is that every year there were clear improvements. 2015 was suppose to be the year that the losses finally ended, but that did not happen.
Instead, CenturyLink finished 2015 with revenue of $17.9 billion, a loss of 0.7% year-over-year. This loss explains why CTL stock fell 35% in 2015.
With that said, CenturyLink is finally seeing the improvements that investors expected last year. CenturyLink's high-speed internet and PRISM TV businesses have grown large enough to outshine the ongoing losses in CenturyLink's long distance and access businesses, or home phone.
During its fourth quarter, revenue grew 0.9% year-over-year, and while CenturyLink's full-year guidance for 2016 implies a marginal decline in revenue from 2015, it is important to note that CenturyLink usually guides conservatively. Hence, 2016 should result in the flat growth that CTL was suppose to achieve last year.
As a result, CTL stock could finally gain back some of the value it lost last year. At the very least, CenturyLink's slight growth, strong guidance, and cheap stock mean there is very little downside risk, if any. This is a company that trades at just 2.5 times this year's expected free cash flow, about half the cost of competing large telecom companies like AT&T (NYSE:T).
When you incorporate CenturyLink's dividend yield of 8.5% and the fact that CTL spends slightly more than half of its free cash flow to payout this dividend (no risk of a dividend reduction), then you realize just how good of an investment CTL stock really is. In retrospect, the strong earnings and guidance create upside potential in the stock; its attractive valuation limits downside risk; and its big yield essentially ensures a nice return for holding the stock over the next year. The bottom line: It is time to own CTL stock.
Disclosure: I am/we are long CTL.
I wrote this article myself, and it expresses my own opinions. I am not receiving compensation for it (other than from Seeking Alpha). I have no business relationship with any company whose stock is mentioned in this article.