Banks across Europe have been punished by poor performance and a fearful market. This sends shares down and lowered the expectations for 2016 which when you listen to the CFO of ING he does not share these concerns.
2015 was a good year for the ING Groep (NYSE: ING). Below the most critical numbers from the 2015 earnings release.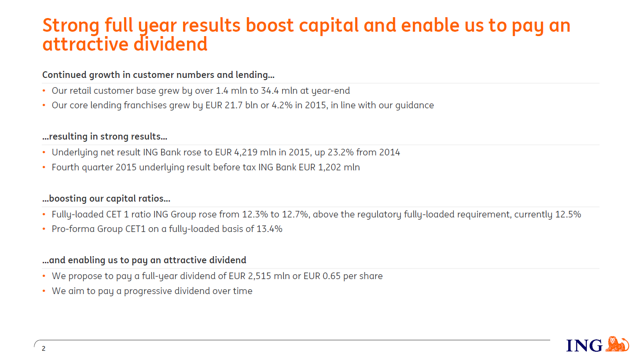 Click to enlarge
According to 'ING' earnings release, net underlying profit increased to €4.2 billion because ING managed to attract 1.4 million new customers and increased their primary banking customers with 7% to 8.9 million.
An improving economic environment in the Benelux helped to lower loss provisions due to slowly improving non performing loan (NPL) ratio's. These decreased throughout the year because of the increasing home prices in the Netherlands and are now at 2.5%. Which still leaves room for further improvement.
The equity tier one ratio of 12.7% increased strongly throughout the year from 10.5% due to further divestment of insurance company NN (OTC:NNGPF) and Voya Financial (NYSE:VOYA). This allows management to increase the final dividend from €0.12 to €0.41 which means a yield of 7.0%. Management has stated that it is its policy to distribute a progressive dividend so future increases are likely since ING paid out 62.5% of profits while high enough equity ratio's.
Traditional Bank
The primary operations of ING used to be in the Netherlands and Belgium. These operations are increasingly profitable now loss reservations and NPL ratio's have declined. The cost income ratio's however are still high with 71% and 60% respectively leading to decent returns on equity with 8% in the Netherlands and 12% in Belgium. Since these markets are saturated and ING already holds significant positions in these markets growth expectations are limited but profitability could still increase through increased margins due to lower NPL's, a future increase in interest rates, cross selling and higher efficiency.
Crown Jewel
The market with the highest growth potential and best cost income profile are the German operations of ING which also include Austria. ING managed to increase profitability significantly by growing its customer base. The important cost income ratio was only 39.5% and the operations had a return on equity of 30.0%. This is possible because ING operates without having branches. Competitors like Deutsche Bank (NYSE:DB) and Commerzbank (OTCPK:CRZBF) have difficulties competing on price because of their existing footprint and internal problems. As can be seen from this slide of the most recent ING investor day presentation.
Click to enlarge ING is using the internet to sell its products to an increasing amount of customers at rates that are profitable due to its lower cost structure. The NPL in Germany for example is very low with 0.9% which shows that the market is relatively safe but offers no chances of profiting from substantial lower NPL's.
Growth Challenger Markets
ING has some operations in growth markets like Poland, Turkey and Romania and challenger markets with Australia, Spain, Portugal and France. These operations are profitable but more importantly offer opportunities for growth and further increased profitability when the markets reach scale. ING has proven capabilities in gaining profitable share in countries without creating an expensive network of branches like they have done in Germany and previously did in the U.S. with ING Direct which they had to sell to Capital One (NYSE:COF) in the financial crisis because they where forced to receive state aid from the Dutch government.
Bank Stocks In Europe
The economic situation in large parts of Europe are still bleak. However in Germany and the Benelux the situation is improving which can also be seen in the increased profitability of the operations of ING. Still especially the southern European banks and large investment banks have problems that need to be solved. This is why the shares of European banks are down significantly since the start of the year. ING however seems to have solved their problems and is now able to increase their dividend again to yield of 7%.
Final Thoughts
The recent downtrend in the stock market Shares of ING are trading at only 80% of tangible book and a price earnings ratio of only 9.8 with a 7% dividend yield. I consider this a steal since an improving economy and housing market in the Netherlands would probably lower the NPL ratio further while increasing deposits and loans in the profitable German market will increase future profits.
When interested in buying shares of ING consider buying them at the Amsterdam stock exchange (OTCPK:INGVF) for greater liquidity.
Disclosure: I am/we are long INGVF.
I wrote this article myself, and it expresses my own opinions. I am not receiving compensation for it. I have no business relationship with any company whose stock is mentioned in this article.
Editor's Note: This article discusses one or more securities that do not trade on a major U.S. exchange. Please be aware of the risks associated with these stocks.