The Federal Reserve has rocked financial markets with its forward guidance.
Well, the "forward guidance" that struck me again in yesterday's Federal Reserve report to the U. S. Congress was the economic projections that Federal Reserve officials, once again, presented to the world.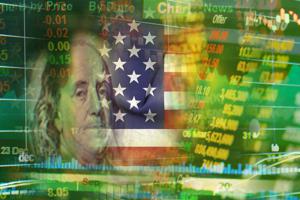 We can have Janet Yellen, Chair of the Board of Governors of the Federal Reserve System talk all she wants to about what the Fed is going to do and when it is going to do it.
But, take a look at what the consensus is for the future of the U. S. economy.
In 2016, Fed officials expect that the economy will grow by 2.4 percent, up from 2.1 percent in 2015. Furthermore, this 2.4 percent expectation has been revised upwards from the 2.3 percent that was announced in September 2015.
For 2017 and 2018, the rate of real growth drops back to 2.2 percent and 2.0 percent, respectively. For the longer-run, expected growth is 2.0 percent.
What can the Federal Reserve do about this? Practically nothing.
And, what about inflation?
Well, Federal Reserve officials are holding to their guns. The rate of inflation will return to the Fed's target of 2.0 percent in 2018. The assumption here is that oil and other commodity prices will return to ranges that make more sense than where they are now. That is, inflation in the world will revert to what Federal Reserve officials believe it should be.
Core inflation will also return to 2.0 percent in 2018, but will follow a steeper path to return to the Fed's target level.
In 2016, expectations for both measures of inflation are for 1.6 percent.
Note: the inflationary expectations currently built into Treasury bond yields is for a compound rate of a little less than 1.00 percent per annum for the next five years and about 1.15 percent for the next ten years.
Further note: the 10-year Treasury note traded to yield around 1.55 percent to 1.60 percent on Thursday morning., so the estimated expectations have dropped even lower.
And then, as Ms. Yellen reported, there is concern over the economic performance of China...let alone other areas of the world including the eurozone and the emerging nations.
Commodity prices have dropped again and the price of oil has been around $26.50 on Thursday morning.
Energy companies are fighting off questions about going into bankruptcy, but this discussion does not help the banking industry which holds a lot of the debt of energy companies.
So, what are we hearing from the Fed's leadership?
The Wall Street Journal announces "Yellen Signals Caution on Rates" and the Financial Times echoes this headline for its paper edition "Yellen's Economy Warning Dims Prospects of Near-term Rate Rise." The New York Times focuses on growth as "Yellen Sounds More Cautious Note on the U. S. Economy."
Federal Reserve leadership, therefore, seems to be saying that economic growth in the United States is going to be tepid for the next several years but there is nothing we can do about it. Inflation is also out of the Fed's control because unusual events have caused it to be so low and the factors that have caused it to be so low will reverse themselves in the next couple of years, which will bring inflation back to the Fed's target level.
As far as interest rates are concerned, Fed officials believe that they should return to a "more normal" level, but that will take time and the Fed needs to be cautious about anything they do.
How does this play in the investment community? Let's look at what is happening to the U. S. dollar.
The value of the dollar has fallen against the Euro, as this morning it takes more than $1.13 to buy one Euro. When investors seemed to be more confident in what the Fed was doing, the price was in the $1.08 to $1.10 range.
The U. S. dollar index published in the Wall Street Journal fell to 95.70 on Thursday morning.
This index was above 99.00 earlier in January.
What the financial markets seem to be telling us is that there is not a great deal of confidence in the leadership of the Federal Reserve System and this is hurting markets as well as resulting in greater market volatility, as I reported in one of my posts, cited above.
As long as uncertainty persists about the leadership of the Fed, markets will continue to decline and will be subject to substantial amounts of volatility. Why this is so important is that the Federal Reserve is the most important central bank in the world. For markets to sense a lack of leadership here resonates globally.
Disclosure: I/we have no positions in any stocks mentioned, and no plans to initiate any positions within the next 72 hours.
I wrote this article myself, and it expresses my own opinions. I am not receiving compensation for it (other than from Seeking Alpha). I have no business relationship with any company whose stock is mentioned in this article.