On Feb. 4, 2016, Linn Energy LLC (NASDAQ:LINE) and its affiliate LinnCo LLC (NASDAQ:LNCO) (whose sole assets are units in Linn Energy) jointly issued the type of press release that only a company in severe financial distress and contemplating a bankruptcy filing would ever issue. The press release announced a "process to explore strategic alternatives to its capital structure." Ominously, the press release indicates that updates on this process will not be provided until a concrete decision is made (i.e., in all likelihood until the filing has essentially reached the courthouse).
A law firm and an investment banker have been retained. The press release contains the obligatory reassurances to the company's employees and business suppliers, comforting that, "We have a very talented workforce, and I am proud of everything that this team has been able to accomplish. We currently have adequate resources to continue the efficient operations of our assets with the support of all our vendors, suppliers and partners while we work through these strategic alternatives."
The press release was preceded by an impressive flurry of 26 separate Form 4 filings by the company's officers and directors, including Mark E. Ellis, the company's CEO, announcing unit sales from their personal and affiliated holdings, beginning with filings on December 29, 2015.
In addition, just two days before the press release, the company adopted cash-based "target" incentive awards with "change of control" provisions for its insiders, affording the CEO and others up to US$6.9 million in individual potential compensation and up to twice that amount in the event of a "change of control". Of course, a Chapter 11 bankruptcy filing pretty much implies a "change of control".
The price of Linn Energy's units dropped 58.33% the day that the press release was issued. The price of LinnCo's units likewise collapsed 65.06% as investors rushed to the exits. Since then, the price of the units has continued to disintegrate. The units are now priced less in each case than the amount of quarterly distributions paid on them just a few months back.
The percentage drop may seem steep, but these were securities that were priced at US$42.52 and US$42.56 as of November 1, 2012 and May 3, 2013, respectively. Indeed, the death of Linn Energy was a tale long foretold.
Those who have not yet dumped their units are advised to do so. The units have no value.
When the Tap Runs Dry
Many contributors to Seeking Alpha and commentators elsewhere have for many months already chastised Linn Energy as being "Ponzi-like" in its cash management practices. There is no necessary imputation of dishonesty in this observation. Linn Energy has for a long time simply paid out to its unitholders cash greatly in excess of its GAAP-compliant net income, while relying on the capital markets to bridge the resulting "funding gap". Articles discussing this aspect of Linn Energy's cash management practices can be found here and here.
Indeed, even when Linn Energy reported losses, even substantial losses, the company continued to reward its investors with a generous cash payout, indicating that the use of its non-GAAP compliant "distributable cash flow" metric permitted this result. The company declared cash distributions as recently as its last reported quarter, the third quarter of 2015.
The "distributable cash flow" metric excludes non-cash items taken into account when computing GAAP-compliant "net income", such as hedging costs and asset impairments, but also excludes items that while not necessarily a cash expense during the accounting period in question, may be expected to incur cash outlays in future periods, such as depreciation and amortization.
And yet, on occasion the company even paid out distributions in excess of its own reported "distributable cash flow", tapping into other sources of liquidity including credit lines, debt issuances, and equity raises. Hence, the "Ponzi-like" analogy.
The graph below aggregates Linn Energy's annual cash payouts to unitholders since 2011, and indicates a seemingly impressive cash paying capacity.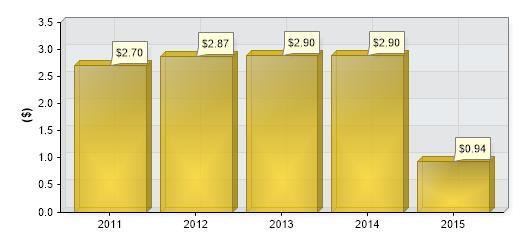 The company's business model worked well during periods of high commodity prices. Given the excitement about fracking and the company's good name and reputation at the time, the capital markets were more than willing to repeatedly bridge the company's funding gaps. Now, the capital markets are essentially closed for MLPs in the energy resource extraction space.
A Liquidity Crunch
And yet, the speed with which Linn Energy depleted its liquidity begs to be examined. The February 4, 2016 press release makes clear that Linn Energy has run out of options. Its liquidity is gone. In the press release, Linn Energy notes that the company's credit lines have been tapped out. The company recently exhausted its $3.6 billion credit facility, drawing down US$919 million. Likewise, the US$900 million credit facility of Berry Petroleum Company, LLC is "fully utilized". In the last available quarterly report, the company had indicated that, as of the close of the third quarter of 2015, it had approximately $790 million available under these facilities.
Perhaps the company's management itself was taken aback by the quick deterioration of the company. In the third quarter of 2015, the company extended guidance for the full-year 2015 according to which the company would be able to fund its total outstanding oil and natural gas capital expenditures, along with the distribution declared for that quarter, from internally generated cash, with an excess of net cash of US$295 million after oil and natural gas development costs.
The company had only recently announced that it had suspended distributions. Indeed, as previously noted, the units of Linn Energy and LinnCo paid US$0.1042 each in cash per unit in November 2015.
Linn Energy's cash burn rate was not so severe that the company should have so quickly found itself in the hole. In the third quarter of 2015, Linn Energy achieved revenues of US$998.3 million. Since then, the unhedged portion of the company's oil production may have contributed towards a slight dip in those revenues. The bulk of the company's revenues for the third quarter of 2015, or US$549 million, related to settlements on "in the money" derivatives positions. Only US$241.5 million related to sales of oil, at an average price of $41.58 per barrel. Even if we were to slash the oil sales revenues by a full half, the revenue shortfall would only be approximately US$120 million.
It is also not likely that the company's expenses for the current quarter were so dramatically out of line with prior quarters that a US$919 million draw down on a credit line was required to plug the gap.
The table below lists and aggregates the company's cash expenses for the third quarter of 2015.
Linn Energy LLC

Third Quarter 2015

Cash Expenses

(in US$ thousands)

Lease Expenses

154,086

Transportation Expenses

54,915

Marketing Expenses

9,359

General and Administrative Expenses

60,113

Exploration Costs

3,072

Taxes, other than income taxes

46,238

Interest expense

138,383

Total

466,166
On the other hand, the company recently suspended its distributions and therefore can avoid a large cash outlay: the cash sweep that occurred every time distributions were paid. In the third quarter of 2015 alone, the distribution payout was US$111.2 million.
Linn Energy did not collapse because it could not pay its bills, but because its bankers pulled or were about to pull away the company's credit line-based liquidity. Because Linn Energy kept so little self-generated cash on its balance sheet, it was always at the mercy of its bankers.
A Wobbly Capital Structure
Linn Energy is burdened by considerable debts. In the third quarter of 2015, the company reported current liabilities of US$752 million and long-term debts of US$10.6 billion, for a total debt load of US$11.38 billion. This reported debt load included its credit facilities, which have since apparently been fully drawn out, adding at least US$919 million to this burden.
Despite management's attempts to paint a "happy face" on the last issued quarterly reports by highlighting operational successes, the third quarter of 2015 was brutal for Linn Energy. The company reported a massive asset write-down of US$2.3 billion. This write-down more than halved the members' equity in the company.
As of that quarter, US$2.19 billion were supporting US$11.38 billion in total liabilities. Since that date, we can only assume, given current market conditions and the press release, that there have been further write-downs coupled with an increased debt load - or, in other words, an unsustainable situation in the medium to long term.
And yet, the company had no significant debt maturities until 2019.
Moreover, the company on a current basis seemed to have been on solid footing. The company had current assets (assets that can be turned into cash within 12 months) of US$1.8 billion. Out of these assets, US$344.8 million were cash, while US$1.13 billion related to the company's hedging portfolio, which generally can be readily liquidated. Current liabilities (liabilities payable within 12 months) stood at US$752 million, giving the company a comfortable current ratio of almost 2.4.
It would thus seem that the company should have been able to survive for at least 12 months or more, unless of course its bankers pulled the rug from under its feet, which is in fact what seems to have happened. If the company's problems related to a cash problem on a current basis, it could have simply liquidated some of its hedges.
Those hedges are, after all, well in the money. Linn Energy, like many other MLPs, hedges a substantial amount of its production. The company needed stable cash flows. This was an expectation of its income-oriented investors. The hedge book was not only supposed to preserve the company's cash flows and meet investor expectations, but also protect the company against downdrafts in commodity prices. Indeed, the expectation of the market seemed to have been that the company would be able to plod along at least well into 2017 on the basis of its solid hedge book.
The Hedge Book
Linn Energy hedged a substantial portion of its forward production at prices far in excess of current market prices. And yet, these hedges appear to have failed to achieve a key objective: protecting the company from commodity price-driven insolvency. The use of hedges is pervasive in the industry, and other MLPs regularly hedge their production in order to preserve the stability of their cash flows. It is therefore important to understand why, in the context of Linn Energy, these hedges apparently failed.
Of its total revenues of approximately US$998 million reported for the third quarter of 2015, gains on its hedging book comprised approximately US$549 million. Indeed, Linn Energy had hedged approximately 100% of its anticipated natural gas production through 2017 at average prices ranging from US$4.48 MMBtu to US$5.12 per MMBtu - substantially above the current market price of approximately US$2.07 per MMBtu. In addition, Linn Energy had hedged approximately 70% of its oil production for 2016 at a price of US$90 per barrel. The company's hedge book had a positive mark-to-market value in excess of US$1.9 billion as of September 30, 2015. Given the downward trend in oil and gas prices since then, the mark-to-market value of this hedge portfolio must have only increased since then.
The unhedged portion of the company's 2016 oil production may have given cause for concern. With 30% of its 2016 oil production selling at approximately US$30 and 70% of its production selling at approximately US$90 per barrel, a back of the envelope calculation leads to an approximately US$72 per barrel recovery for Linn Energy. But is this even relevant if the credit lines are pulled?
The Credit Lines
The Linn Energy hedges should have provided a considerable barrier against the insolvency that has apparently occurred. It seems that Linn Energy was driven to its knees by its banks. Its borrowing base redetermination was scheduled for April 2016. In the context of severely depressed fracking asset prices, it is a safe bet, aside from any discussions that the company's management may have had with the company's creditors, that the borrowing base redetermination would not have gone the company's way, and the credit lines, instead of being a source of liquidity, were about to become a massive drain on cash as the banks demanded immediate repayment on balances currently outstanding.
In anticipation of a probable negative borrowing base redetermination, Linn Energy apparently jumped the gun and completely drew down both of its lines of credit. There is no knowledge of any event or transaction that would have led the company to draw down US$919 million in a single quarter. In the third quarter of 2015, the company cash outlays, excluding distributions, were as has been discussed relatively modest, and its production volumes were heavily hedged.
Even if its break-even prices had been breached because of an adverse commodity environment, it is unlikely that such a large amount of cash would have been necessary to plug the resulting gap. We will not know for sure until the next quarterly release, but it appears that the drawdown was strategic.
Management realized that the end game was near. The banks were going to pull back their credit lines through a negative borrowing base redetermination decision. To restructure successfully, the company needs cash, and in a bankruptcy proceeding angel investors are far and in between and smiling bankers nowhere to be found. Therefore, management apparently drained down its credit lines, said a prayer, and hoped for the best.
The risk that this could happen was fully understood by management, and was in fact specifically laid out in the company's annual report. Whether the company's management was negligent in heeding its own risk warnings, in essentially abandoning the company at the mercy of its bankers, is of course another matter altogether. The relevant "Risk Factor" in that report is quoted in full as follows:
The borrowing bases under our Credit Facilities are subject to redetermination and any reduction in either borrowing base may result in our having to repay indebtedness under our Credit Facilities earlier than anticipated, potentially causing future distributions to our unitholders to be reduced, suspended or eliminated. Each of our Credit Facilities is subject to scheduled redeterminations of its borrowing base, based primarily on reserve reports using lender commodity price expectations at such time, semi-annually in April and October. Additionally the lenders under the LINN Credit Facility have the ability to request an interim redetermination of the borrowing base once per calendar year and the lenders under the Berry Credit Facility have the ability to request an interim redetermination of the borrowing base once between scheduled redeterminations. If current low commodity prices continue through such redetermination events, the borrowing base under either Credit Facility may be reduced. Upon any such potential reduction, any outstanding indebtedness in excess of the new borrowing base may become due within a short time span or we must pledge other properties as additional collateral. We currently have limited unpledged properties.

In particular, because the Berry Credit Facility is effectively fully drawn, any such reduction in the Berry Credit Facility's borrowing base may require Berry and us to make mandatory prepayments under the Berry Credit Facility to the extent existing indebtedness under the Berry Credit Facility exceeds the new borrowing base, or we may choose to post restricted cash on Berry's behalf, reducing our liquidity position. If we are required to repay indebtedness under either of our Credit Facilities earlier than anticipated due to a borrowing base redetermination, it may be necessary to use cash that would otherwise be available for capital expenditures or distributions to our unitholders to repay such indebtedness. As a result of this, future distributions to our unitholders may be reduced, suspended or eliminated. In addition, any failure to repay indebtedness in excess of our borrowing bases would constitute an event of default under the Credit Facilities, and could cause a cross-default under our other outstanding indebtedness.
And yet, in light of this very eloquently described risk, why did the company's management leave Linn Energy at the mercy of a periodic ritual with its bankers - the borrowing base redetermination of the company's credit lines?
Conclusion
Why did Linn Energy die? The answer appears fairly straightforward. Linn Energy lost support of its banks. The banks called in or were about to call in their chips, and Linn Energy therefore simply collapsed.
The key issue again were the credit lines. The company was facing a borrowing base redetermination. This redetermination would have pulled the company deeply into a negative liquidity environment.
Was Linn Energy a "Ponzi scheme," as some in the past have alleged? Only in a narrow sense, without the need to cast aspersions on anyone's character. Linn Energy did in fact for many years pay its investors more cash than was generated by its business. When the company had a rough patch, it lacked the cash balances necessary to survive. As the company and its unlucky investors got to find out, balance sheet cash and cash from a credit line are not one and the same.
Linn Energy lived by the capital markets, and died by them. The speed at which the company was brought to its knees is surprising. The company had a solid hedge book. As recently as the third quarter of 2015, the company had declared distributions.
The flurry of insider sale orders that preceded the February 4, 2016 press release of course raises some eyebrows. However, if queried, there are principles under the securities laws and the Securities and Exchange Commission rules that such insiders may invoke to justify their dumping of so many shares on the eve of such a momentous announcement. This is of course not the forum to examine such matters. I am however partial to the principle of, "You should not beat a man when he is down." The dollar-a-unit sales by the insiders were but a whimper for a company whose units at one point were priced at in excess of US$40 per unit.
And yet, the multi-million dollar cash-based "incentive" compensation awards to the company's officers, adopted a bare two days prior to the issuance of the press release, do however give the unpleasant impression of vultures feasting on a carcass. Why stop the gravy train just because the animal is fetid and dead? The cash of course comes from the strategically drawn credit lines, so perhaps investors should just shrug. It is the bankers who are paying for the largesse.
Clearly, mistakes were made along the way. The company's management did not demonstrate the skill that an investor has the right to expect. If you however want to look for culprits in the sad tale of Linn Energy, my suggestions in reverse numerical order would be as follows:
4. A fundamentally flawed business plan overly reliant on the good graces of the capital markets;
3. Poor execution of the aforesaid business plan;
2. Nervous bankers; and
1. The Saudis
Disclosure: I/we have no positions in any stocks mentioned, and no plans to initiate any positions within the next 72 hours.
I wrote this article myself, and it expresses my own opinions. I am not receiving compensation for it (other than from Seeking Alpha). I have no business relationship with any company whose stock is mentioned in this article.
Editor's Note: This article covers one or more stocks trading at less than $1 per share and/or with less than a $100 million market cap. Please be aware of the risks associated with these stocks.