In the last thirty days, the U.S. dollar (NYSEARCA:UUP) has confounded most forex traders by weakening against the yen, euro, pound sterling, and the Australian and New Zealand dollars. None more so than ourselves, who called out the New Zealand dollar (Pending:NZDS), or kiwi, as a short opportunity. Our suggestion was to short the kiwi down to 62 US cents, but quite the opposite has happened since then with a rise from 64 US cents to 66 US cents.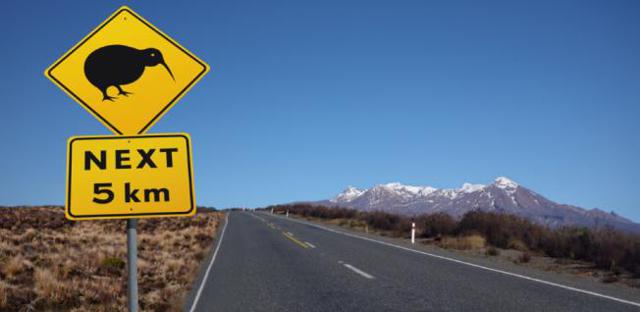 Click to enlarge
Now, we do still expect this decline to happen. In our eyes this is a temporary weakening of the US dollar that will soon begin to retrace. But, as we stated previously, our expectation is for the kiwi to drop to 62 US cents in the second quarter of 2016. This wasn't a short-term trade with instant results expected. On a positive note, the strengthening of the kiwi has allowed us to increase our position and average up.
We feel the kiwi's strengthening was largely down to the US dollar weakening, but there were a couple of positive economic data points coming out of New Zealand that contributed also. The unemployment rate in New Zealand dropped to its lowest level in seven years, smashing economists' expectations. Economists had been expecting the Reserve Bank of New Zealand to report a rise from 6% to 6.1%, but 5.3% was the figure announced, much to the surprise of the market. This announcement led the kiwi to immediately jump a third of a US cent. Part of the reason for the drop in the unemployment rate was a fall in the participation rate, which dropped from 68.6% to 68.4%.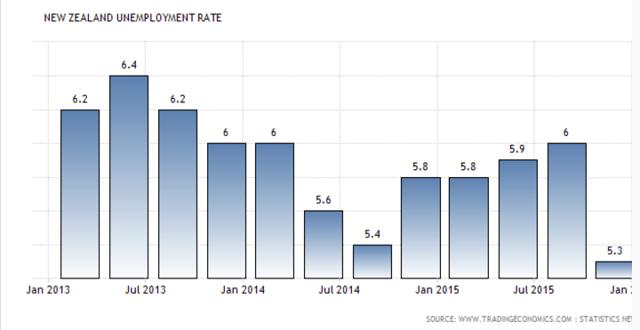 Click to enlarge
Source: Trading Economics.
We must admit that despite everything it is very surprising that the kiwi has managed to hold up in the current risk-off environment. There is clearly a lot of fear and confusion in the markets at present which would normally not bode well for the kiwi.
We do have slight concerns that the way the economy is performing, despite low dairy prices, could mean a delay to any interest rate cuts. Especially with the lower levels of unemployment possibly contributing to a rise in inflation. But we doubt it will be enough, and feel New Zealand is closer to deflation than its inflation target. We take comfort from the fact that the Bank of New Zealand still believes the kiwi is going lower, as does Nordine Naam from Natixis, who in a recent interview stated that they see the kiwi hitting 59 US cents. This depreciation will be the result of weaker commodity prices and the weaker growth we are seeing in the global economy.
It is very hard to say what will happen with monetary policy in the United States in 2016. We have reduced our expectations recently and expect just one interest rate rise this year now. Janet Yellen was speaking before Congress on Wednesday and hinted that the market chaos could be a result of the interest rate rise at the end of 2015. Thus she would be hesitant to raise rates further until the markets were in better shape.
Reading between the lines we feel she has definitely now ruled out a rate rise in March, and only when the global economy and financial markets are looking a lot more stable will she consider raising rates. In that case, it looks like the RBNZ will have to act first if it wants to hit its inflation targets and a lower kiwi will be the way to do this. Some have argued that the RBNZ may attempt to talk down the kiwi. We are more than happy for them to do this. Having the RBNZ on the side of your trade is exactly what we want.
The way we see this panning out in the next 30 days is shown below. After this point we expect a gradual decline toward 62 US cents.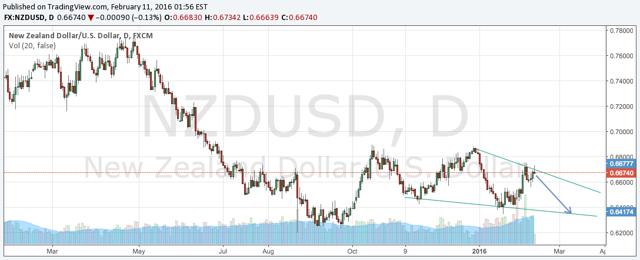 Click to enlarge
Source: DailyFX
Takeaway
The performance of the kiwi in the last month has surprised both ourselves and the markets. Fundamentally we see little reason for the strengthening, and feel fair value is around 64 US cents now. When each of the respective central banks make their monetary policy decisions in the coming months, the kiwi will undoubtedly be taken lower. 62 US cents is our price target still; others think 59 US cents. Whichever it eventually is will still mean a profitable short from the 66.6 US cents price it trades at now. Many ups and downs are to be expected in these volatile times, but we are confident that in time everything will fall into place.
Disclosure: I am/we are short NZDS.
I wrote this article myself, and it expresses my own opinions. I am not receiving compensation for it (other than from Seeking Alpha). I have no business relationship with any company whose stock is mentioned in this article.