Only Egypt and Greece spent more government money as a percentage of economic activity (GDP) than the United States in 2011. The U.S. national debt ($15,300,000,000,000) already exceeds the value of all final goods and services produced by Americans each year. And gasoline prices figure to make things even tougher, as the $15 spike in crude oil since 2012 began should sap 0.3% from U.S. GDP figures in the near future.
Clearly, the upbeat start for risk assets in 2012 defies longer-term implications of developed world bankruptcies. The industrialized nations are hyper-spending.
But markets often live in the moment… or at best, look out 6 to 9 months. After all, the average holding time for stock shares is a mere 5 months.
When markets live in the "day-to-day," riskier stock assets become hot and the media tend to reacquaint us with Jeremy Siegel and Abby Cohen. And why not? There's enhanced enthusiasm for China after recent bank reserve requirements were lowered, increasing the odds of a resurgence in emerging market dominance. Europe's band-aid provisions for Greece will delay the inevitable for a little while longer. And the U.S. itself has been the beneficiary of seasonal employment gains and definitive reductions in unemployment claims.
Of course, as much as we can address inexpensive P/Es and relative earnings yields that blow the 10-year Treasury bond to smithereens, flooding the world with electronically created greenbacks is likely to weaken the U.S. dollar over time. We may not see it in relation to the euro-dollar, as it is plagued by years of welfare state mistakes. But if history is any guide, promoting economic growth through currency devaluation policies (e.g., QE1, QE2, Operation Twist, etc.) can wind up being a war with few victors.
There is an "out," perhaps. And savvy investors may be seeing that "out" in petrol-dollars and precious metals. For as much talk as the S&P 500's 8.5% rise in 2012, few talking heads seem to be discussing the monstrous (and possibly inflationary) gains in Precious Metals ETFs and petroleum-based ETFs.
Approximate Returns For Precious Metals ETFs in 2012
Approx YTD %
iShares Silver Trust (NYSEARCA:SLV)
28.0%
ETFS Physical Platinum (NYSEARCA:PPLT)
23.5%
PowerShares DB Precious Metals (NYSEARCA:DBP)
16.7%
SPDR Gold Trust (NYSEARCA:GLD)
14.1%
ETFS Physical Palladium (NYSEARCA:PALL)
9.8%
United States Oil (NYSEARCA:USO)
7.9%
United States Gasoline (NYSEARCA:UGA)
16.8%
S&P 500 SPDR Trust (NYSEARCA:SPY)
8.6%
Perhaps the move away from the U.S. buck as the world's currency will be gradual, rather than cataclysmic. Or perhaps the world will always come running back to greenies and the yen, no matter what the crisis and no matter who kicked it off.
Still, it seems possible that investors may be adopting a de facto gold standard. Even if governments are not yet willing to link major currencies to the precious commodity, there may be a gnawing sense of inevitability that endless currency debasement by countries looking to protect exports will end badly. Hence, my consistent guidance throughout the years to purchase SPDR Gold Trust (GLD) on significant sell-offs is worth revisiting.
(Click chart to expand)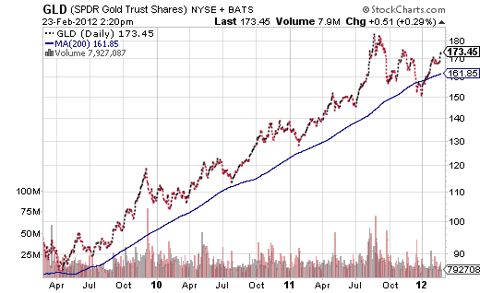 Click to enlarge
Disclosure: Gary Gordon, MS, CFP is the president of Pacific Park Financial, Inc., a Registered Investment Adviser with the SEC. Gary Gordon, Pacific Park Financial, Inc, and/or its clients may hold positions in the ETFs, mutual funds, and/or any investment asset mentioned above. The commentary does not constitute individualized investment advice. The opinions offered herein are not personalized recommendations to buy, sell or hold securities. At times, issuers of exchange-traded products compensate Pacific Park Financial, Inc. or its subsidiaries for advertising at the ETF Expert web site. ETF Expert content is created independently of any advertising relationships.