In September I wrote an article about if a new bull market in Uranium is upon us; and now I thought would be a good time to do an update, as well as unveil a new company. Before I get into the markets, I first want to address prior questions I had from readers of that past article. The first one was about Cameco's (NYSE:CCJ) tax dispute with the CRA. I personally believe that if you look at the price movement of Cameco last year, the stock went from trading at roughly $17.00 a share, to trading at just above $11 per share. So in my opinion, I believe that this is mostly priced into the stock. Also, Cameco has a major supply deal with India and China, and because of this, I don't think the Canadian government will go after Cameco to harshly if they win, because international relations with China and India will turn sour because of it. Especially with China's ambitious nuclear program on the rise. It is only opinion, but it is my opinion. In terms of their dispute with the IRS, I think they will settle.
Secondly, someone asked me about the correlation with oil, and what do I think of it. I personally think that oil and U308 are two separate forms of energy and that if oil stays low, that it won't affect the price of Uranium on a large scale. But I do believe that these low oil prices will not last, and that oil is due for a strong rebound in the next 12-18 months. In fact here is an article I wrote about these low oil prices. So even though I don't believe oil prices correlate with Uranium, I am a bull on oil, and think by 2017, that oil will be back to trading around the 60$ per barrel range; and by the end of the decade, it will be trading over $100 per barrel again. I might be the only who thinks that, but I do believe we will see over $100 dollar oil in the next 5 years.
Uranium Market Update
When it comes to the Uranium market, no country receives more press then Japan. That is why I will start with them first. Recently, Japan just restarted its third nuclear reactor in January, and two more, reactors are estimated to be coming back online this year. In 2017, it is estimated that 8 more reactors will come back online in Japan, and by 2020, 37 reactors will be in operating in Japan. So, slowly but shortly, these reactors are making their way back online, thus increasing demand, and adding new buyers into the market.
But many people have wondered if the fundamentals are this strong, then why isn't the price increasing. In my opinion, this is due to the fact that the US department of energy has been selling its uranium stockpiles onto the market. In fact, the amount of uranium being sold from domestic inventories exceeds the amount that the US produces on an annual basis. The good news is, that this can't go on forever; eventually the sales of domestic inventories are going to deplete. But my question about this activity isn't why is the US government selling its Uranium stockpiles, but it is who is buying from the US government? That is the real question, because for every seller, there has to be a buyer, and later in this article, you learn it's not the utility companies that are buying it.
But despite the fact that the US is selling off its inventory, there is good news on the horizon.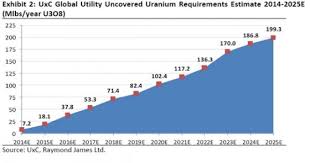 If you look at this chart above, one can see that the amount of uncovered utility supply contracts are rising, and will start to rise significantly in 2017. That means that big buyers mainly from utility companies, will start to enter the market in the near future.
Another Uranium stock that will benefit from rising prices
In my opinion, the most leveraged company to higher Uranium prices is Energy Fuels (NYSEMKT:UUUU). This is one of the only three companies on the public exchanges that contain both conventional production mines, and In-Situ (ISR) production. Currently, it also has been able to generate premium priced sales on their production, at $56 dollars per pound, roughly $20 dollars more than the spot price of U308.
At the moment, this company has two centers currently in production. One is called the White Mesa Mill. Located in Blanding, Utah, this is a conventional producer, with a licensed capacity to produce up to 2,000 tons per day, and could produce up to 8 million pounds. It's other current production center, is called Nichols Ranch. This is located in the Powder River Basin in Wyoming, which has a licensed capacity of 2 million pounds per year.
They also have 16 other projects in their pipeline, if you include four of their exploration projects. Overall, Energy Fuels has 18.4 million pounds of proven and probable reserves in the company's reserve base, as well as 66.7 million pounds of M&I reserves.
Recently, the management and board have purchased over 1 million shares, which shows that management has plenty of skin in the game and their interest are aligned with yours as a shareholder. But what I like most about this stock, is its share structure. It has 45.05 million traded shares, 3.02 million options outstanding, 3.54 million warrants outstanding, .15 million restricted share units, and 1.47 million worth of convertible debentures. This brings us to a total of 53.23 million fully diluted shares.
It also has a strong balance sheet, with over $17 million dollars of cash on its balance sheet, with a current ratio of 4.4, and total assets to total liabilities ratio of 4.4. Its cash flow seems relatively healthy, were operating cash flow exceed its development expenditures on property, plant, and equipment, and its expenditures on exploration and evaluation expenses by $890,000 dollars. This isn't great, but in this environment, it's a lot better than most uranium producers.
In closing, I believe that the resource sector, particularly the uranium, precious metals, and oil sector present great profit opportunities in today's current environment, and want to start up a newsletter, but might have to put that on hold due to extenuating circumstances. But for now, I will be writing about other great companies I like in these spaces. So if this interests you, and you want to learn more about the companies I like, just follow me on Seeking Alpha for now.
Disclosure: I am/we are long UUUU.
I wrote this article myself, and it expresses my own opinions. I am not receiving compensation for it (other than from Seeking Alpha). I have no business relationship with any company whose stock is mentioned in this article.