It's been just 33 days since we brought our Energy Lenders short trade to the masses (via a making-public blog and associated screencast presentation). We followed up this making public by updating and reiterating our long-standing Energy Lenders short trade to much positive feedback (for which we're very grateful for). Trailing twelve months this short trade has been one of our best ideas, especially on a risk-adjusted basis .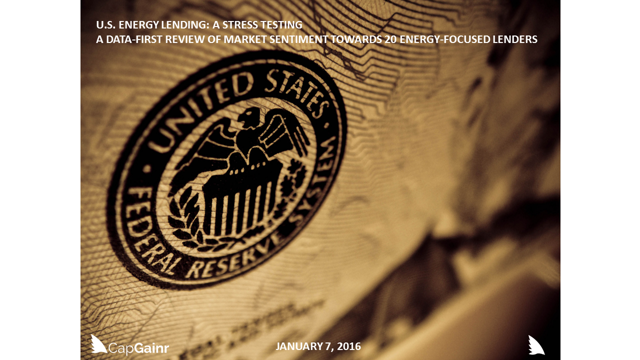 Click to enlarge
Case in point, trailing twelve month beta for the short trade (as updated most recently for the close of 2/10/2016) has only been 89 bps - updated prior on 1/18/2016 to 92 bps and updated at making-public on 1/7/2016 to 91 bps - which means this trade has expressed less volatility than the S&P 500 while also outperforming in a big, big way (see below). It's hard enough to beat the indexes let alone to beat them 1) on a better risk adjusted basis and 2) with less volatility. For the record, S&P 500 volatility has been spiking W/W since the beginning of the New Year and we strongly believe the Energy Lenders short trade risk-adjusted outperformance will continue to grow; in fact, we believe shorting Energy Lenders might be the single best idea of 2016 regardless of sector. Stay tuned.
This trade, so far, has done just that - outperform indexes and comparable "short energy" trades (on a risk adjusted basis). We reiterate again our belief that this trade will continue to do just that. In fact, we think despite energy and Energy Lenders being "in the hole" that there's never been a better time to put this short trade on.
Now, as we had proposed would happen in our first reiteration of the trade (via our "U.S. ENERGY LENDING: A STRESS TESTING" data-visual deck), not only has this trade continued to move in the right direction - it actually moved faster and into even more attractive risk-indication data. That's right, this trade actually looks even more lucrative on a risk-adjusted basis now than it has during the previous 12-months.
Keep in mind, the short Energy Lenders trade has generated (as of the 2/10/2016 close) 16.8% return trailing twelve months (updated to reflect 860 bps TTM return on 1/18/2016; having generated 520 bps return at making-public on 1/7/2016) on, again, just 89 bps beta (also without the help of heavy short interest - to our advantage). Outside of hedge fund managers and leveraged-return funds most market participants, I have to believe, would be more than happy if having realized those returns.
Again though, with both non-credit risk indication data and credit-risk indication data showing that the underlying companies comprising the Energy Lenders short trade are finally being "marked down" for what we believe is inherent risk (via energy lending exposure of course) we're seeing the return from this trade accelerate into risk-data deterioration. Please take in this statement carefully and with much attention. Put another way, the broader market is just now taking notice of what it has been all too happy to ignore dating back to the birth of the current energy bear (which now is the second longest ever for a bear of at least 45% drawdown peak-to-trough).
With this trade now being en vogue, sexy, or fashionable (however you'd like to phrase it) we're expecting overall risking off to the energy lending "niche" as well as aggressive "in the hole" shorting to help continue return-acceleration.
If you're not already short-side exposed to this Energy Lenders trade we're here to reiterate that you get short-side exposed. We believe this trade continues to greatly outperform on a risk-adjusted basis and that this trade will continue to have extremely limited upside-risk. Enjoy.
Disclosure: I am/we are short ALL POSITIONS.
I wrote this article myself, and it expresses my own opinions. I am not receiving compensation for it (other than from Seeking Alpha). I have no business relationship with any company whose stock is mentioned in this article.
Editor's Note: This article covers one or more stocks trading at less than $1 per share and/or with less than a $100 million market cap. Please be aware of the risks associated with these stocks.