In the short-term, the stock market is mostly a popularity contest. In a panic, valuations can get pushed to levels that make no economic sense. Even if one is buying $1 of intrinsic value for $0.60, there is no guarantee that over the short term that same stock might not go to $0.50 or $0.40 on the $1. The recent panic that has punished financial stocks has created an incredibly compelling opportunity in the common stock of Voya Financial (NYSE:VOYA). VOYA is a great example of a misunderstood and underfollowed spinoff, which has gotten caught up in the panic of 2016, to where the stock is available at an absolutely massive discount to any conservative estimate of intrinsic value.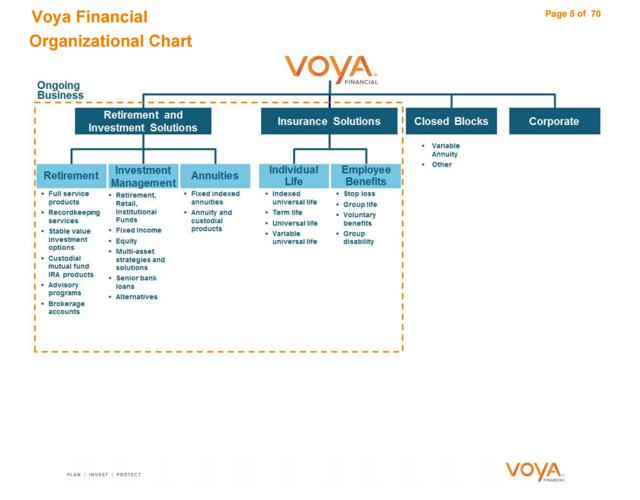 Source VOYA 4th Quarter Investor Supplement
VOYA is a Retirement and Investment Solutions Business. It incorporates traditional asset and investment management, in addition to insurance solutions. The company was spun-off from ING Group (NYSE:ING), and has been undergoing a transformation over the last several years, focusing on achieving higher returns, and reducing risks of older business lines. VOYA's earnings are extremely confusing to interpret on a GAAP basis because of its Closed Book Variable Annuity (CBVA) Block. The CBVA contains legacy business that is highly volatile to equity markets and interest rates. VOYA initiated an aggressive hedging program designed to protect regulatory capital, to the detriment of GAAP earnings. By substantially mitigating these legacy risks, VOYA has been concentrating on increasing its distribution, product selection, and its technological capacities to grow its higher margin businesses.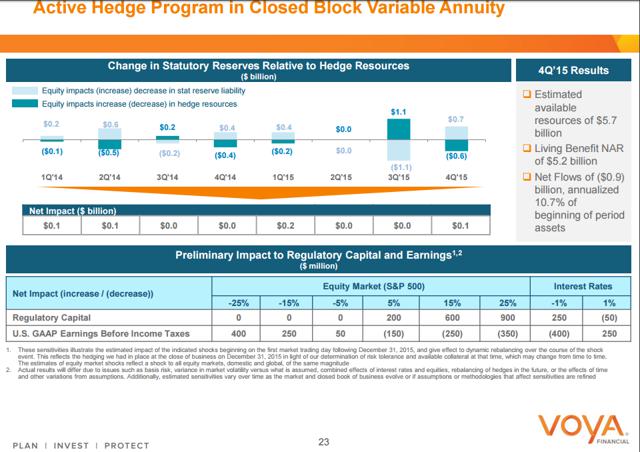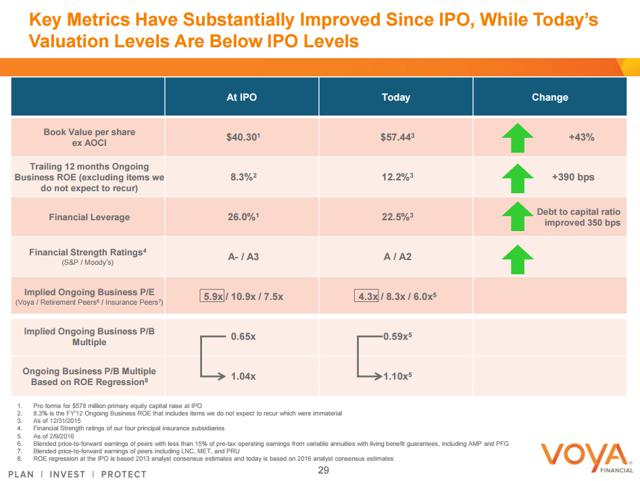 Source: VOYA 4th quarter Investor Presentation
The table above shows VOYA's financial metrics at the time of its IPO in 2013 and now. As can be seen, the company has increased its book value per share ex AOCI by 43% to $57.44. The ROE on the ongoing core business has increased by 390 bps to 12.2%. Despite these accomplishments, the valuation has shriveled dramatically. While some of this can be blamed on the recent global bear market, I also believe that market participants are underestimating the quality of VOYA's business model and potential for growth.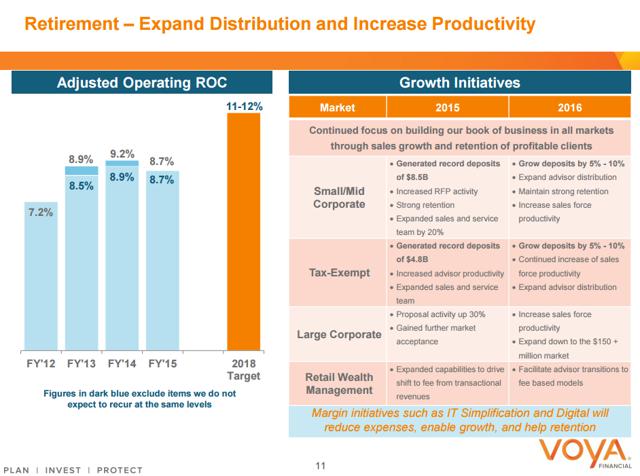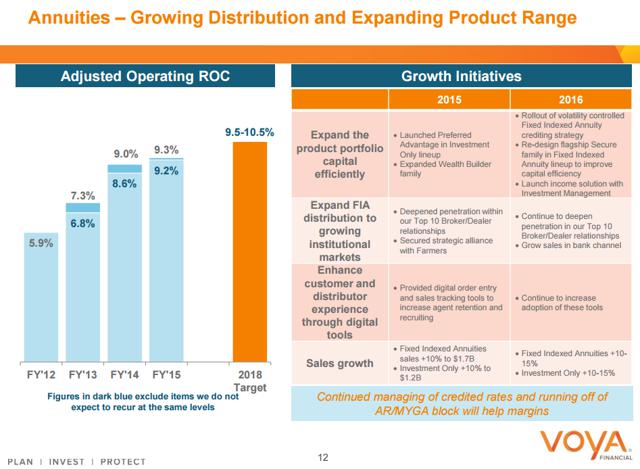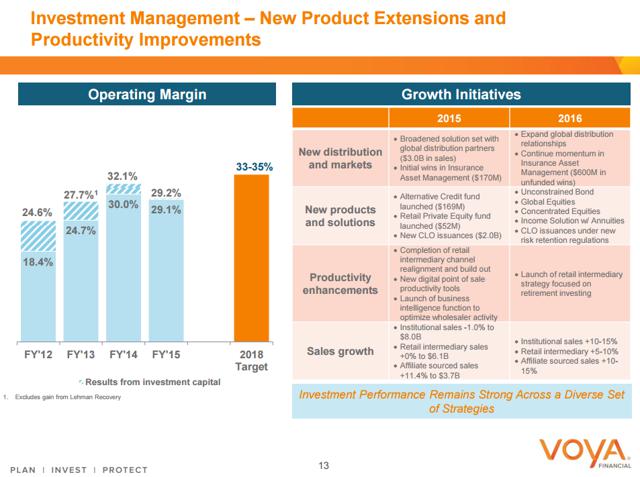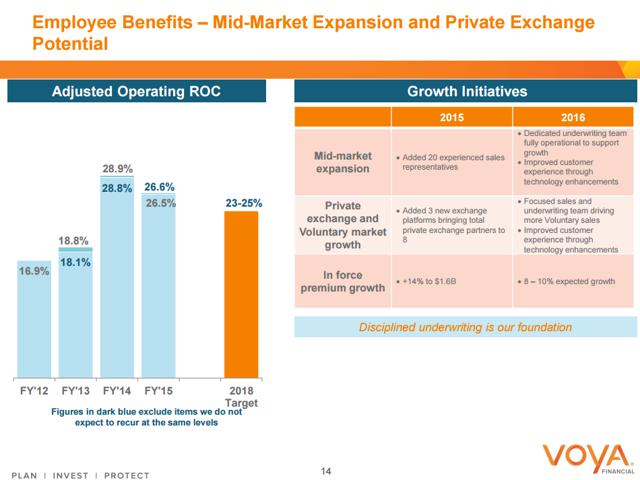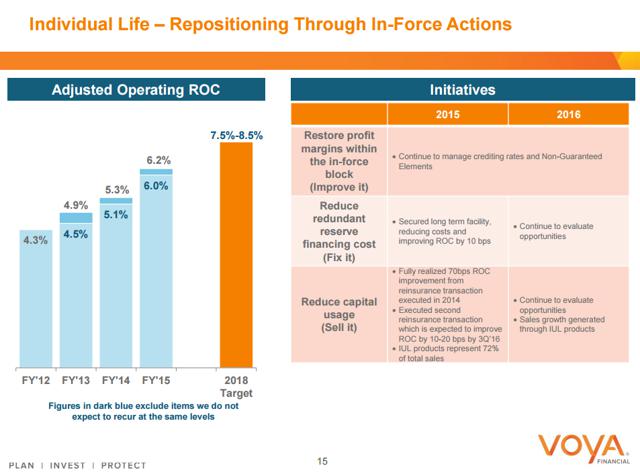 As you can see by the slides above, VOYA's Retirement and Investment businesses generate outsized returns relative to insurance. They also carry considerably less risk and offer more growth potential. 401K programs are increasingly becoming a bigger part of the retirement equation and VOYA can service these plans for businesses across the country, complete with very compelling investment and insurance options. This was a neglected business when VOYA was part of ING, so VOYA has been really focusing on increasing its distribution. It has not been a seamless transition and asset flows can vary with market conditions, but it is obvious that VOYA is making considerable progress. As the CBVA runs off, these adjusted earnings will more closely resemble GAAP and the higher margins will be more clearly evident to the investment community.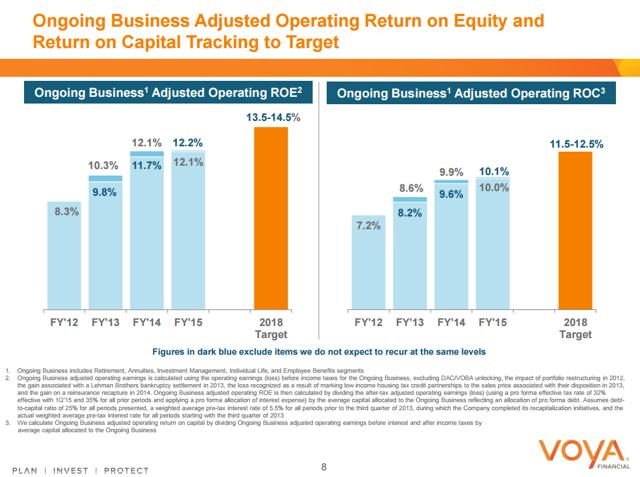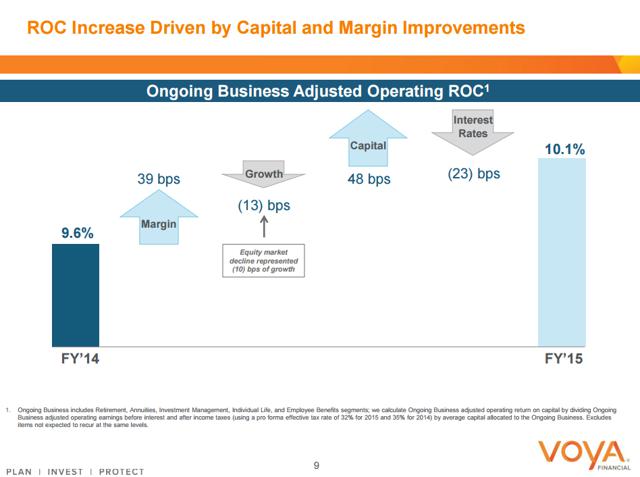 On February 10th, VOYA reported 4th quarter 2015 operating earnings of $0.91 per diluted share after-tax. Excluding DAC/VOBA and other intangibles unlocking, after-tax operating earnings were $0.82 per diluted share. 4Q 2015 net loss available to common shareholders was $0.49 per diluted share. This is a reflection of the Closed Block Variable Annuity segment (which is in run-off and is not included in operating earnings) loss of $0.95 per diluted share, after-tax. The CBVA segment is supported by a hedge program that is primarily designed to mitigate the impacts of market movements on regulatory and rating agency capital resources, creating an account asymmetry for U.S. GAAP accounting. The loss includes a non-operating loss of $0.30 per diluted share, after-tax, due to the previously announced sale via reinsurance of an in-force block of term life insurance policies, which closed during the quarter.
VOYA experienced positive net flows in Retirement and Annuities. Retirement inflows in the quarter were a healthy $557MM. Investment Management operating margin was a stellar 32.7%, excluding results from investment capital. Very importantly, VOYA experienced favorable Individual Life mortality experience due to lower frequency, this had been a major problem area in recent quarters. In Employee Benefits, the loss ratio for Stop Loss was better than the expected annual range of 77-80%. The Group Life loss ratio was also within the expected range. The Retirement and Investment Solutions accounted for approximately 65% of Ongoing Business adjusted operating earnings before income taxes. VOYA's estimated combined risk-based capital (RBC) ratio of 485% is considerably above the target of 425%. The debt-to-capital ratio excluding accumulated other comprehensive income (AOCI) was 22.5%. Book value per share (excluding AOCI) was $57.44.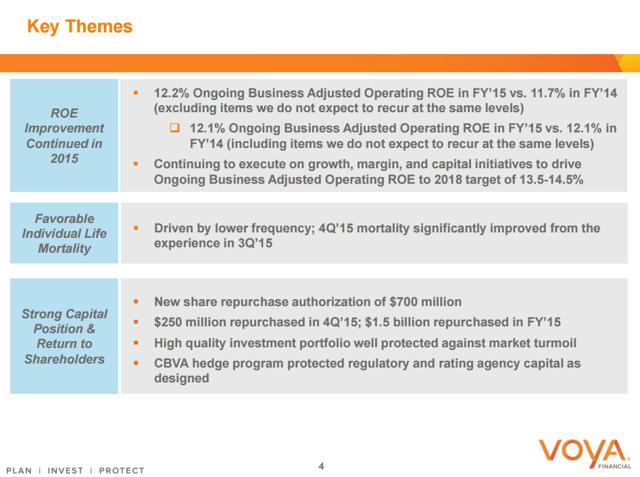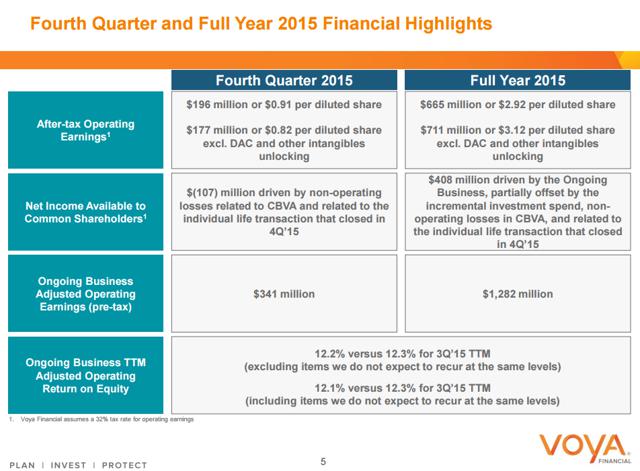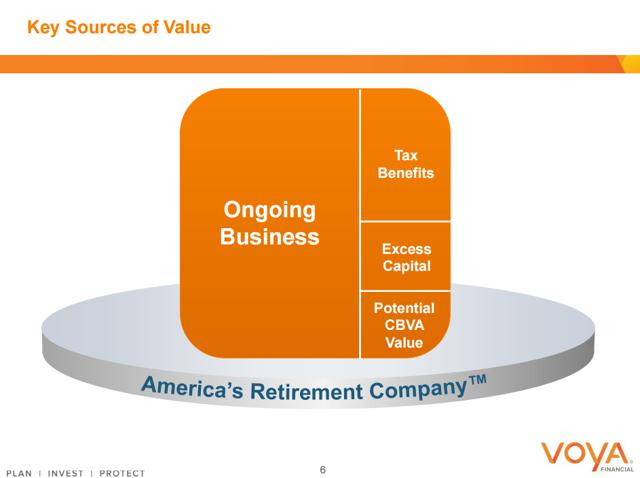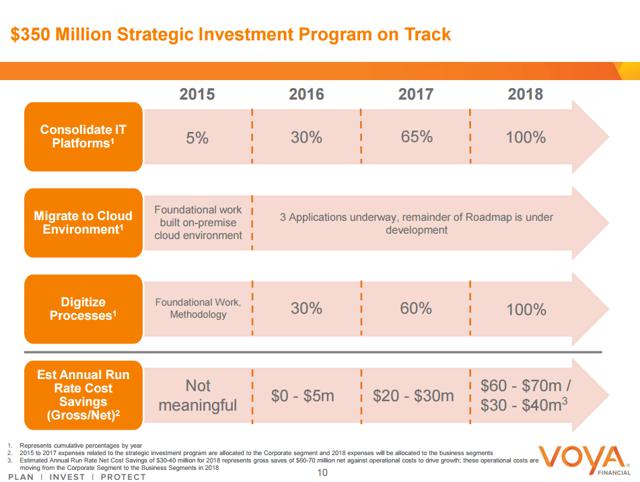 For the full year 2015, VOYA generated operated earnings of $2.92 per diluted share, after-tax. Excluding the impact of DAC/VOBA and other intangibles unlocking, after-tax operating earnings were $3.12 per diluted share. Full year net income available to common shareholder was $1.80 per diluted share. The Adjusted Operating Return on Equity for the ongoing business (Adjusted Operating ROE) was 12.1% for 2015, and the return on capital was 10.1%. Total assets under management (AUM) and total AUM under administration were $271 billion, and $452 billion, respectively, as of December 31, 2015. VOYA bought back $250MM of stock in the 4th quarter of 2015 and $1.5 billion for the full year.
VOYA is committed to its 2018 return on equity target of 13.5% to 14.5%. VOYA's management is intelligently taking advantage of the significant selloff in its stock, by announcing a $700MM stock buyback program. This is about 12% of the market capitalization of the company at current prices, so it will be enormously accretive to earnings given the discount to book value. As of the end of the 4th quarter, VOYA had excess capital of about $1.1 billion, so even after the share buyback, it will still be overly capitalized. VOYA is investing $350MM on technology investments, which should lead to significant annual cost savings and growth opportunities.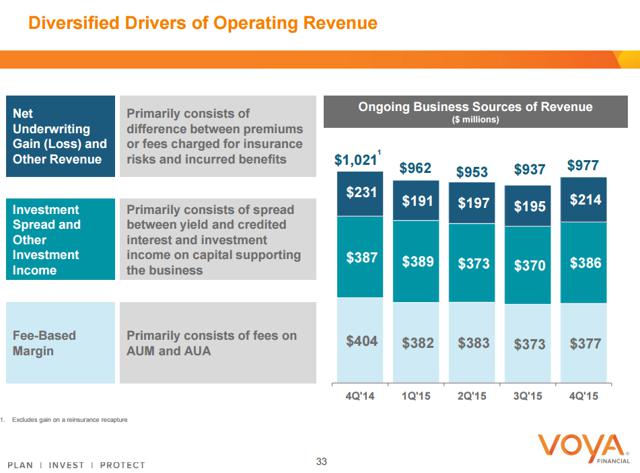 As you can see in the above slide, the majority of VOYA's operating revenue comes from fee-based margin and investment spread. Business conditions for 2016 aren't off to a great start with the equity selloff and the contraction in yields, but so far the company has been delivering or exceeding its goals. I believe that if VOYA were to spin-off its Investment Management business it could unlock significant value, to much more attractive economics than the legacy insurance model aspects of the larger entity. In the 2nd and 3rd quarters, VOYA's insurance underwriting results underperformed relative to expectations; the reality is that Life Insurance is just a riskier business than investment management, particularly in this low interest rate world we live in.
At a recent price of $27.26, VOYA trades at a staggeringly cheap 47% of book value (excluding AOCI). VOYA will be able to meaningfully grow book value per share via stock buybacks, even if earnings are subpar. While like any insurer, VOYA faces risks from lower interest rates and exposure to areas such as energy, I believe these fears are drastically overstated given the current share price. I believe this is a company that should easily be trading at a price between $45-$55 per share over the next 2 years, and I believe there is upside beyond that when interest rates finally do increase, as impossible as that day may be to imagine in the current environment. For those investors willing to ignore the short-term volatility of "Mr. Market", VOYA represents an extremely compelling opportunity for long-term appreciation.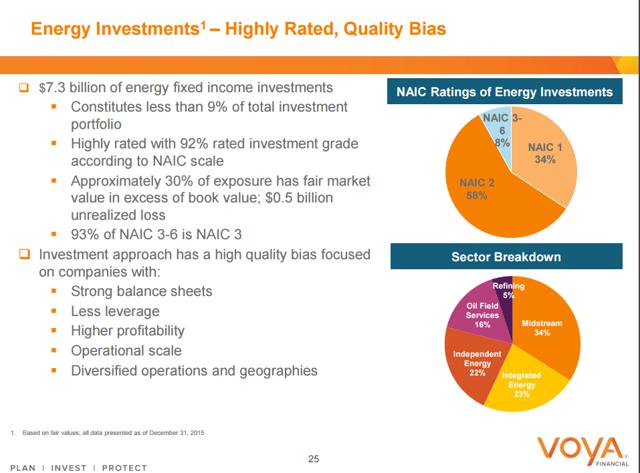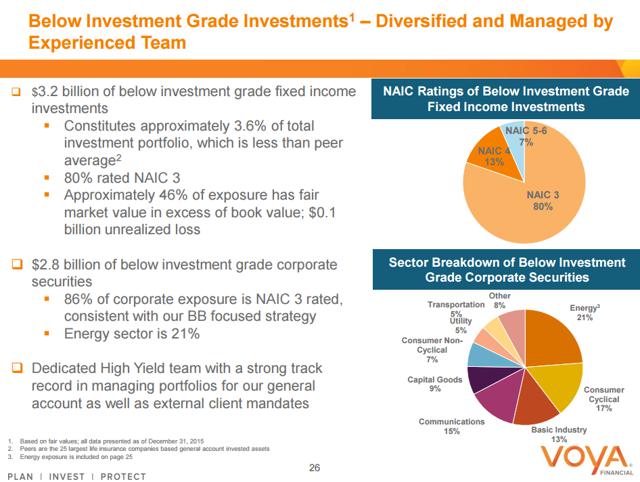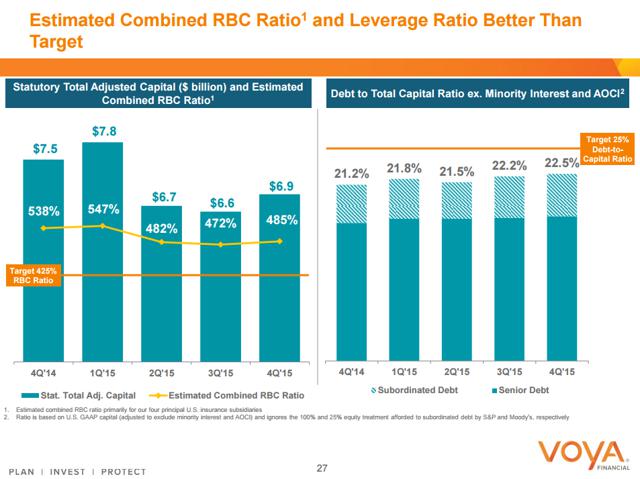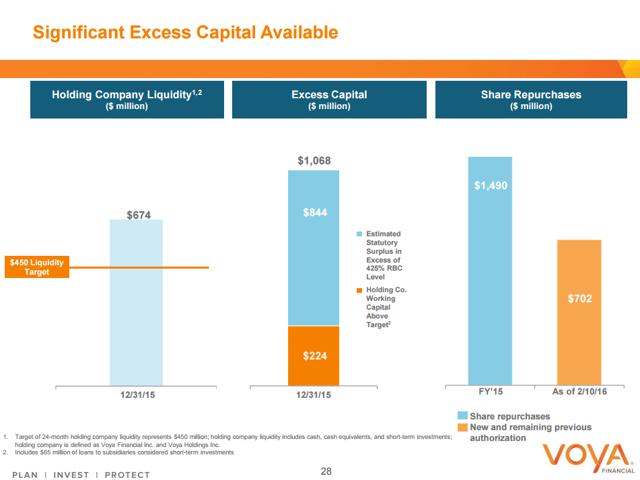 Disclosure: I am/we are long VOYA.
I wrote this article myself, and it expresses my own opinions. I am not receiving compensation for it (other than from Seeking Alpha). I have no business relationship with any company whose stock is mentioned in this article.