Thesis Introduction
Some take-aways from Janet L. Yellen's semiannual Monetary Policy Report to Congress before the Committee on Financial Services, U.S. House of Representatives on February 10, 2016.
"Financial conditions are less supportive of growth" due to "declines in broad measures of equity prices, higher borrowing rates for riskier borrowers, and a further appreciation of the dollar."
Yellen went on to state that "these developments, if they prove persistent, could weigh on the outlook for economic activity and the labor market, although declines in longer-term interest rates and oil prices provide some offset."
The Fed expects that "global economic growth should pick-up over time, supported by highly accommodative monetary policies abroad."
We believe that the FED will not hike interest rates this March. We go on to state that the FED will only start to consider rising rates after the July 26-27 FOMC meeting but no sooner.
Global Q.E. from China
China has seen massive capital outflows of nearly a $1 trillion dollars prompting the People's Bank of China to tap into the country's war chest of reserves.
"The Chinese capital outflow picture appears to have entered a new phase in [the third quarter], broadening to include foreign direct investment and portfolio instruments, something that could make future capital outflows practically boundless," writes the JPM team in a Bloomberg article by Luke Kawa,"JPMorgan: Potential Capital Outflows From China Have Become 'Practically Boundless'."
(Source: Zero hedge - The Number Everyone's Been Waiting For: Chinese Reserves Plunge By $100BN - What Does It Mean For Markets?)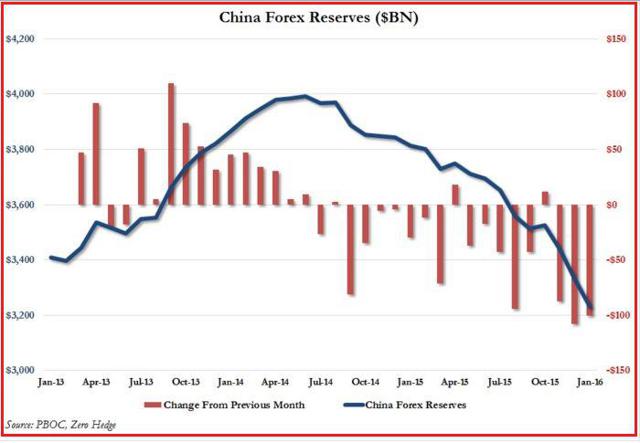 Click to enlarge
Projections anticipate that the outflows will continue unless the government does something radical to minimize the rapid capital outflows.
(Source: Trading Economics - China Capital Flows)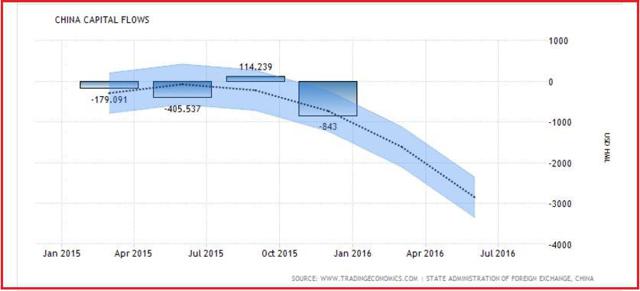 This unprecedented outflow of capital is attributed to surging real estate prices in Sydney, New York, Vancouver, London etc.
"Overall, Chinese buyers spent $22 billion on U.S. housing in the 12 months through March 2014 - 72% more than a year earlier, according to the National Association of Realtors, buying mostly high-end, expensive homes with a median price of over $500,000. Asian buyers make up more than a third of all international real estate buyers in the U.S., and Chinese investing in U.S. real estate is so popular that the Washington, D. C-based Association of Foreign Investors in Real Estate (AFIRE) offers its guide to real-estate investing in the U.S. in only two languages, English and Mandarin." - by Daniel Goldstein from MarketWatch.

"The UK, Australia, Canada and the US are the most popular destinations for Chinese real estate investment. Australia had the strongest growth in inbound real estate investment from China in 2014, with an increase of more than 60 per cent, according to estimates from property consultancy Knight Frank, based on official Australian data.

In London, Chinese buyers accounted for 11 per cent of all property transactions above £1m in 2014, up from 4 per cent in 2012, according to Knight Frank. The comparable figure for Russian buyers, the second-largest group, was 5 per cent - a proportion that has hardly changed for several years." - By Jamil Anderlini from the Financial Times in the article,"Surge in Chinese housebuying spurs global backlash."
The rapid injection of cash into global markets is an equivalent of global quantitative easing ("QE"). This past January, 2016, marked the 22nd month of consecutive outflows. The total capital outflows have exceeded $1 trillion dollars for 2015. The estimates for last month alone are $110 billion dollars in capital outflows. We believe that this has started to wipe out the impact of quantitative tightening ("QT") from central banks around the world and hence one of the reasons why their monetary policies are not working as planned.
But we think flooding foreign markets with excess cash is not the only negative effect on foreign markets.
Because most of these buyers are not constrained by income and can pay cash for houses - unlike most local buyers - they are driving up housing prices for everyone. Meaning that young people who want to buy houses need to pay more. They need more debt. Higher monthly interest payments. This accumulation of cost to locals is probably one of the most important reasons why countries like the United States have witnessed a decline in consumer spending and consumer sentiments amidst declining unemployment rates and low oil gas prices.
The 4.9% Everyone Reads As 9.4%
This means that the net effect of QE and QT is becoming almost negligible. The whole aim of QT is to be a counterforce to QE or liquidity injections by developed central banks.
This is why the global QE from China is damaging to investors because it counters quantitative tightening measures central banks around the world have been attempting to implement.
Last month, in the article "Elections, Oil And Household Debt Will Likely Drive Consumer Sentiments Down," we outlined how pessimistic rhetoric from presidential candidates, declining oil prices and rising consumer debt amidst rising living costs, were driving sentiments down.
"The Fed might not end-up rising rates: Unemployment might not surge, consumer sentiments are likely going to decline and consumer debt might rise as people borrow now in anticipation of rising rates in the future and while wages might slowly grow medical and food expenses are not going down anytime soon. The Fed is data driven. The data suggests a foot on the brakes not on the accelerator."
According to the Bureau of Labor Statistics, the unemployment rate fell to a 7-year low of 4.9%. But the market is reacting as if the unemployment rate just rose to 9.4%. This pessimistic outlook can be seen in declining sentiments and lower consumer spending.
(Source: Data taken from the Bureau of Labor Statistics)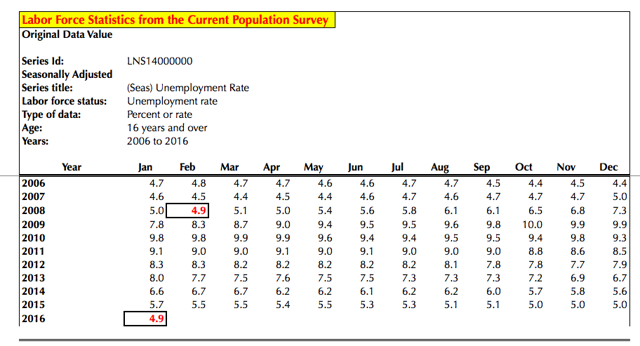 Click to enlarge
As we predicted consumer sentiments declined to 92 vs. the estimated 93 for January 2016.
These are mixed results because the economy seems to be improving and some stocks that are getting punished are actually performing well.
We think this has more to do with people's uncertainty over future expectations rather than an indication of people's attitudes towards current economic conditions. The biggest challenge here is that the sentiments are not data driven. Therefore, even if firms outperform or earnings increase on aggregate, these sentiments are likely to remain bearish overall. Consequently, we do not see these economic headwinds slowing down any time soon.
We have a theory. The notion that the FED is data driven is incomplete. The FED is more concerned about the broader picture. What the data does. Its implications on consumers. The data looks good but the effects on the broader economy goes against economic theory implications. Therefore, even if the data might suggest an interest rate rise, the implications of the data does not. Like we said last month, the data suggests a foot on the brakes not on the accelerator.
Conclusion
Market Sell-Off
This reverse outflow from China should be one critical point to explain the recent market sell-off. The assumption that the U.S. economy was better led to heightened expectations but the market could not deliver because the 'heightened expectations' are grossly misaligned with the underlying economics governing consumer behavior.
Waiting Is The Game
We do not see any optimal time to hike rates between now and July 26th. We think the rates discussion will emerge again after final presidential candidates are chosen. This way, the market will start to have an idea of who could be in power, agendas the would-be president would push forward and how the market might react. We also need to see the actual impact of China's capital flow to its trading partners.
(Source: Profitf - FOMC Meeting Schedule 2016)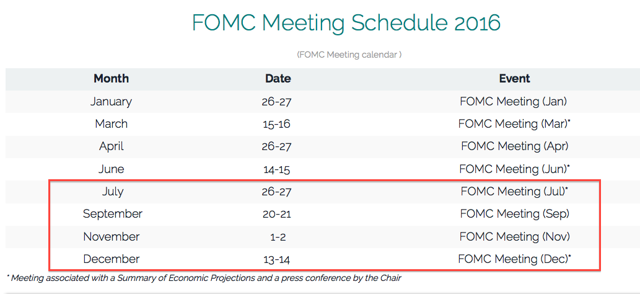 Click to enlarge
Double Negative Effect
Overseas market weaknesses and continued market distress will derail any rate hike ambitions.
According to the United States Census Bureau, China makes-up ~75% of total trade of the United States. But China's current initiatives are not supportive of growth for the United States. This is because U.S. companies that export to China will continue to face strong currency headwinds from yuan devaluation. This devaluation is going to lead to further margin compressions from multinational firms (who do not manufacture in China). To appease investors companies might resort to layoffs as a means of cutting costs to increase margins. We think that these layoffs coupled with the layoffs from the energy sector plus those from wage increases will force unemployment up again.
Furthermore, some of the United States' top trading partners such as Germany, South Korea and Brazil are also China's top trading partners. Therefore, we see a double negative effect from China for the United States.
Reactive Not Proactive
Quantitative easing has been thrown out of the window because economies are doing better but it has been hard to comprehend the recent market jitters. The anticipated effects of quantitative tightening should take into account the "quantitative easing" coming from China.
The other problem with the FED is that it is a reactive rather than proactive. It is not the first to initiative monetary policies. It reacts to anything that the global markets throws at it. Meaning that other central banks can easily control the narrative while the FED follows the story. But because different countries have to protect their own interest, the actions of central banks around the world cannot always be expected to align with the FED's goal to stabilize the U.S. markets.
We do not see the challenges from China stabilizing anytime soon or the unemployment rate continuing to decline or currency headwinds stopping being a problem or consumer sentiments picking up anytime soon. Therefore, we do not see the FED rising rates this March.
Disclosure: I/we have no positions in any stocks mentioned, and no plans to initiate any positions within the next 72 hours.
I wrote this article myself, and it expresses my own opinions. I am not receiving compensation for it (other than from Seeking Alpha). I have no business relationship with any company whose stock is mentioned in this article.