In November of last year, I started a new model portfolio and published an article here on Seeking Alpha, where I set out the basic concept for holding a very, very passive portfolio of assets that should, over time, grow distributions. I started the portfolio out with approximately $312,000 distributed across 20 different stocks, each of which was weighted according to the amount of income the business would provide to the overall portfolio. I weighted each equally to provide roughly $500 of dividends apiece, so the overall portfolio produced income of roughly $10,000 at the time it was started in November of 2015. My plan was to do literally nothing with this portfolio until November 2016, at which point, I'd reinvest the dividends into whatever business seemed cheapest. Thus far, I have been true to my word and done what I set out to do. Nothing.
How has the portfolio done so far? In terms of income growth, the portfolio is down by 2.6% since the portfolio was started -- due almost entirely to the 75% dividend cut by Kinder Morgan (NYSE:KMI) that took the market (and took this author) by surprise last year. By the same token, other investments in this portfolio raised distributions slightly, which helped cushion the blow from the loss of KMI income. The chart below breaks these down for you to see.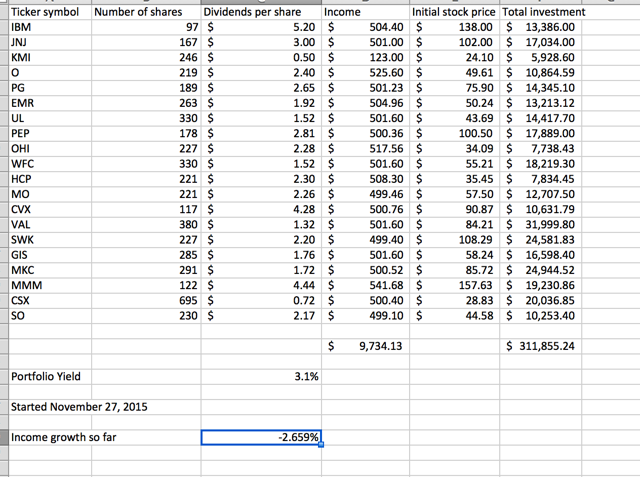 Click to enlarge
In terms of capital price, the portfolio is down slightly from where it was purchased, by approximately 3.5%. That's almost 5% less than the damage from the S&P500's loss over the same time period, as the chart below shows.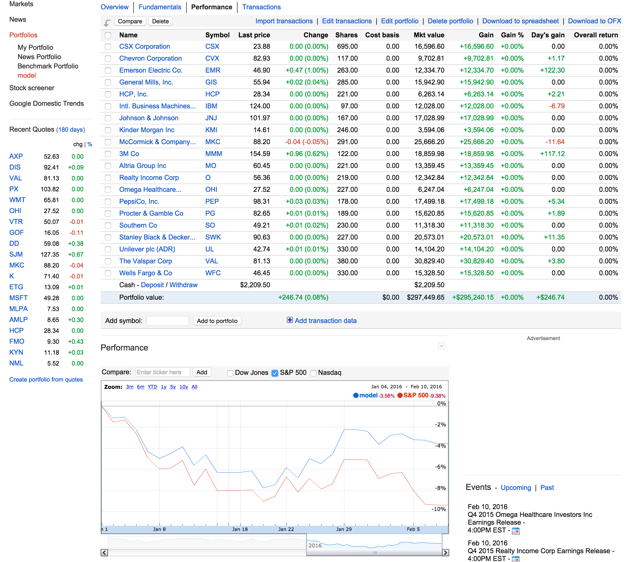 Click to enlarge
Overall, the fact that the portfolio has outperformed the S&P500 since I initiated the portfolio is bad news. The reason why is that it would be more expensive to buy more shares of the portfolio as a whole, relative to the S&P500 -- and that means income growth will be that much slower. As serial reinvestors, we are obviously worse off when our portfolio prices are relatively higher than the S&P500. In that sense, I could argue that we took a 5% loss by outperforming the S&P500.
Fortunately, while the picture is disappointing from a general viewpoint, there is very good news buried into the portfolio at a granular level. One of the components of the portfolio is down HARD, even though the dividends this business pays are HIGHER than when the portfolio first purchased the business!
This sort of situation is like mother's milk to a value investor who wants to own great businesses at the best prices he or she can find. So, it really raises a philosophical question: at what point does one toss out one's investment doctrine, and adapt to the opportunities and pitfalls the market throws into his or her path? I don't know, but see little reason to sit around twiddling my thumbs trying to get an answer. My original plan was to reinvest dividends once per year, but I lied. I am going back on my word, and will reinvest those dividends today.
Why not wait? Maybe HCP will be down more in the future? Maybe something else will be down? The answer is that I have no idea if HCP or anything else will be up, down or trading precisely where it is trading at today. I don't want to be in the business of trying to guess what I cannot guess -- future market prices being chief among the great unknowns facing investors in my view. What I do know is that HCP is a great business at a fair price, and the portfolio has dry powder on hand. I don't really need to know anything else, and modeling my investment behavior as if I did would be irrational.
We have accrued $2,209 in dividends since starting this portfolio, and today, I will use that to buy more shares of HCP. This will boost the portfolio income almost right back to where it started, as we see from the chart below -- taking us to total portfolio growth of just about -.88%.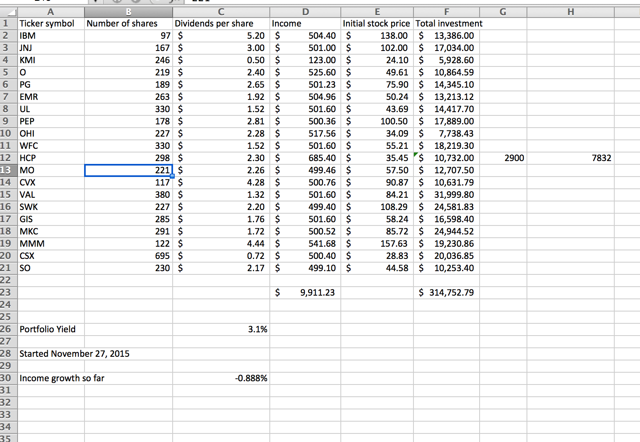 Click to enlarge
I don't expect to do much at this point, certainly not until more dividends flow into the model portfolio. But having lied once, even I don't trust myself to not go back on my word. I will certainly check back in a few months and then see what dividends we have built into the account, and whether there are any good bargains to be had. If so, have them we shall. If not, we shall twiddle our thumbs and wait until November -- at which point we will buy more businesses even if none seems like a completely straightforward bargain. This should make it entirely clear why secretly, let's hope one or more businesses we own goes on sale between now and then.
Disclosure: I am/we are long HCP.
I wrote this article myself, and it expresses my own opinions. I am not receiving compensation for it. I have no business relationship with any company whose stock is mentioned in this article.
Additional disclosure: This article is entertainment (if you can even call it that). It is most absolutely not investment advice, because the author is not an investment advisor. Not even particularly careful, either, so nothing contained herein ought to be relied on for any reason whatsoever other than to satisfy the curiosity of the reader or to enable said reader to waste valuable time.