The automobile industry in the United States is going through a downturn at the moment. Even majors like GM (NYSE:GM) and Ford (NYSE:F) are having trouble keeping their stock prices up despite great home-ground performance and breakthroughs overseas (GM in China and Ford in Europe.)

Source: Bloomberg (F, GM).
Buying during a market downturn is never an easy decision for an investor. When stock prices are dropping there's a sort of "do I buy now or wait for it to drop further" paralysis that sets in. Then there's a constant fear that the market knows something you don't, and you don't want to be caught holding stock that is overvalued.
If you already have a position, the situation is even worse. You're left wondering whether to cut your losses and run or keep averaging down or just hold until things get better.
What many investors fail to recognize is that they need to dig deeper into what's going on rather than use the old knee-jerk approach. You need to stay close to the underlying data and shake off your reliance on quarter over quarter estimates by analysts who probably know only as much as you do...but are paid for their opinions.
I'm not criticizing the analysts' opinions, mind you. I think they play a vital role in shaping the economic landscape - or at least predicting its motion. However, there's a lot more to it than whether or not a company beat their expectations this past quarter or this past fiscal.
Let's see how U.S. carmakers are an example of this:
There are eleven automobile stocks listed in the U.S. exchanges, and all of them have turned red in January. Year-to-date performance of major automakers shows us that there is a huge roll over underway.

Source: Finviz.com.
Almost all the major automakers have been dropping since December last year, and the process has accelerated since the New Year started. All auto stocks other than Toyota are easily down by more than 15% percent YTD - that's twice the amount SP 500 (-7%) lost on YTD basis.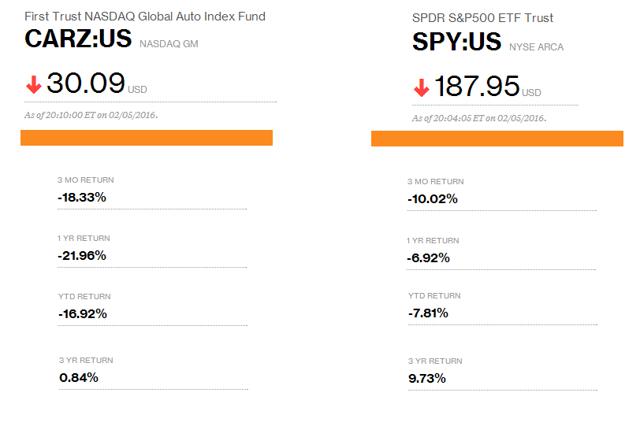 Source: Bloomberg (CARZ, SPY).
A quick comparison between the Global Auto Index Fund and S&P 500 clearly shows the rollover. On a 3-year return basis, the Global Auto Index Fund is showing 0.84% return compared to 9.73% for S&P 500. And you can clearly see that the downturn in the auto industry started accelerating in the last three months - almost exactly around the same time that U.S. auto sales reached their all-time peak. Is that coincidence? No, not at all. In fact, auto sales reaching the all-time high has a lot to do with the auto industry sliding down as a whole thereafter.
To show you what's really happening, allow me to take you a little deeper into the data surrounding automobile sales.
The Cyclic Nature of Auto Sales
To get a clearer picture of sales trends over the years, I downloaded the Light Weight Vehicle Sales data from Federal Reserve Economic Data starting from January 1976 to January 2016 - that's 481 months of data, or 40 years' worth.
Average sales per month during that 40-year period was 14.56 million.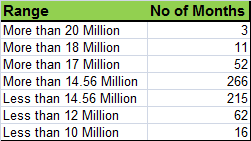 The number of months auto sales stayed above 17 million was 52, or 10.81% of the time. So, the odds of sales staying above the 17 million mark are quite low when compared to the odds of staying at around 14.56 million. Ergo, the chance of sales dropping back to the 14 million mark are about 5 times that of them staying at peak levels.
So now, I would tend to agree with the assumption that, since sales are near their peak in the United States, it has to start moving down. What I don't agree with is to what degree the market is hinting that it will drop.
Here are two of the problems I see...
Hey the GDP is Growing, So Why Not Car Sales?
Here is the problem with that: the Real Gross Domestic Product is indeed growing, but the Real Median Household Income is not. The real median household income has been moving sideways since 2010, and it looks to me that the economy might have to improve significantly from its current state to alter the course and push that metric upwards.
Source: FRED.
You might now ask the question "but how did sales peak in December when household incomes did not increase significantly?" Great, question! Unfortunately, one possible answer to that may well lie in credit and debt. For that matter, you may as well ask why retail sales peak around Black Friday or the holiday season.
Another possibility is the dip in oil prices, although there's not enough data to support an increase in automobile sales when oil prices take a dive.
What I think is the real reason for the decline in sales is a natural cycle from peak to average - and, hopefully, not to the trough any time soon.
Automakers are Not Just Selling Cars in the United States
As the Chinese economy struggles to come out of the doldrums where it's been stuck since last year, there's even more pressure on automakers to depend on their North American divisions for profitability.
In 2015, both GM and Ford derived the bulk of their operating profits from North America, so any slowdown in car sales is bound to adversely impact their bottom line. However, I don't think it warrants a 20% wipeout of stock prices.
General Motors

Ford Motors

Sources: Company filings.
Investor-speak: What's Going to Happen to GM and F Prices?
Looking at the peak that U.S. automakers have achieved, I would be inclined to agree that there is a high probability for sales to drop over the coming quarters.
What I cannot align myself to is how badly their stock prices have taken a beating despite the fact that car sales have merely been following a well-established 40-year-old trend. In my opinion, if 17 million is the peak and 14.5 million the average, we're going to see sales dipping from 17 million to 14.5 million and then trending upwards in an ever-higher orbit as the economy keeps growing.
We are NOT going to see a 10-million sales month unless another major recession hits. The 16 times when the industry sold less than ten million cars a month happened during 1981-82 and 2009-2010 - during the peak of those recession periods.
Don't expect automakers to hit record sales month after month in the next two years unless the Real Household Median Income dramatically starts growing beyond the current range. DO expect car sales to be at least above the 14.5 million range during that time.
Unless we're hit by another major recession, I believe the market will realize this and start valuing GM, F and other stock higher over the coming quarters.
In fact, if you look at the P/E charts below, you'll see that both GM and F are near their lowest P/Es in the past three to five years. I'd say this was an ideal time to invest in auto stocks or increase your position.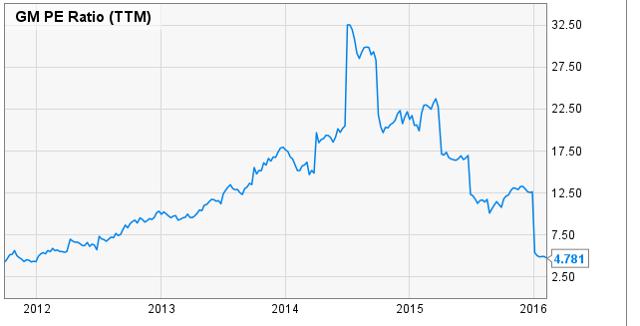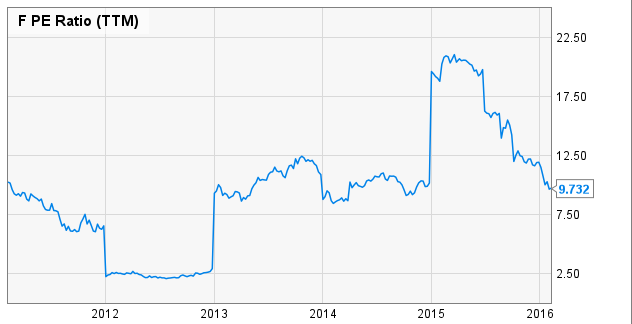 If you enjoyed reading this article, you may want to see my other coverage of automobile, retail, sportswear and EV companies in my profile. I welcome comments and private messages with open arms.
Disclosure: I/we have no positions in any stocks mentioned, and no plans to initiate any positions within the next 72 hours.
I wrote this article myself, and it expresses my own opinions. I am not receiving compensation for it (other than from Seeking Alpha). I have no business relationship with any company whose stock is mentioned in this article.