Kennametal (NYSE:KMT) positioned itself as a global industrial leader that provides innovative wear-resistant products,application engineering and services backed by advanced material science serving customers across diverse sectors of industrial production, transportation, earthworks, energy, infrastructure and aerospace. End users of the company's products include manufactures, metalworking suppliers, machinery operators and processors engaged in a diverse array of industries including the manufacture of transportation vehicles and systems; machine tool, light machinery and heavy machinery industries; airframe and aerospace components and systems, defence; as well as producers and suppliers in equipment-intensive operations such as coal mining, road construction, oil and gas exploration, refining, production and supply. The company owns manufacturing facilities and business operations located worldwide. It estimates the addressable market potential in amount of $21Bln implying the company's current market share is of 11%. Kennametal operates in the highly competitive environment, and the main competitors in the field are OSG, Sandvik AB, ISCAR, Seco, Walter, Atlas Copco, etc. Also it heavily depends on the overseas markets thanks to 55% of its revenue that come from abroad.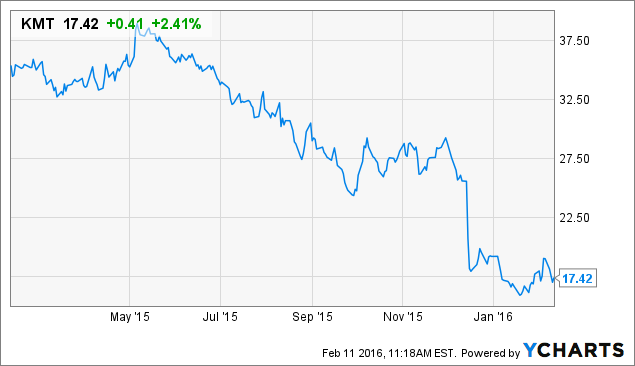 Market insight
The end market and geography break down is presented on the pictures below.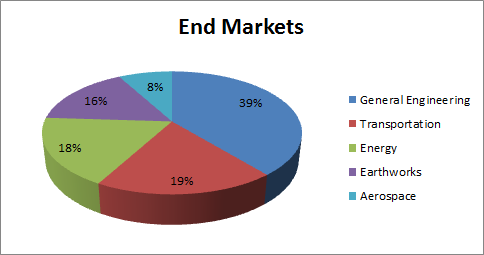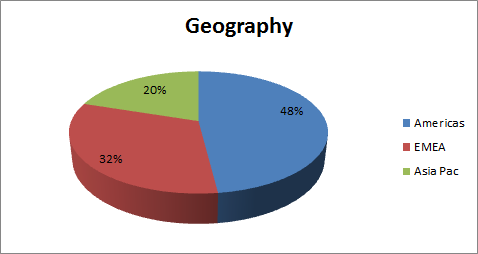 Source: Company's presentation
On the last CC an accelerating industrial recession in the US and China was supposed to be the main reason company's global business activities are deteriorating.
Developments in China and the U.S. are weighing down on the manufacturing activity around the world. China's economy has continued to decelerate especially in the heavy industries and mining sectors. In the U.S., industrial production is being negatively impacted by the persistent and severe decline in oil and gas prices. In addition, industrial goods tied to exports have been impacted by the strong US dollar. It's becoming more apparent that we are in an industrial recession in the U.S.
Surprisingly, besides general engineering, energy and earthworks the company could not even succeed in the aerospace segment and seems to loosing its share in the automotive sector.
Within aerospace, manufacturing activity has been tempered during the last two quarters in North America, where growth was flat, while in Western Europe, the market was much stronger, expanding at a rate close to 4%.

Yes. We haven't actually discussed it in detail, Walt. But I think in automotive, it's pretty fair to say that automotive is growing and we are not. So, we need to get on that.
Putting it all together the management expects for the fiscal year 2016 organic revenue to decline in the range of 10 to 13%, and adjusted EPS is also expected to decrease by 41%. Following the last CC some analysts have upgraded Kennametal from Sell to Neutral while I have another view on the company and think it may be a good short opportunity this year. My principal points follow below, but, first, let me take your look at the Sandvik's latest financial results. As seen on the slide #3 some weakness in demand was mentioned in the key geographical areas in Q4 2015. Particularly, organic order intake, which, actually, is future revenue in local currency, has been decreased in North America and Asia by 18% and 23% respectively. These regions account for the most of sales generated by Kennametal. Keeping in mind these figures and possible currency headwinds, investors should be more cautious about the revenue projections provided by the company.
Too high exposure to the steel environment
Despite a product portfolio that seems to be well diversified at a glance, Kennametal's business is heavily vulnerable to the steel producing and consuming segments. It is due to its customers, who mainly engaged in steel production or use it as a raw material in further processing. It could provide us with an explanation for the correlation between the stock price and the Dow Jones US Steel Index which was mainly high and positive historically as shown on the graphs below.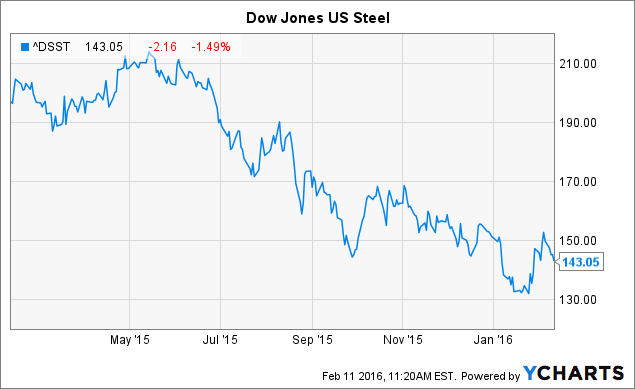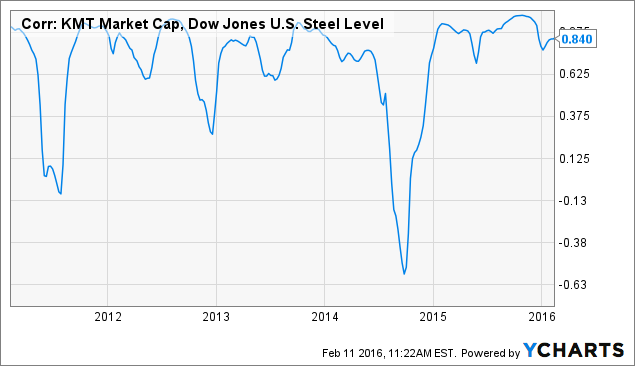 Fundamental Chart data by YCharts
Amid high uncertainty in the global economy I assume such a strong correlation to remain in the foreseeable future and the stock price will be following the industry.
Macro headwinds
During the last year the company has also faced some headwinds that came from the macro side and caused a dramatic decline in revenue. Such the headwinds reflected in the machine tools report that comes from Japan on a regular basis. The last one is considered to be the leading indicator for the global machinery demand. The U.S. industrial supplies imports and exports data and the industrial production data also may be useful for analysis purposes.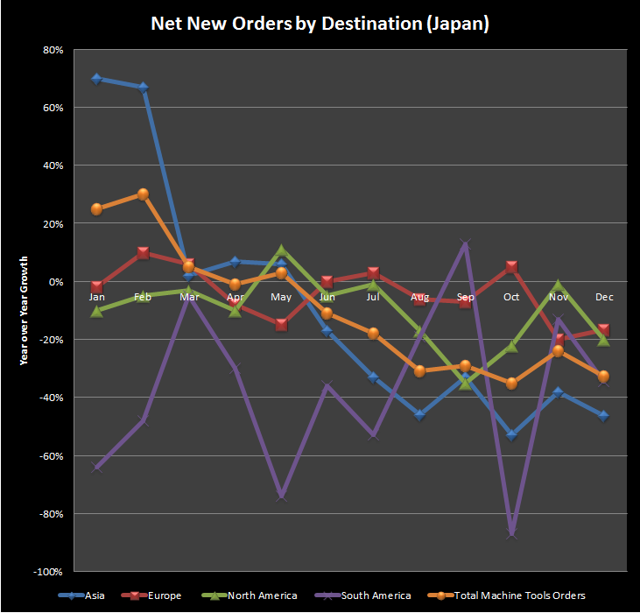 Click to enlarge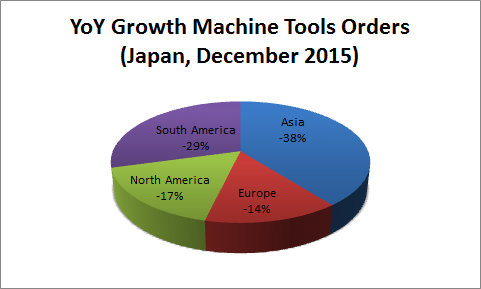 Source:Japan Machine Tool Builder's Association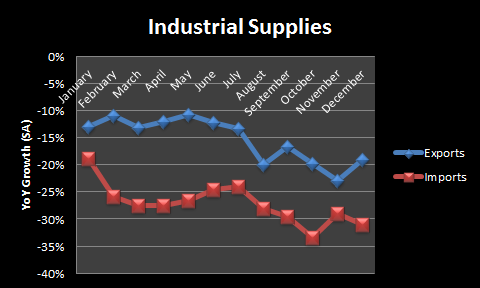 Source:US Census Bureau, own calculations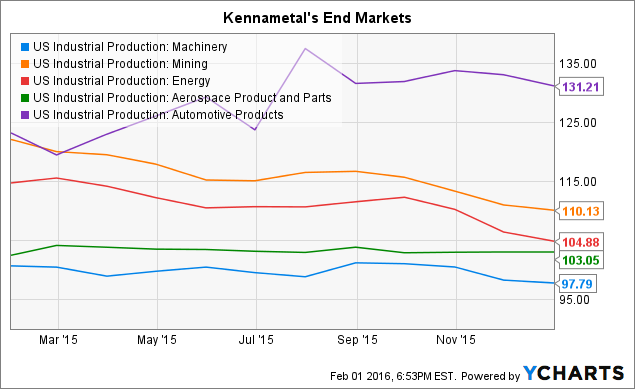 US Industrial Production: Machinery data by YCharts
As shown on the pictures above the end markets have been deteriorating across the board all last year except automotive products.
Also Sandvik in its Q4 presentation pointed out:
Further increased competition in standardized products
I guess increased competition will contribute to ongoing price pressure going forward despite the management states the other way around.
Liquidity and working capital issues
Despite the company's statements that it was "in compliance with all covenants as of September 30, 2015", Moody's has downgraded Kennametal's senior unsecured ratings to Baa3 and left out negative outlook for a proper reason. The explanation follows below:
The downgrade of Kennametal's senior unsecured ratings to Baa3 from Baa2 results from on-going weak operating performance, our expectation that Kennametal's key end markets will remain challenged over the next 12 months, and that credit metrics will deteriorate despite the company's restructuring efforts and progress in reducing debts.
The rating cut appears quite reasonable, my personal attention was paid to weak working capital metrics though.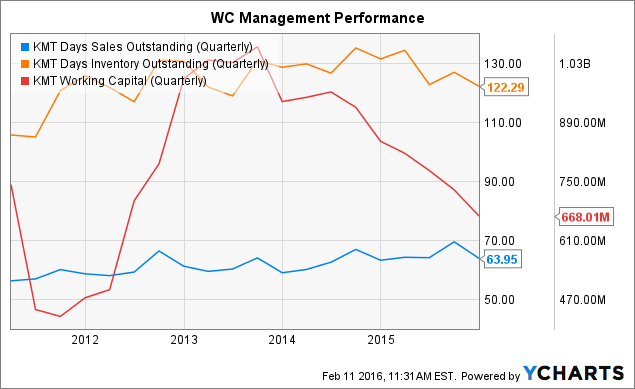 KMT Days Sales Outstanding (Quarterly) data by YCharts
Poor working capital management might have grown into a big obstacle that could limit the company's ability to redeem its debt and pay down a dividend in the future. Even though the company intends to implement some "comprehensive global initiatives" to improve balance sheet efficiency, it must do a lot to sustain its free operating cash flow to cover its current dividend commitments. To wit, projected FOCF for the fiscal year 2016 has been decreased from the range of 115-135 mln.$ to the range of 90-110 mln.$ This represents a decrease of approximately 20% at the midpoint when compared to previous guidance that has been provided in November 2015.
Operations efficiency
A 22 percent decline in sales has resulted in a 72 percent decline in adjusted operating income when compared to the same quarter last year. It is mainly thanks to the large share of fixed costs in the company's cost structure and very low fixed cost absorption. In terms of this it could get very difficult for the company to make its cost structure more variable and manage profitability down the road despite all the projected restructuring efforts which are expected to bring around $130 million of incremental savings over the next three years. The gross margin is also becoming a big concern for Kennametal as it seems to be declining. Below you may see how things have been really going bad throughout the last four quarters.

Source: Company's SEC filings, own processing
It is worth noting that on the last CC management complained about high exposure to the oil sector and unfavourable mix of price/volume in the sold products. It all was seen as the main reason the gross margin is declining. Also the management expects raw material costs to come down which should increase the gross margin significantly in the second half of the year.
Ross P.Gilardi - Bank of America Merrill Lynch

Yes. I mean, I guess I understand the productivity initiatives, just the volume. Can you just give us a little bit more? I mean, are you seeing any type of improvement to count on any volume improvement in the second half of the year, with the share gain tied to strategic initiatives and things like that?

Donald A.Nolan -President, Chief Executive Officer & Director

Yes. It's incremental tied to strategic initiatives, but most of this is all about cost reduction. I mean, let's just call it. This is about some of the things that we've already announced around taking out G&A, and removing cost of manufacturing. All of this has really come to roots in the third quarter and fourth quarter, and then raw materials, the impact of raw material costs coming down. Those are the two big drivers.
Now the question is: what share do raw material costs take in overall costs of production? And what about another variable costs such as wages&salaries, energy, tools, etc? It might work for a short period of time but what about the long term since base metals seem to be growing now?
As seen on the slide #25 Sandvik is looking to report a negative metal price effect in Q1 2016 after all.
Final Thoughts
Clearly, there are a lot of questions which are still to be addressed. However KMT seems already discounted when compared to the peers group.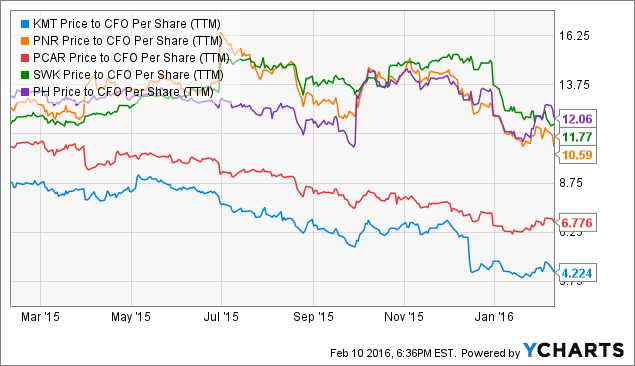 KMT Price to CFO Per Share (NYSE:TTM) data by YCharts
Should things get worse, the huge downside potential will appear on the horizon. While growing FOCF and the dividend commitments were considered to be the main arguments to hold the stock last year, it all seems to be diminishing at the moment. I personally do not see any bright spot in Kennametal's guidance and recommend you to avoid/sell it unless the industrial segment Industrial Select Sector SPDR ETF (NYSEARCA:XLI) recovers around the globe.
Disclosure: I/we have no positions in any stocks mentioned, and no plans to initiate any positions within the next 72 hours.
I wrote this article myself, and it expresses my own opinions. I am not receiving compensation for it (other than from Seeking Alpha). I have no business relationship with any company whose stock is mentioned in this article.