SolarCity is an installer and provider of solar panels and related equipment to residences, businesses, schools, non-profits, and governments focusing on providing solar power (electricity), a clean and renewable source of energy. As the world continues to evolve and technology advances, solar power has become a threat to non-renewable sources of energy like oil, natural gas, and coal. Though in essence, installing and obtaining energy from a solar system in your property is simple, it requires knowledge, effort, interest, time, and energy. With this in mind, solar contractors have popped up in many places of the world, making total sense. Many would call a plumber to fix a broken hose, why not call a solar installer and provider to have your solar system setup? This is when SolarCity comes into play. SolarCity is America's #1 solar provider. Not only does it install solar panels, it also evaluates your energy needs, do all the paperwork, provide the panels and equipment, and perform ongoing necessary services. In essence, SolarCity is the leader in an industry that is growing at rapid rate.
How does SolarCity make money?
When SolarCity installs solar panels in your property, you make an agreement with them for 20 years (average), where you pay them periodically. With this business model, SolarCity is essentially acting like an asset-backed security by swapping asset utilization (solar system) for a cash flow (periodic payments). By doing business in this manner, SolarCity's profits will shine in the long run (like a landlord's business).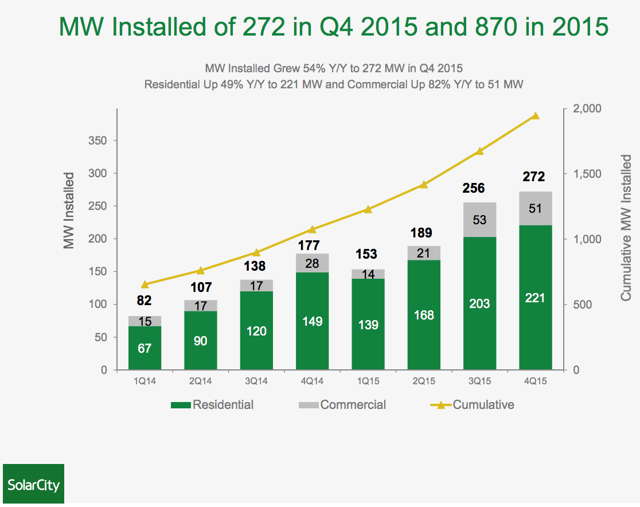 Click to enlarge
Source: SolarCity Investor presentation
As can be seen, the cumulative energy production of SolarCity's installations has increased by more than 3 times in only 2 years.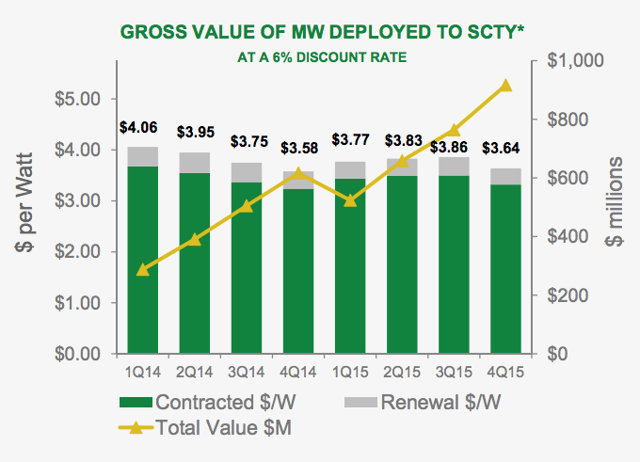 Click to enlarge
Source: SolarCity Investor presentation
Also, the total present value of these installations has increased from around $300 million to almost $1 billion.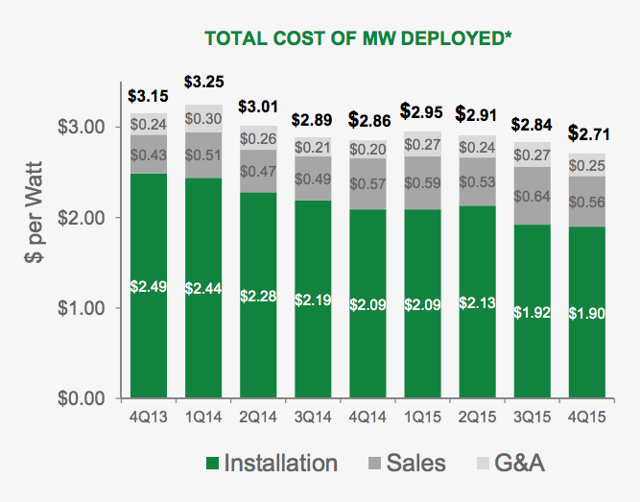 Click to enlarge
Source: SolarCity Investor presentation
Finally, SolarCity has been able to reduce its installation cost per Watt while maintaining or increasing its other expenses.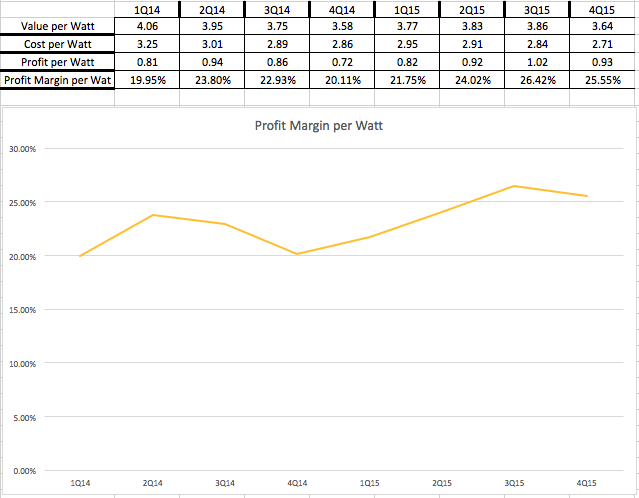 Source: SolarCity Investor presentation. Graph and chart developed on my own.
Here is SolarCity's profit margin per watt from 1Q14 to 4Q15. I calculated this by subtracting the cost per watt from the value per watt and then dividing the result by the value per watt. It's clear the margins are improving.
How is SolarCity capitalized?
This is where things get preoccupying.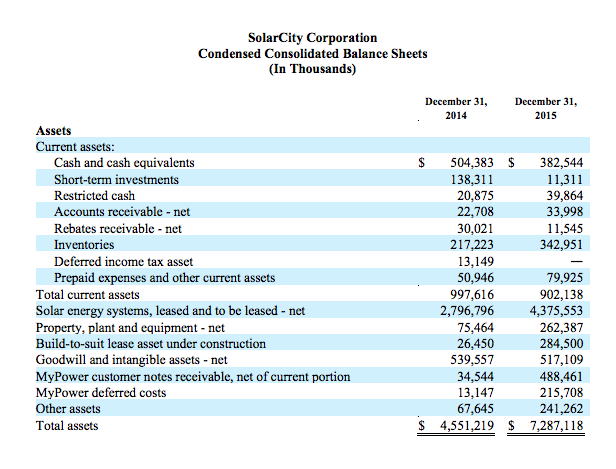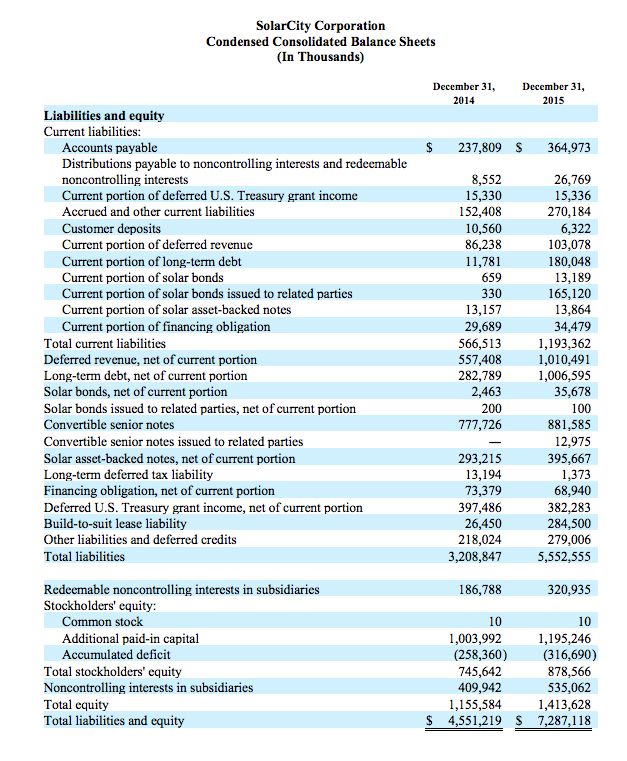 Source: SolarCity Investor presentation
Total assets increased dramatically from 2014 to 2015. Equity also increased for the period mainly through additional paid-in capital (company sold stock most probably) and increase from noncontrolling interests.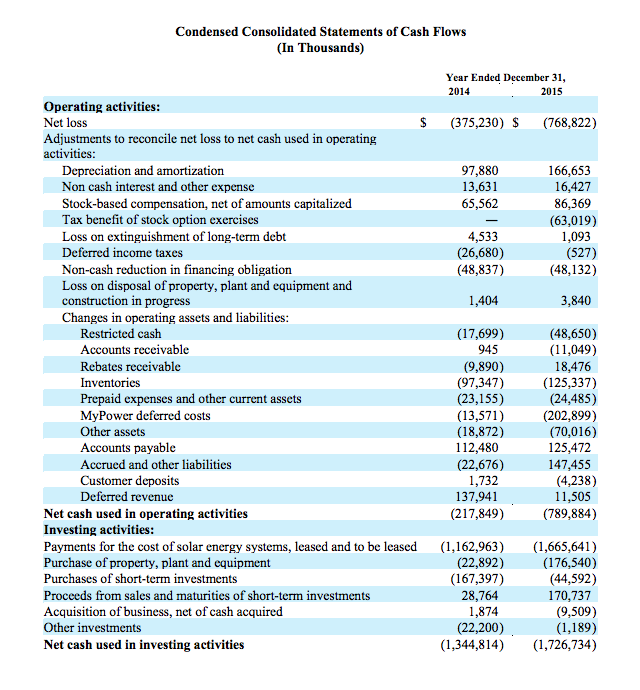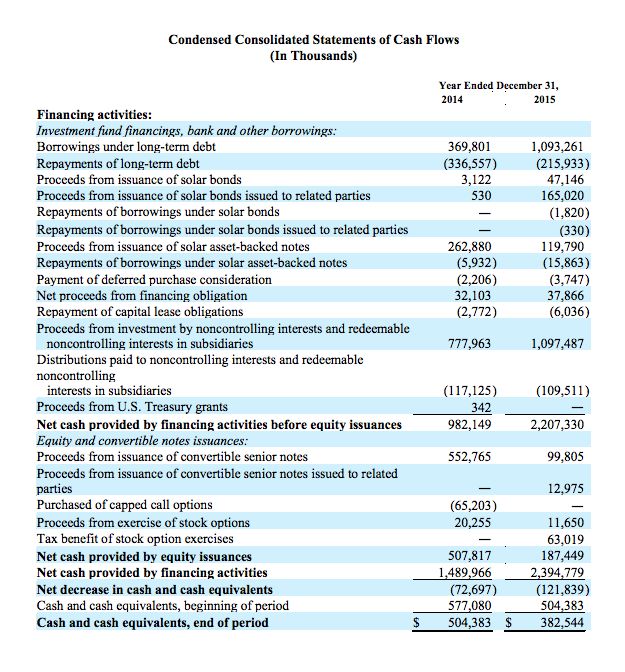 Source: SolarCity Investor presentation
In the cash flow statement, it can be seen that operating and investment activities were financed by debt and investments by noncontrolling interests. For a company growing at a rapid clip, this makes sense, but in the long run, this is not sustainable.
How to value SolarCity?
Valuing SolarCity by its book value or discounted cash flow won't produce a desirable result even at today's depressed price. Looking at the company as an SPE (special purpose entity) instead makes more sense. Currently, SolarCity has a little over $7 billion in assets that make money off the sun. Most of these assets are financed with debt with an average cost of 4.5%. Also, the unlevered NPV of the assets is $2 billion, an amount slightly higher than SolarCity's market cap ($1.82 billion). Please note that the NPV is subject to change continuously based mostly on risk factors and technological shifts (consumer demand).
Risks with Solarcity
SolarCity bears many risks, leverage being my main concern. Other factors to consider are crude oil and natural gas prices, competition, and new technology.
Conclusion
For a company valued at 91% of the NPV of its cash flow, a small competitive advantage due to the easiness of replication of its service, and highly leveraged capital structure, investors should expect a higher discount.
It is my desire for solar energy to prosper and ultimately replace oil and natural gas energy production sources. This will increase the health of the planet and our well being. However, as an investment, I'm skeptical to invest at current levels. Should the company create an SPE and take out the assets and debt from its balance sheet, I might happily buy SolarCity stock.
Additional Disclaimer: This post is solely my opinion and data and information contained is not intended to be investment or tax advice. A reference to a particular investment or any observation provided in is not a recommendation to buy, sell, or hold or to make any other investment decision. If you seek advice or counseling regarding your finances or investments, please consult a professional. Investing is risky and adequate precaution should always be taken. We don't take any responsibility for your investment or other action nor we have any liability for the accuracy of the information provided. We make no representation about the suitability of the information contained herein. Past performance is not indicative of future results.
Disclosure: I/we have no positions in any stocks mentioned, and no plans to initiate any positions within the next 72 hours.
I wrote this article myself, and it expresses my own opinions. I am not receiving compensation for it (other than from Seeking Alpha). I have no business relationship with any company whose stock is mentioned in this article.