Context
As per S&P Capital IQ, Q4 2015 S&P 500 earnings are expected to experience year-over-year (yoy) decline of nearly 5%. Overall, six sectors would fall in negative territory and four in positive. Thus, the broad market sentiment is negative even if we only consider the underlying fundamentals of individual companies.
You don't need to guess the worst performing sector, Energy, with an estimated EPS decline of 75% followed by a related sector, Materials at 17.5%. The best performing sector is expected to be Telecommunications with EPS growth pegged at 18.7% followed by Healthcare at 10% and Consumer Discretionary at 9.3%.
For Q4 2015, the Technology sector is estimated to experience a yoy EPS decline of 0.17%. For Q1 2016, the decline is expected to be substantially higher at 6.02%. These concerns along with broad market selloff appear to be getting priced in as SPDR Technology ETF (NYSEARCA: XLK) is down more than 9% YTD. But, this also presents an opportunity to find companies with sound fundamentals which become significantly undervalued along with the sector and market.
The filtering process
The first parameter was market capitalization of over $10 billion. The primary reason behind filtering out small-cap and mid-cap companies was to avoid low liquidity scenarios. While there is enough liquidity currently in the market, it becomes extremely difficult to liquidate a position if it dries up at some point. This is less likely to happen in a large cap stock.
The next step was to filter out companies which are at a discount of less than 20%, fairly valued or overvalued based on our DCF model. The cash flow forecast used in the DCF are street's consensus estimates. So, its accuracy, or in general, accuracy of any DCF model is prone to factors which can change in future. However, it gives us an idea about the sell side analysts perceived intrinsic value.
The third step was to ensure a sound track record; thus, the companies with average earnings growth of less than 10% over last five years were filtered out.
Finally, we needed 'fighting fit' companies which are not over leveraged. So, the companies with debt compared to equity at less than 40% were chosen.
Source: Simplywall.st
The companies
It came down to six companies from the 389 with market cap of over $10 billion. Here is a brief financial review of this group; the detailed analysis will be the subject matter of future articles.
Qualcomm (NASDAQ: QCOM)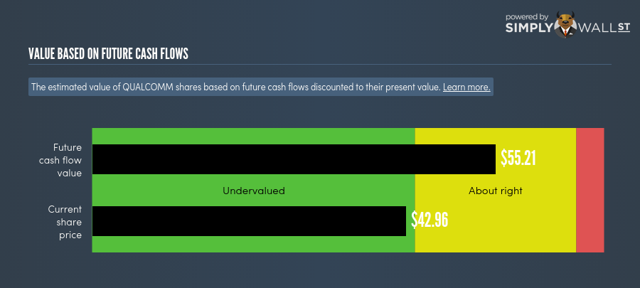 QCOM is the second largest player in Communications Equipment industry, second only to Cisco Systems Inc. (NASDAQ: CSCO). It's down 14% YTD. The company is trading at a 22% discount compared to intrinsic value of $55.21 based on our DCF model while the median target price stands at $58 based on analyst's estimate. QCOM had a positive surprise of nearly 9% for quarterly earnings it reported in January. For 2015, QCOM's return of capital (ROC) stood at 17% compared to industry's 9.1%.
EMC (NYSE: EMC)
Third largest name in 'Technology hardware, Storage and Peripherals' industry behind Apple (NASDAQ: AAPL) and Samsung Electronics Ltd., EMC has a median target price of $29.0, a 16.5% upside potential. The company is trading at TEV/EBIT of 13.5 which is estimated to come down to 8.97 by the end of 2016. However, it's still significantly higher than industry's current TEV/EBIT of 7.8. Additionally, the ROC for 2015 stood at 10% which was well below industry's 13.1%. Thus, we need other fundamental catalyst to consider it as a potential opportunity.
VMware (NYSE: VMW)
A subsidiary of EMC, one of the major player in Systems Software industry, VMW has shed more than 21% of its market cap YTD. During 2015, the company outperformed with an ROC of 13% compared to industry's 11.1%. What makes it look attractive is its TEV/EBITDA of 1.9 compared to the industry's 10.9.
Accenture (NYSE: ACN)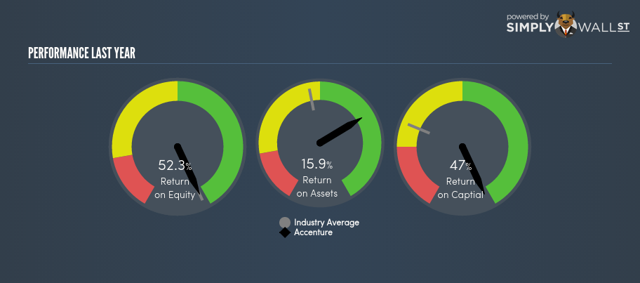 Third largest name in 'IT Consulting and Other Services' industry behind IBM and TCS. The median target price stands at $113. TEV/EBITDA of 10.9 is slightly higher than industry's 9.9; however, when we look at ROC, ACN's 47% is well above industry's 15.2%.
Cognizant Technology Solutions (NASDAQ: CTSH)
The median target price of $70, and intrinsic value of $71.90 based on our DCF model, both indicate more than 20% upside potential for the company. CTSH's projected three-year EPS growth stands above 50%. The company reported FY'15 revenues last week at $12,416 million, slightly higher than its guidance of $12,410 million. Guidance for FY'16 stands at $13,650-$14,250 million.
Liberty Media (NASDAQ: LMCA)
LMCA will be reporting the quarterly earnings later this month. This is the only company in the list which does not belong to the technology sector. LMCA's peg (trailing) ratio stands at 0.7 and the median target price for the company stands at $48, indicating a significant upside potential.
Source: Simplywall.st and S&P Capital IQ
Disclosure: I/we have no positions in any stocks mentioned, and no plans to initiate any positions within the next 72 hours.
I wrote this article myself, and it expresses my own opinions. I am not receiving compensation for it. I have no business relationship with any company whose stock is mentioned in this article.