Disney (NYSE:DIS) reported better-than-expected quarterly earnings, thanks in large part to the smash hit "Star Wars: The Force Awakens." Still, the results weren't good enough to appease investors in this market.
Shares of Disney fell 3% after earnings were reported, and the stock is down 15% just since the beginning of 2016. The rising U.S. dollar, slowing economic growth in the emerging markets, and falling subscriber numbers for ESPN are all dragging the stock down.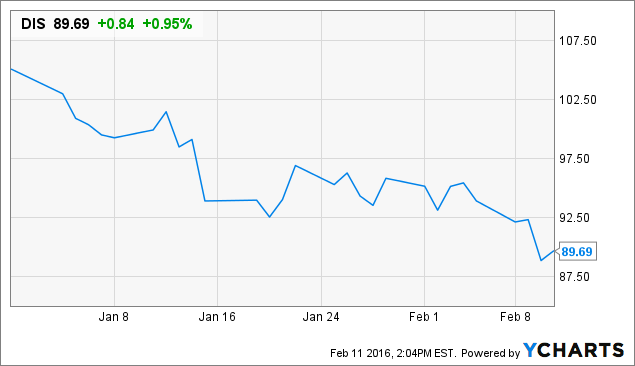 But for long-term investors, there is no reason to panic. Disney is an enormously profitable company, and it is one of the most valuable brands in the world. If anything, the recent dip in stock price offers investors an attractive buying opportunity.
Disney's Blowout Quarter
The company reported fiscal first-quarter adjusted earnings of $1.63 per share on $15.24 billion of revenue. This easily exceeded analyst estimates, which called for $1.45 per share in earnings on $14.75 billion of revenue.
On a year-over-year basis, Disney's earnings per share rose 28%, while sales increased 14%. Such strong performance in a low-growth global economy is extremely impressive. It is due largely to "Star Wars: The Force Awakens," which has grossed more than $2 billion in worldwide sales since its mid-December release. This helped Walt Disney Studios to grow operating income 86% to $1.01 billion for the quarter. Operating profit rose 23% in its consumer products segment, again benefiting from the movie, as Disney collects a portion of Star Wars-related merchandise sales. Both areas of the business set quarterly records for operating profit.
And yet, shareholders weren't pleased. Once again, Disney's earnings beat was overshadowed by fears of declining subscribers of cable network ESPN. To be sure, there is no denying the fact that the company is suffering on account of the cord-cutting trend. Cord-cutting refers to the shift in consumer attitudes. Many households in the United States have "cut the cord" from high-priced cable TV packages, instead choosing cheaper Internet streaming options.
This affects not just ESPN, but Disney's host of other cable and broadcast networks, which include ABC, A&E, and multiple Disney channels. Cord-cutting caused operating profit to fall 6% last quarter in the company's Media Networks division.
It's true that consumers are receiving media in different ways, and that the new streaming options may be less lucrative to Disney than linear television. But ESPN is a truly dominant brand in an industry that will likely never go out of favor: sports.
Why Long-Term Investors Shouldn't Panic
Even if cord-cutting wins out, ESPN will still be a driving force in sports. Disney CEO Bob Iger said on the conference call that last year, 95% of Americans with a multi-channel bundle watched sports, and 81% of those viewers watched ESPN content. Across all of its platforms, more than 200 million adults use ESPN in some form in an average month.
The fact that four out of five adults in this country connect with ESPN on some platform every month should make investors confident in its future. The method by which consumers receive ESPN may evolve, but the brand remains strong.
Moreover, to completely dismiss the huge success of Disney's other businesses - including not just its movie studio and consumer merchandise, but also its theme parks and resorts - is a mistake. The company now has 11 franchises that generate $1 billion or more in annual sales.
Disney has a huge, diversified business. In recent years, the company has made strategic investments to reduce its reliance on television. Disney acquired Lucasfilm, Marvel, and Pixar to boost its movie studio; it aggressively expanded its theme parks around the world; and it has doubled the size of its cruise line. And, rest assured, there will be several more Star Wars films before it's all said and done.
Last quarter was Disney's 10th in a row of double-digit earnings growth. Clearly, the company has been extremely successful in growing profits each year for a prolonged period of time.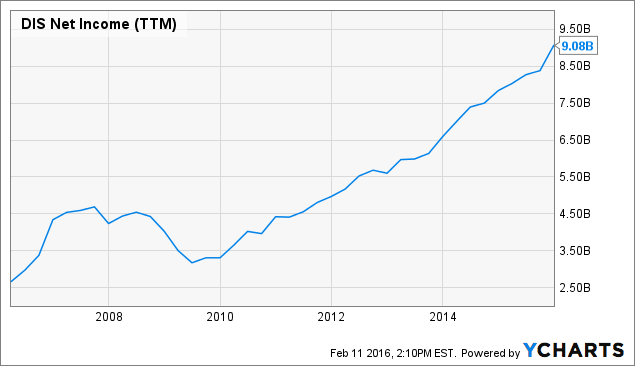 Excellent Dividend Growth Potential
The other reason I bought shares of Disney after its "disappointing" earnings report is the future dividend growth potential. As an income investor, I love to see a company that can grow its dividend at high rates each year, and Disney definitely qualifies. Its annualized dividend of $1.42 yields just 1.6% today. But over the past five years, Disney has raised its dividend by 28% per year. If the company continues to raise its dividend by 20% per year going forward, in five years investors buying at this price will have a nearly 4% yield on cost. And that doesn't include the benefit of dividend reinvestment.
Investors are in full-blown panic mode about cable networks, but the long term remains extremely bright. With a modest valuation and plenty of future growth potential, Disney looks like a buy right here. It is one of those stocks that I've wanted to own, but haven't seen a good enough buying opportunity so far. I'm happy to have bought Disney stock at $88 per share and to finally own a (very small) piece of this great company.
Disclaimer: This article represents the opinion of the author, who is not a licensed financial advisor. This article is intended for informational and educational purposes only, and should not be construed as investment advice to any particular individual. Readers should perform their own due diligence before making any investment decisions.
Disclosure: I am/we are long DIS.
I wrote this article myself, and it expresses my own opinions. I am not receiving compensation for it (other than from Seeking Alpha). I have no business relationship with any company whose stock is mentioned in this article.