The Canadian banks have been one of the favorite sectors on the Toronto Stock Exchange for the past 4 years due to there being very few safe places to park your money. The "Big Six" are made up of Toronto Dominion (NYSE:TD), Canadian Imperial Bank of Commerce (NYSE:CM), Royal Bank of Canada (NYSE:RY), National Bank (OTCPK:NTIOF), Bank of Montreal (NYSE:BMO) and Bank of Nova Scotia (NYSE:BNS). Until recently the gold and silver miners were left for dead in the precious metals rout and with oil joining in on the decline, the Canadian market has been a wasteland for any commodity related stocks. With oil and mining stocks making up over one third of the Canadian market, it has left investors to choose from the remaining sectors which are: consumer discretionary, consumer staples, utilities, telecommunications and financials. It is difficult to find any safe havens and because of this up until 2015 the banks have outperformed and been seen as a wise place to invest with their 3-4% annual yields. The problem with this is that I believe the banks have become a crowded trade, and could now face more headwinds in the future due to several different reasons.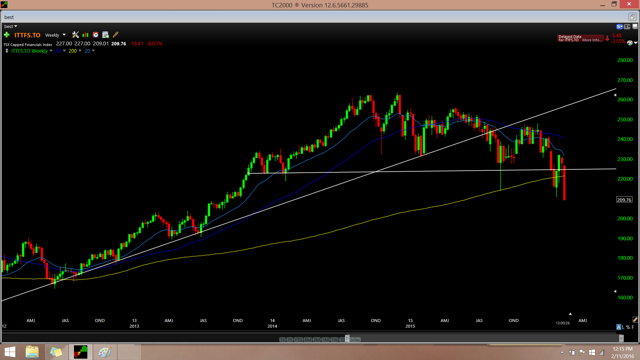 Click to enlarge
Banks thrive in environments with high interest rates due to higher yields on their cash holdings and more profitability on their loans. Banks also prosper in strong economic cycles as more consumer and business loans are present and there is an increased chance borrowers will be able to pay back their loans. Unfortunately, neither of these environments are currently present for Canadian banks. The Bank of Canada's interest rate was at 1% in 2014, until it was slashed to 0.75% percent in early 2015 and cut once again to 0.5% in July of 2015. With 50% lower interest rates partially due to six year lows in oil prices, Bank of Canada governor Poloz said that exploring negative interest rates is a possibility. On the economic front, GDP forecasts have been cut to projections of 1% GDP growth for 2016, despite it being well over twice that level in 2014 at 2.4%. The current environment for banks in Canada is not going to help their profitability, with interest rates being cut to 0.5% while oil was trading 40% higher it seems inevitable they will be slashed further in 2016. Despite there being no material change in fourth quarter earnings for most of the Canadian banks, I believe any rate cuts and further weakening of the economy will place pressure on their profitability going forward.
"We now believe that the effective lower bound for Canada's policy rate is around minus 0.5 per cent, but it could be a little higher or lower," Poloz said.
There are several ways in which Canadian banks will be affected by low oil prices, other than the effects already seen by two rate cuts of 25 basis points just last year. Crude oil is Canada's principal export and makes up 5% of Canada's GDP, with prices hovering below the $30 per barrel mark it is difficult to see Canada's GDP making a recovery before another potential rate cut. Canada's banking sector also sees diminished profitability due to oil and gas clients significantly reducing their capital expenditures. Encana (NYSE:ECA) has planned to cut its capital spending by $1.5 - $1.7 billion or 27% this year, even after slashing its dividend over 75 percent in an effort to cut costs. These cuts take tolls as there is much less opportunity for capital market operations and underwriting. Fortunately for the Canadian banks only 2% of their total lending is in the oil and gas sectors despite them having much lower reserves against loans than their U.S. counterparts. While TD, NTIOF, BMO and RY had very strong Q4 earnings releases, CM tapered off a little bit reporting earnings per share of $1.93, compared to $1.98 in Q4 2014 and $2.42 in Q3 of 2015. It seems that it is only a matter of time before more of the Canadian banks begin to feel their profits being squeezed with CM coming below expectations on their most recent quarter.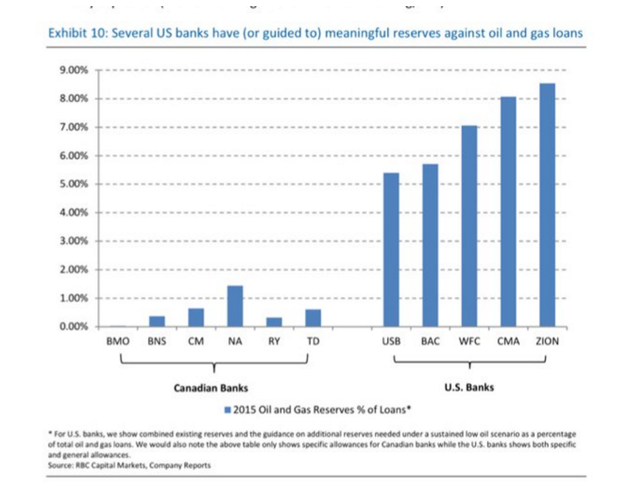 Click to enlarge
The main problem for Canadian Banks is not their exposure to oil and gas as it represents only 2% of total lending, but their exposure to oil producing regions which sits at 13%. Group layoffs in Alberta for 2015 were up 134%, affecting more than 17,000 people and causing fear that many Albertans may begin to walk away from their mortgages. The term referred to as "jingle mail" is causing the federal government to keep Alberta on close watch, as it was a significant problem in the 1980's with the banks forced to sell homes off at discount prices. The Finance department is worried as in the mid 1980s almost 500,000 people left Alberta to find work elsewhere and had no personal consequences whatsoever despite leaving their mortgages behind (even to their credit ratings). Even outside of Alberta, household debt is now at unprecedented levels partially due to continued rate cuts and currently sits at 163.7%, up from 66% in the 1980s. The Bank of Canada has cited high household debt as the biggest domestic risk to Canada's economy. The share of Canadian households whose debt is now over 350 percent of their annual disposal income has doubled from 4 percent to 8 percent since 2007. The Bank of Canada has said these highly indebted borrowers are the greatest risk of defaulting due to being young, earning less money and living in provinces with the highest appreciation in home prices. With the fear of Albertans walking away from mortgages and household debt at unprecedented levels, I believe the contagion of oil prices indirectly to the banks is very real and will be present in 2016.
Alberta is the only Canadian province to broadly offer non-recourse residential mortgages. Those are loans with at least a 20 per cent down payment and thus are not insured by the Canada Mortgage and Housing Corporation (CMHC). If you walk away, you lose your home, but otherwise have no personal liability. Elsewhere in Canada, your lender can take you to court and seize other assets, such as RRSPs, vehicles, and even garnishee your wages.
- CBC News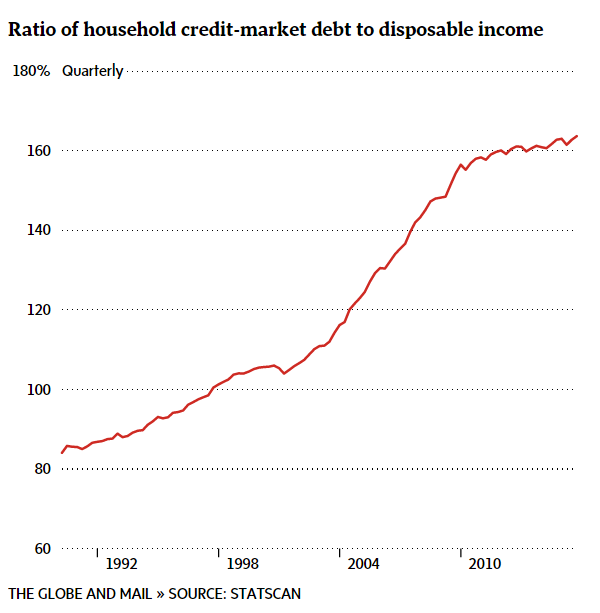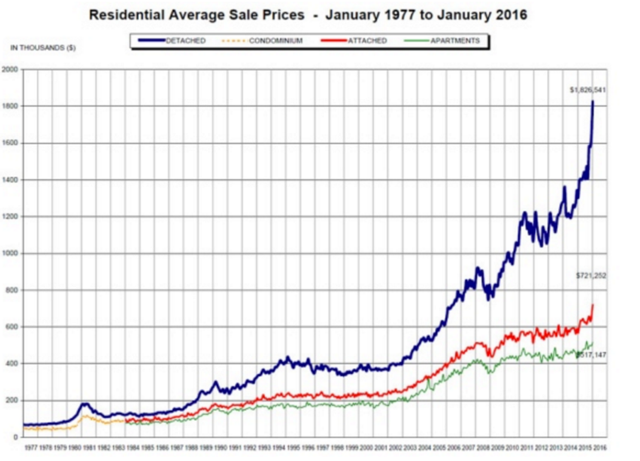 Click to enlarge
The Canadian banks are often regarded as the world's strongest banks and safer than the U.S. but looking at recent negative news this may not be the case. The second largest Ponzi scheme in the U.S. was run by Allen Stanford of Stanford Financial group, and while no U.S. banks would get involved, TD helped Stanford move billions. When Stanford Financial finally collapsed in 2009, over $7 billion in investments disappeared wiping out the life savings for many families. While big U.S. banks wanted nothing to do with Stanford, TD apparently one of the world's strongest banks allowed him to move money from South America and U.S. into Toronto. Despite TD making due diligence trips due to become suspicious of Stanford's operations, they still did nothing to cease operations during this period. Lincoln Caylor, a Toronto lawyer stated that "It's our client's position that they fell below the standard when they dealt with Allen Stanford and his bank". In addition to TD being in the spotlight, National Bank NTIOF just wrote off a 25% stake in Maple Bank after Germany suspended the lender the past weekend. The write-off of its Maple investment will be recorded in the first quarter of 2016 on February 23rd, 2016. Prosecutors in Frankfurt have alleged that Maple Bank has conned taxpayers out of up to 450 million euros. Maple Bank was also involved in the famous Volkswagen (OTCPK:VLKAF) short squeeze of 2008 by helping Porsche (OTCPK:POAHF) lock up shares using a complex combination of derivatives. Both of the CEOs of Porsche POAHF are currently on trial in Stuttgart where they face allegations of lying to investors to inflate VLKAF shares. For Canadian banks being the strongest in the world, these stories are not linear with their strict approaches to banking practices. This raises some concerns as to how stringent their mortgage practices are, in addition to how well they have really stress tested against low oil.
The Canadian banks have had a great run from 2009 to 2015, up over 275% on average. Unfortunately for most investors in these stocks I don't see this continuing with the fundamentals beginning to look sour and the technicals looking even worse. Despite all of the banks except CM reporting record earnings and dividend increases, the share prices of these stocks are doing the exact opposite. All of the Canadian banks are trading well below their 200-day moving averages and are stuck in severe downtrends. With the exception of Toronto Dominion, all of the banks have broken their August capitulation lows and are making new lows currently 5-10% lower. These charts are not indicative of a sector of stocks that are beating earnings and reporting the results that they have been and this should be worrying to investors owning these stocks. Even with the 5% annual yields that some of these stocks have, they have lost over 10% so far this year alone already. Unfortunately, this is anything but a safe haven for investors seeking dividends to ride out the recent bumpy market. The first chart at the top of this article shows the bank stocks as a whole and shows how they have breached 2 year support and sliced through it without an ounce of buying pressure. I believe the crowded Canadian bank trade is finally coming to an end and would not touch these stocks even with 6% yields, given the price action they are exhibiting.
Disclosure: I am/we are short NTIOF, CM, RY.
I wrote this article myself, and it expresses my own opinions. I am not receiving compensation for it (other than from Seeking Alpha). I have no business relationship with any company whose stock is mentioned in this article.
Editor's Note: This article discusses one or more securities that do not trade on a major U.S. exchange. Please be aware of the risks associated with these stocks.