LinkedIn (NYSE:LNKD) has plunged almost 50% since last week despite the fact that it demonstrated a good quarter (in fact, the company exceeded analysts' expectations for 2015).
Revenue increased 34% year over year in the fourth quarter to $862 million and increased 35% in 2015 to $2.991 billion. Talent Solutions revenue increased 45% year over year in the fourth quarter to $535 million and increased 41% year over year to $1.877 billion in 2015. Marketing Solutions revenue increased 20% year over year in the fourth quarter to $183 million and increased 28% to $581 million in 2015. Premium Subscriptions revenue increased 19% year over year in the fourth quarter to $144 million and increased 22% year over year to $532 million in 2015.
But these results were not in the spotlight. Everyone appeared to be perturbed by the company's guidance for 2016 (revenue is expected to range between $3.6 billion and $3.65 billion, non-GAAP EPS is estimated $3.05-$3.20), which is worse than Wall Street analysts' consensus for revenues of $3.91 billion and non-GAAP EPS of $3.67. It also means that LinkedIn's revenue growth continues to slow down, becoming somewhat of a trend (you can see that from the graph below).
The stock performance before the plunge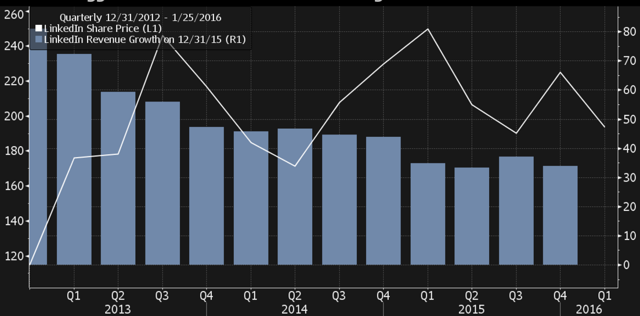 Source: Bloomberg
A fellow SA contributor even asserts that the stock can bottom out at $20 per share. While most of that narrative is true, I still believe the market is overreacting. Let's take a look at LinkedIn's potential.
First, nobody would argue that the LinkedIn's user base is growing at an unprecedented pace: in fact, over the last 5 years (from Q4 2010 to Q4 2015), it grew 460%, from 90 million users to 414 million users.
LinkedIn's user worldwide, 2009-2015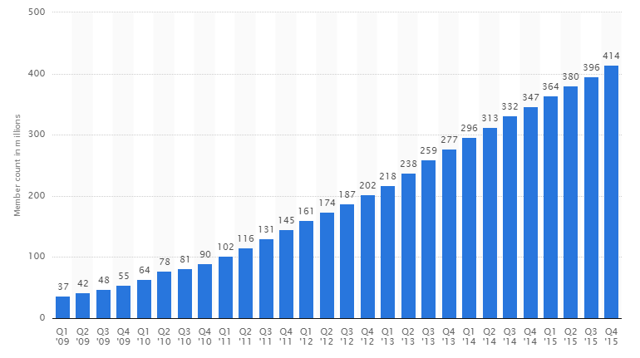 Source: Statista
That being said, the company still has pretty good growth potential. In the U.S. alone, only 22% of young adults in the age range of 18 to 29 use this network, while searching for a job. Obviously, the proportion of young adults will increase as nowadays they pursue careers more than ever.
Another point worth mentioning is that 41% of people with an annual income over $75,000 are the users of LinkedIn, which means that they can and probably will pay for viable services.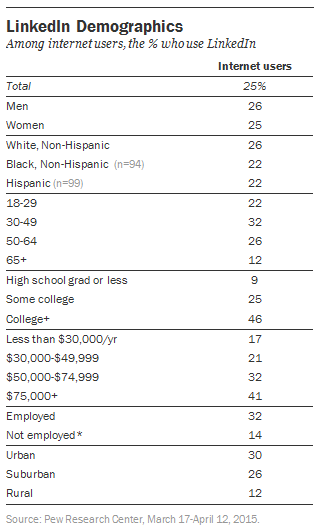 Source: Pew Research Center
Considering LinkedIn is only a business platform, over the last five years, it outpaced multipurpose Facebook (NASDAQ:FB) (460% vs. 260% growth) and Twitter (NYSE:TWTR) (460% vs. 33% over the last year), which provides no doubt about its potential.
Facebook users worldwide, 2008-2015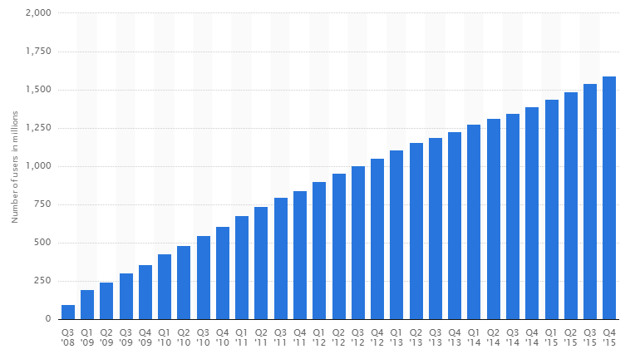 Source: Statista
Twitter users worldwide, 2010-2015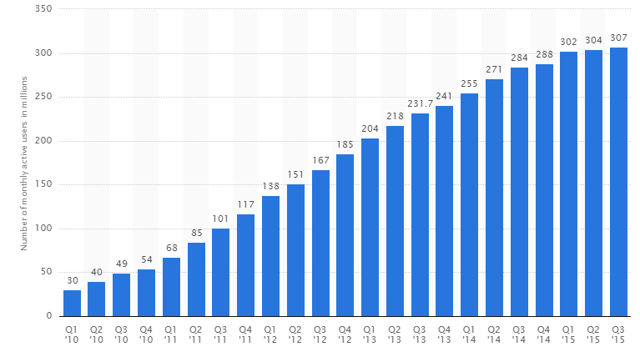 Source: Statista
Second, the Talent Solutions segment has no direct competitors. And the key point here is that the share of the core segment in the company's revenues is going up. In 2013, the share of Talent Solutions in revenues was 55.9%. In 2014, the number went up to 59.8%. And in 2015, this segment already brings 63% of revenues to the company.
Employers are shifting their focus toward social networks in search of future employees. Today, 38% of the companies (22%, four years ago) look for new hires via social networks. Additionally, business platforms are becoming an instrument for brand development (for which LinkedIn is a perfect option).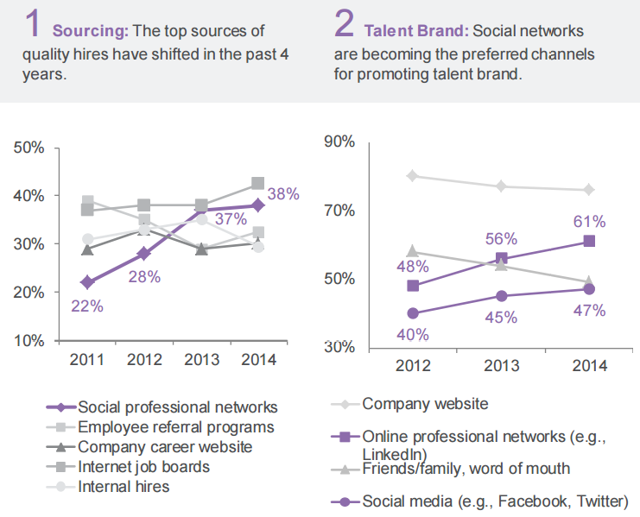 Source: ESIC Business School
In such countries as U.S., Canada, Spain, Brazil and Mexico business networks dominate employment agencies due to relatively low transaction cost. You can find here LinkedIn's plans and pricing.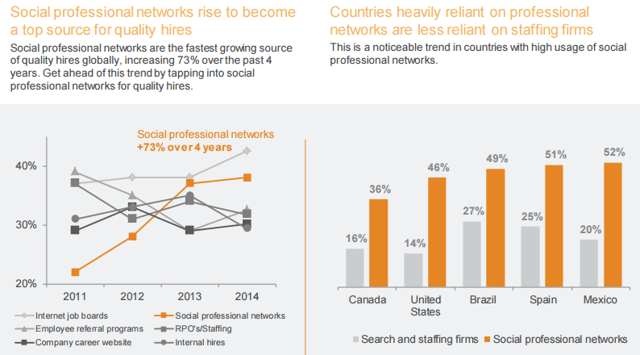 Source: ESIC Business School
Another important factor is that recruiters believe professional networks and passive candidate recruiting are the most essential and long-lasting trends in recruiting. Therefore, they have a need for such a communication channel.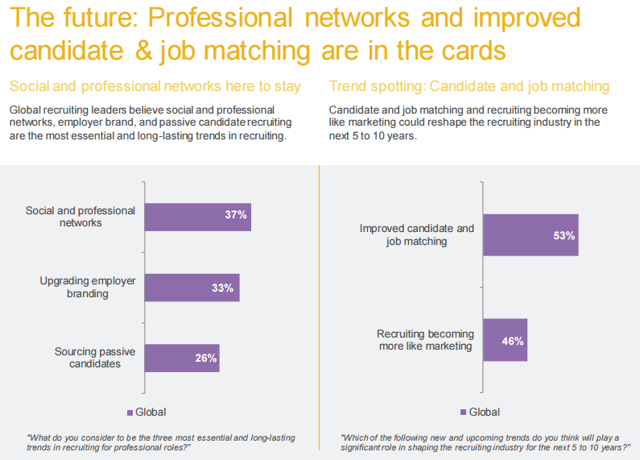 Source: ESIC Business School
I believe that the market is too harsh on LNKD, and investors should give it a chance. Data show that the recruiting services provided by the company are in demand - that should be in the spotlight of long-term investors. We see that almost half of upper middle class use LinkedIn, which means that they can pay for viable solutions. A growing number of the company's base is clear proof that people prefer to separate work and personal profiles.
Disclosure: I/we have no positions in any stocks mentioned, and no plans to initiate any positions within the next 72 hours.
I wrote this article myself, and it expresses my own opinions. I am not receiving compensation for it (other than from Seeking Alpha). I have no business relationship with any company whose stock is mentioned in this article.