Introduction
ConocoPhillips (NYSE:COP) is an American multinational energy corporation and the world's largest independent pure-play exploration and production company. The company is a Fortune 500 company, and recently made an enormous mistake by spinning off its downstream assets as Phillips 66 (NYSE:PSX). With downstream assets driving growing profits, this has made a major impact on ConocoPhillips earnings resulting in it cutting its dividend.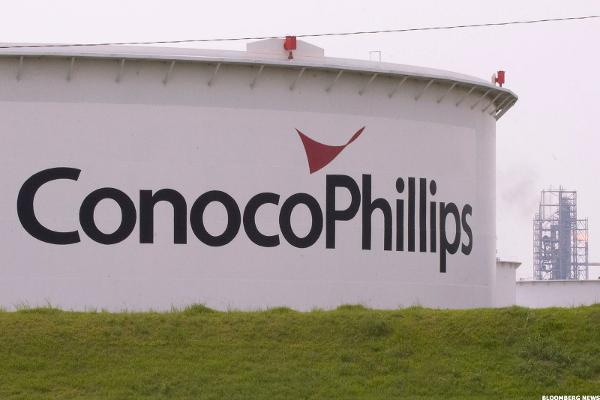 ConocoPhillips recently made the decision to cut its dividend. That cut the company's dividend yield from almost 10% to just a few %. This has devastated ConocoPhillips stock price resulting in the company's share price falling from a high of $86.40 in mid-2014 down to recent 52-week lows $32.35. That means current stock prices are just 35% of what they were less than two years ago.
Market Environment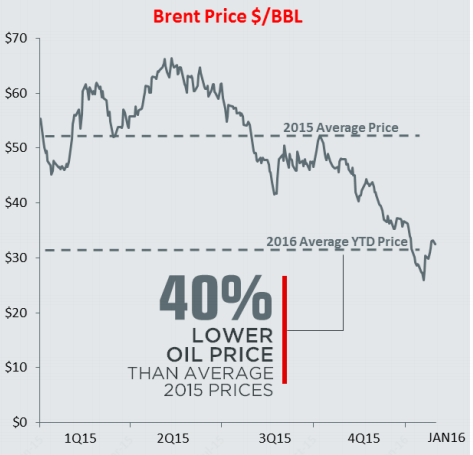 Market Environment - ConocoPhillips Investor Presentation
Before we talk more about the company, let us start by talking about the overall market environment. Current oil prices are less than $30 per barrel which represents a 40% drop from the average 2015 prices of more than $50. Such a drop will result in greatly decreased revenue for ConocoPhillips.

Click to enlarge
ConocoPhillips Spending - ConocoPhillips Investor Presentation
The company has tried to solve this by cutting costs wherever possible while maintaining production where it was previously. The company's 2016 production range is expected to range from 1.50 to 1.54 million barrels per day similar to the previous years production. At the same time, operating costs are expected to be cut by $1.0 billion while capital spending has been cut by a more astounding $3.7 billion.
ConocoPhillips Breakeven Price - ConocoPhillips Investor Presentation
As a result of this cut in costs and the cut of the company's spending, ConocoPhillips has managed to decrease its new breakeven price to $45 per barrel from previous prices of $60 per barrel. That still represents an almost 40% increase over current oil prices for the company to return to profitability. Without a recovery of oil prices, ConocoPhillips will have a difficult time even maintaining its present dividend with the cut.
2015 Results
Now that we have talked about the 2015 market situation, it is time to talk about ConocoPhillip's 2015 results.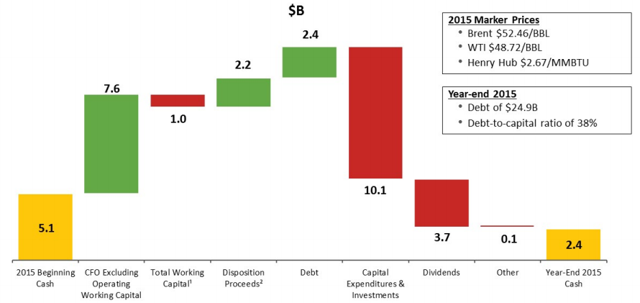 Click to enlarge
ConocoPhillips 2015 Results - ConocoPhillips Investor Presentation
ConocoPhillips really burned through the cash throughout the year with its cash pile dropping from $5.1 billion to $2.4 billion, a drop that means the company's cash pile will disappear after 9 months of future spending. The majority of the company's spending came from Capex requires which consumed more than $10 billion of the company's money.
With ConocoPhillips cost of production noticeably above current prices. I would actually recommend the company cuts part of its more expensive production. A partial reduction in production will strongly contribute to helping solve the oil glut. At the same time, ConocoPhillips capex will decrease rapidly from this move helping the company wait out an eventual price recovery.
Reserve Requirement
Now that we have talked about the market situation, along with the company's 2015 results, let us talk about what this enormous Capex has been getting ConocoPhillips in terms of reserves.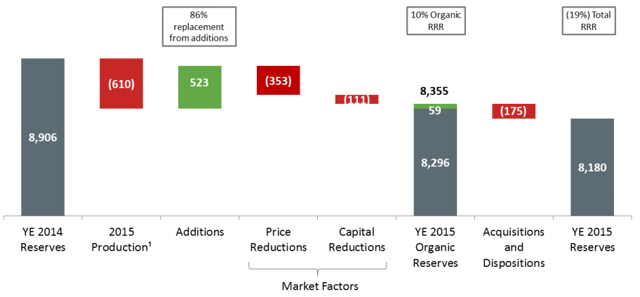 Click to enlarge
ConocoPhillips Reserve Replacement - ConocoPhillips Investor Presentation
ConocoPhillips had a fairly respectable 86% raw replacement ratio. Beyond that price factors and capital reductions remove about half a billion barrels while divestments removed almost another 200 million barrels. The company's raw production was just over 600 million barrels which means the company's current reserves allow it to produce for another 13 years without replacement.
Future Strategy
The last thing I want to talk about, past the company's 2015 results, reserves, and the market environment is the company's future situation.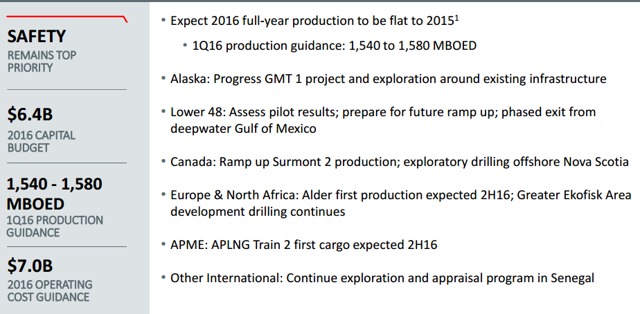 Click to enlarge
ConocoPhillips Goals - ConocoPhillips Investor Presentation
ConocoPhillips priorities appear to be 3-fold. First, the company remains focused on safety. With a disaster like the 2011 Macondo Oil Spill having the potential to wipe out the company in such an environment, safety should be the highest priority. Second, the company is focused on reducing spending by focusing on lower cost areas and stopping production in higher cost areas.
Lastly, the production remains the last goal. The company is hoping to maintain production at its current levels and manage its reserves. With market price drops wiping out the viability of significant portions of ConocoPhillips reserves, maintaining a strong position could be critical for the future.
Conclusion
ConocoPhillips like all other oil majors has had a very difficult time recently. However, the company has a substantial asset base which it plans to continue growing on the future and has at the same time been very focused on reducing costs.
Many investors in ConocoPhillips feel like they have been burned by the dividend cut. With ConocoPhillips announcing as recently as a few months ago that their dividend was their top priority, the feeling is understandable. Despite this, I believe the dividend cut represents a good opportunity to double down for investors.
Disclosure: I am/we are long PSX.
I wrote this article myself, and it expresses my own opinions. I am not receiving compensation for it (other than from Seeking Alpha). I have no business relationship with any company whose stock is mentioned in this article.