As the stock markets plunge globally and as oil prices continue to see downward pressure, shares of Transocean (NYSE:RIG) have been hammered. As of the time of this writing, shares of the offshore drilling operator are going for $8.78. While this is above the $8.50 the shares bottomed at not too long ago (on a 52-week basis), they are still trading well below their 52-week high of $21.90 and below where they traded at a few years ago. The big fear, in the eyes of investors, seems to be that Transocean will lose enough contracts (it just lost another one), that cash flow will be in for a world of hurt and that the company may risk bankruptcy. Even now, some of its bonds are going for $0.428 on the dollar, but is this rational, or is Mr. Market overreacting to the company's potential downside?
Cash flow looks strong even as revenue falls
In the table below, you can see what the revenue and cash flow picture looks like for Transocean according to my calculations. Counting the most recent contracts that it has seen cancelled over the past few months, revenue at the company should hit about $3.39 billion in 2016, assuming no other contracts are cancelled moving forward. As backlog at Transocean rolls off, its top line should decline to $2.17 billion in 2017 and will continue falling in the years to come if the energy environment does not improve. By 2019, the company's top line should be about $1.10 billion.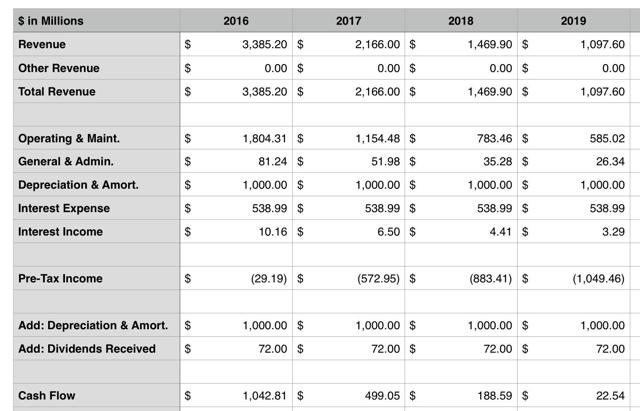 Click to enlarge
In a previous piece, I highlighted that as revenue falls, the profit margins for the company seem to be increasing (counting only operational costs). In my calculations here, I assumed that instead of seeing this trend continue, the operating and maintenance, and the general and administrative costs should remain unchanged from where they were in the first three quarters this year: 53.3% and 2.4%, respectively.
Given these assumptions, factoring in current interest expense (I'm using the assumption that debt that is coming due will either be rolled over or that management will tap its credit facility at an identical weighted-average interest rate to upcoming maturities) and, including in that, $72 million per year in lease payments, factoring in interest income, and factoring in dividends the company is receiving from Transocean Partners (NYSE:RIGP), the cash flow in 2016 should be a hefty $1.04 billion. In 2017, this number should fall rather hard to $499.05 million, while 2018's and 2019's numbers should come out to $188.59 million and $22.54 million, respectively.
But there's a catch
Based on the data provided, it seems like Transocean is a no-brainer, since it can remain cash flow-positive during each of the next four years - but it's important to consider that there are some expense items coming up that management will need to address. One of these is maintenance capex, which I've estimated, per my previous article on the company, at $200 million per year. Realistically, this number will actually fall as the offshore units it owns come off line; but absent more information from management, it's impossible to determine what this will look like, so I've elected to keep this number constant moving forward.
More importantly than maintenance capex, however, is the great deal of newbuild capex required of the company moving forward. These numbers are associated with new rigs it ordered years ago that are currently in development, and they are, fortunately, very easy to predict. Based on the data provided by management, Transocean's newbuild capex will range from a high $1.33 billion in 2016 to just $323 million in 2017. After we factor all of these numbers out on an annual basis, we can see that the company should be cash flow-negative for each of the next four years. If the pain for Transocean persists for too long, this could result in the company having to push back project development schedules and maybe even cancel newbuilds (the latter would result in potentially costly lawsuits).

Click to enlarge
Now that we have an idea of how large these numbers should be, we can see that the company's financial situation from an operating cash flow standpoint looks nice moving forward, but that its actual cash flow needs, driven largely by newbuild capex requirements, will bring about a great deal of pain in the years to come. 2016 will be fairly painful, with cash flows coming in at a negative $490.19 million, but 2017 will be more or less painless. The real trouble begins to rear its ugly head in 2018 and 2019, at which point the market will become very uncertain regarding Transocean's ability to survive.
Other factors to consider
All in all, the cash flow numbers for Transocean look bad once you add in newbuild capex, but the company isn't without plenty of tricks up its sleeve. For starters, management reported that, at the end of its third quarter last year, the company had cash and cash equivalents of $2.23 billion. If we are to assume that it had to allocate some of this cash toward the $345 million in newbuild capex that was required during the fourth quarter last year, then Transocean should have around $2 billion in cash on hand right now.
On top of this, though, the company also has the ability to tap into its $3 billion revolving credit facility, which hasn't yet been touched. The one big requirement regarding this facility is that its debt/tangible asset ratio must be no greater than 0.60, but by my estimates, it stands at around 0.46-0.49 today (it depends on which liabilities you count as debt while removing accounts receivables and deferred tax assets from its asset list), so this shouldn't be a concern.
Another bullet in the company's arsenal is the ability to get (really force, given its control over the entity) Transocean Partners to buy at least 51% of three of its newbuilds. At the minimum, this approach could yield an extra $1.67 billion in cash, if need be. None of this assumes the small amounts the company will collect from scrapping or selling older vessels, which is certain to be in the tens of millions, but could be larger.
When you add in all of these potential cash sources, Transocean has potential liquidity of $6.67 billion without having to tap into debt or equity markets and without considering asset sales. This stands up to net cash outflows over the next four years of $2.20 billion, if my analysis of the company's fundamentals turn out to be correct. Management will have to worry about $2.98 billion in debt coming due during this four-year period, but if the company cannot tap into debt markets, this still means that potential liquidity, at a minimum, would exceed cash requirements by $1.49 billion through 2019.
Takeaway
Right now, Mr. Market seems to hate Transocean, but I do not know why. Yes, the company is taking a hit in terms of sales, but management has proven the company's cost structure to be extremely variable in nature. On top of this, while the business does have a great deal of cash requirements over the next few years, it also benefits from a nice war chest of liquidity. In theory, it is possible for low energy prices to result in additional contract cancellations, but absent many significant hits to its backlog (which would be material), Transocean's financial picture looks stable enough to make it through 2018, at the very least, without running into any meaningful amount of trouble.
Disclosure: I am/we are long RIG.
I wrote this article myself, and it expresses my own opinions. I am not receiving compensation for it (other than from Seeking Alpha). I have no business relationship with any company whose stock is mentioned in this article.
Additional disclosure: My ownership is not in the form of shares, but in the form of call options that expire in January 2017.