Shares of Disney (NYSE:DIS) are hovering just above their 52-week lows. Despite the post-earnings sell-off, we think the shares remain unattractively valued. We think the current valuation is aggressive, considering broader market weakness and media growth concerns, and we believe this disconnect between growth and valuation will keep the shares lower in the foreseeable future.
Our investment thesis on this stock is that the current valuation is overextended relative to its growth. The company has net debt of $14.6 billion. This means its current Enterprise Value is right around $99 per share. Disney has generated LTM free cash flow of $6.7 billion, which equates to roughly $4.13 in FCF per share. This implies a ~24x EV/FCF multiple on FCF growth of just 11.5% this past quarter. This is not an attractive valuation relative to growth.
It seems major expectations for Disney-owned content, such as Star Wars, Marvel, and Pixar, are heavily baked into the valuation. We expect the company to continue to successfully monetize this content, producing a Star Wars feature movie every 1-2 years and pumping out multiple Marvel movies every year. While we do not think the popularity of this content will fall off, we also think Y/Y growth will be mitigated because of difficult comps (a Star Wars movie comping to successful Star Wars movies, a Marvel movie comping to successful Marvel movies, etc). Growth and Parks revenue will be notable, but difficult into perpetuity. While we think a lot of the concerns over the media business are overdone, we do think cord-cutting is a very serious issue that will continue to bother Disney into the foreseeable future.
Overall, we see Disney as a strong company with solid growth prospects, but expect growth to look logarithmic from here on out. However, we do expect accelerated FCF growth in the short term. The 11.5% FCF growth is tempered by huge capex growth Y/Y, driven by heavy build-out of parks to include Star Wars-related attractions. OCF grew 27% Y/Y in Q1, paced by significant operating leverage, and this gives us comfort that FCF should growth could actually accelerate from the 11.5% growth in Q1. This will likely be against the backdrop of logarithmic sales growth, as explained earlier, so we see FCF growth spiking in 2017 and 2018 as revenue growth remains strong and capex comes down. As revenue growth slows, FCF growth will likewise be affected, and we model for slowing FCF growth into perpetuity.
Under these fairly aggressive assumptions (9% FCF CAGR into 2025), we think the shares are still overvalued. In our quick, back-of-the-envelope DCF, we use a 10% discount rate and a 2% perpetuity growth rate to arrive at a fair value of roughly $81 per share.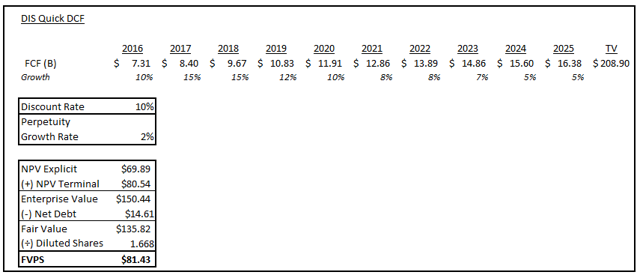 Click to enlarge
Despite the recent drop in DIS shares, we still find the valuation unattractive. A 24x EV/FCF multiple on 11.5% FCF growth is overextended, and we do not believe the company deserves this premium of a multiple relative to its growth. Under aggressive assumptions, we think DIS is worth around $81 per share. Broader market weakness, coupled with media growth concerns should keep this stock lower in the foreseeable future.
Disclosure: I/we have no positions in any stocks mentioned, and no plans to initiate any positions within the next 72 hours.
I wrote this article myself, and it expresses my own opinions. I am not receiving compensation for it (other than from Seeking Alpha). I have no business relationship with any company whose stock is mentioned in this article.