Background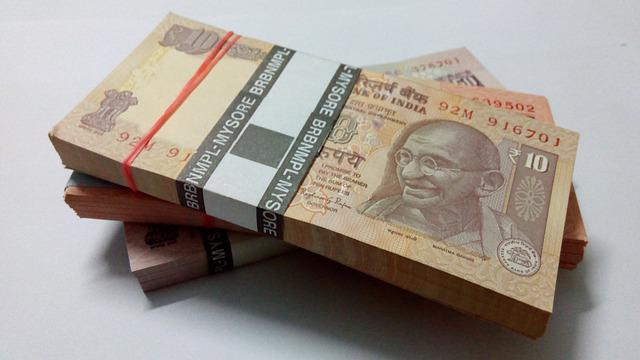 For the investors looking to gain exposure to the Indian Rupee without applying for a futures or fx account, they can turn to ETFs. It should be noted that when it comes to the two choices for Rupee ETFs, these two funds are not the same. This tempted us to do a side-by-side comparison to guide investors and traders in determining the proper Indian Rupee ETF for their needs.
While there is one obvious similarity between these two products, the differences are all too often overlooked. Assuming that one Indian Rupee ETF is the same as the other can be a costly mistake. As we analyze the details of these two instruments, we hope it becomes easier to determine which Indian Rupee ETF is the best for you. The two ETFs, in order of AUM are as follows:
WisdomTree Indian Rupee Strategy ETF (NYSEARCA:ICN)
Market Vectors Indian Rupee/U.S. Dollar ETN (NYSEARCA:INR)
ICN and INR both seek to give investors exposure to the Indian Rupee, yet the performance will show, there must be some major differences. As shown below on a five-year chart, ICN is down >20% while INR is down roughly half of that.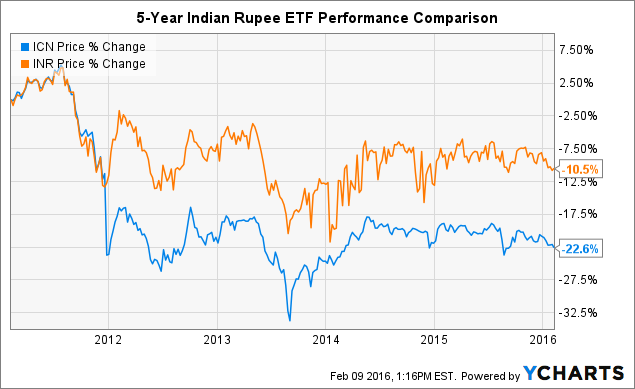 We added a five-year chart of the correlation between the two different ETFs below, demonstrating that ICN and INR were loosely correlated, despite highly varying performances over the last five-year period.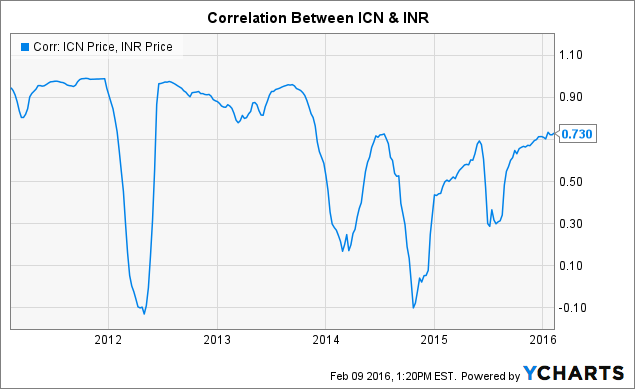 As we analyze the details and differences of these two Indian Rupee products, we hope to help investors and traders better determine which one is the best tool to use for Indian Rupee exposure.
Strategies
ICN: This strategy uses a combo of both long and short forward positions to achieve its returns. The strategy in the words of its issuer/sponsor: "WisdomTree Indian Rupee Strategy Fund seeks to achieve total returns reflective of both money market rates in India available to foreign investors and changes in value of the Indian Rupee relative to the U.S. dollar."
INR: This ETN tries to track an index, and that index tracks a strategy which uses rolling over near month INR/USD forwards contracts. The strategy in the words of its sponsor: "The Market Vectors-Indian Rupee/USD ETN seeks to track the performance of the S&P Indian Rupee Total Return Index, less investor fees."
Side-By-Side Comparison
| | | |
| --- | --- | --- |
| Ticker | ICN | INR |
| Fund Name | WisdomTree Indian Rupee Strategy ETF | Market Vectors Indian Rupee/U.S. Dollar ETN |
| Price (Open 02/11/16) | $20.38 | $36.09 |
| AUM | $10.32 Million | $1.11 Million |
| Expense Ratio | 0.45% | 0.55% |
| Structure | ETF | ETN |
| Counterparty Risk | N/A | Morgan Stanley (low risk of default) |
| Average Daily Volume ($) | $19.67 K | $36.80 K |
| Average Bid-Ask Spread (%) | 0.77% | 1.61% |
Lower Expense Ratio
For the Indian Rupee investors with a longer-term investment outlook, the slightly higher expense ratios of INR at 0.55% of AUM vs. ICN's 0.45% of AUM has been a small price to pay annually for the last five years considering the performance. While the expense ratio can really take away from potential gains, given the differing strategy, this 0.10% difference may be worth it.
Lower Bid-Ask Spread
For the Indian Rupee ETF traders who tend to change their mind often, or for those who just happen to be active Indian Rupee traders in general, look to the ETF with the lowest bid-ask spread. In this measure, we believe that ICN is the clear choice based on the last 60-days of trading. With the lowest average bid-ask spread of 0.77%, ICN has by far the lowest transaction costs (commissions held constant of course).
Lowest Commissions
Additionally, for the traders really looking to cut transaction costs on their Indian Rupee ETF trades, there is one option available depending on your broker. ICN is available commission free through brokerage accounts with E*TRADE Financial (NASDAQ:ETFC).
Highest Volume
Based on the last 45 trading days worth of data, INR is the one with the most liquidity in terms of average daily trading volume. This is notable since it is the smaller of the two Indian Rupee instruments by AUM.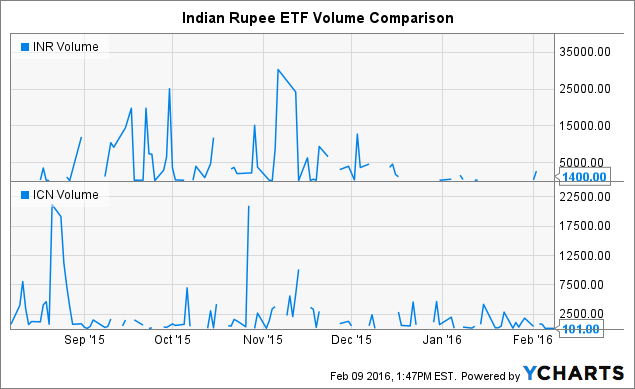 INR is therefore the fund of choice for traders looking to move in and out of the Indian Rupee ETF market with larger size. We would like to mention though, that based on volume, trading big in either of the two funds (most especially ICN due to such low average volumes) could make waves and chase the price up quickly.
INR's ETN Structure
As mentioned in the table above, one of the big differences between these two Indian Rupee instruments is the legal structures. INR is structured as an exchange traded notes a.k.a. ETN. ICN on the other hand is structured as an open end fund. Since an ETN is essentially an exchange traded unsecured debt instrument, there is some degree of counterparty risk involved.
Since the issuer of Market Vector's Indian Rupee ETNs is Morgan Stanley (NYSE:MS), this means that there is some, but limited counterparty risk as Morgan Stanley is viewed as a fairly stable financial institution despite recent hits to MS stock prices. It should be noted however, that according to the Ohlson Score Default Probability, Morgan Stanley is at its highest default risk in the last year or more.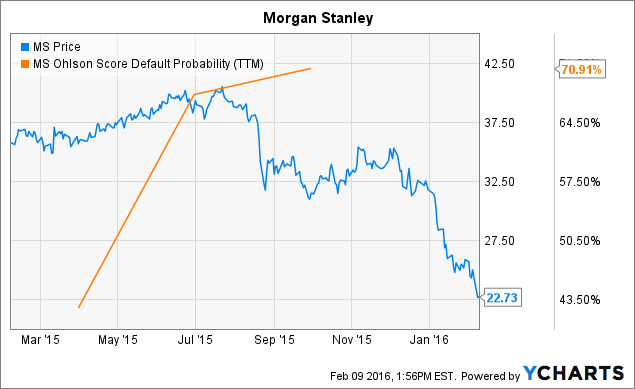 Share Price
Last but not least, we wanted to mention share price because this comes into consideration for smaller traders/investors with limited capital trying to trade in round lots. When it comes to share price, smaller traders can look towards ICN which currently trades at roughly $20 per share. Be sure to check the premium/discount to NAV as well as bid-ask spread that the fund is trading at before timing an investment.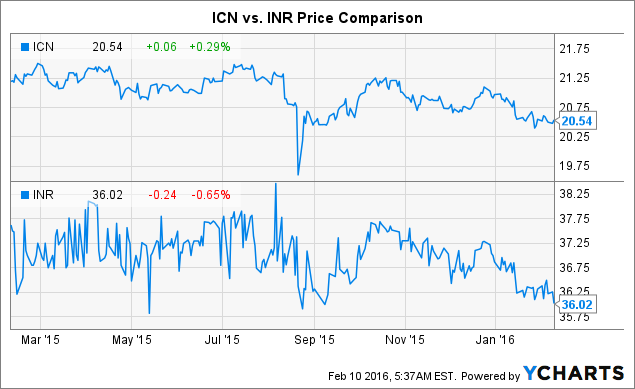 Conclusion
We hope this was a useful and comprehensive guide to investing in Indian Rupee ETFs. We look forward to keeping investors informed on any new developments as we see them. Be sure to check out our similar articles on Chinese Yuan ETFs, Platinum ETFs, and more.
References
E*TRADE Commission Free ETFs List
Disclosure: I/we have no positions in any stocks mentioned, and no plans to initiate any positions within the next 72 hours.
I wrote this article myself, and it expresses my own opinions. I am not receiving compensation for it (other than from Seeking Alpha). I have no business relationship with any company whose stock is mentioned in this article.