Shell (NYSE:RDS.A) (NYSE:RDS.B) reported fourth quarter and full year results on Thursday, beating estimates despite a huge profit decline. I believe Shell's results are not too bad, at least relative to the results other energy companies have reported. The dividend should be safe (at least for a while), as the cash situation is all right.
Numbers recap
Shell earned $1.8 billion in the fourth quarter, which was a decrease of 44 percent yoy. This sounds like a lot, but unlike other majors such as Chevron (NYSE:CVX) and BP (NYSE:BP), as well as upstream-focused companies such as ConocoPhillips (NYSE:COP), Shell remained profitable, and the company's earnings declined by a lower amount than Exxon Mobil's (NYSE:XOM) earnings.
With $0.29 in earnings per share ($0.58 per ADS) the company's net income does not fully cover the dividend of $0.47 per share (or $0.94 per ADS), but earnings cover at least two-thirds of the company's payout.
Shell's downstream operations
The fact that Shell remained profitable shows the strength of the business model of similar integrated oil and gas companies: In times of high oil prices, the company's upstream operations provide ample earnings (whereas downstream assets are barely profitable), whereas in times of low oil prices, the company's downstream operations make up the majority of its income. For a company combining both divisions, this means that earnings will be profitable at any time during the cycle, whereas this is not the case for pure upstream or downstream companies (e.g., ConocoPhillips after the spin-off of Phillips 66 (NYSE:PSX)).
Shell's huge downstream base (mainly in Europe) has earned $9.7 billion during 2015, which represents a 56 percent increase over 2014's $6.2 billion. This strong performance came despite higher maintenance, which resulted in a refinery availability rate of 83 percent in the fourth quarter of 2015 (versus a refinery availability rate of 95 percent in the fourth quarter of 2014) -- with maintenance dropping lower again in 2016, Shell's downstream earnings could accelerate further, supporting the company in times of even lower oil prices (see year to date oil price average versus Q4 oil price average).
Shell knows about the value of its downstream operations, and keeps expanding its position in several markets: Shell will expand its Pernis refinery in Rotterdam -- construction will start this year, the plant will come on line in two years. Shell also announced that the company will expand its chemical manufacturing site in Geismar, Louisiana, which will make the site the largest alpha olefins producer in the world.
Crack spreads have been declining over the last months, but to varying degrees in different markets: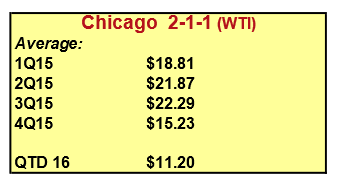 Crack spreads in Chicago are down more than 25 percent right now in comparison to the fourth quarter of 2015, so we can assume that refiners in that area will do a lot worse in the first quarter of 2016 in comparison to the last quarter. The same is true for the US West Coast, where crack spreads declined more than 20 percent to $17.80 in the first quarter of 2016.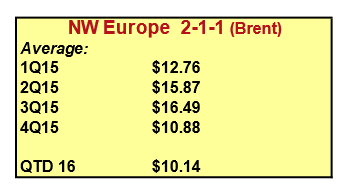 In North West Europe, however, where most of Shell's refineries are located (e.g., Rotterdam in the Netherlands), crack spreads are down just very slightly (seven percent) in comparison to fourth quarter.
Shell also has refineries in Asia, among them the Shell Pulau Bukom refinery in Singapore, which is able to process 500,000 barrels a day, which means the plant is Shell's biggest refinery (the second biggest plant is Shell's Pernis refinery in Rotterdam). This is good news for the results for Shell's downstream operations, since Singapore crack spreads are holding up even better than NW Europe crack spreads: The average for the current quarter is down just one percent to $14.25 in comparison to the fourth quarter of 2015.
This means that Shell's downstream earnings will likely be a little bit lower in the current quarter than in the previous quarter, but the decline will be less severe than the earnings hits most US refiners will face, since crack spreads in Europe and Asia are relatively flat in comparison to the prior quarter. Shell's downstream business will thus continue to be a huge contributor to the company's bottom line, especially since lower maintenance will mean higher refinery availability rates in the coming months.
Cash situation and dividends
Shell's operating cash flow for the fourth quarter totaled $5.4 billion, which was 44 percent below last year's number of $9.6 billion. Full year operating cash flows came in at $30 billion, which was a 34 percent decline in comparison to 2014's operating cash flow of $45 billion.
When we take a look at the use of these operating cash flows, we see that Shell's fourth quarter saw $7.9 billion in capital expenditures, at the same time the company sold assets worth $1.7 billion. With a net investment of $6.0 billion, Shell's free cash flow was negative at minus $0.6 billion, which isn't a great result when we account for the fact that dividend payments consume additional cash. Full year free cash flow (operating cash flow - capex + asset sales) totaled $6.4 billion -- not many energy companies are able to report positive free cash flows for the trailing twelve months period. Shell thus holds up better than most of its peers, although 2015's dividends totaled a higher amount than the company's free cash flows.
Shell stated that further cuts would lower 2016's capital expenditures, thus improving free cash flows: Shell and BG (the acquisition got approved in January) will spend a total of $33 billion on capex, which is down almost 50 percent from 2015's combined capex spend. Since Operating cash flows will likely be higher in 2016 (due to the contribution of BG), free cash flows will likely remain positive, although I believe not high enough to fully cover the dividend.
Shell's dividend should be safe for the foreseeable future nonetheless: Since Shell offers a reinvestment plan (called the Scrip dividend programme), not all of the company's dividends are paid out in cash. During the fourth quarter, $1.2 billion of the total $3.0 billion was paid out in new shares, which means cash dividends totaled only $1.8 billion. With Shell's shares trading below the Q4 average this year, we can assume that the number of investors who want to get paid in new shares increases, which would mean an even lower cash portion of the company's total dividends.
These cash dividends (I assume about $1.5 billion each quarter) will be covered by either free cash flows or through new debt. Since Shell has a very strong balance sheet and very low gearing (just 14 percent at the end of the year) the company could easily fund $6 billion a year in new debt in case free cash flows are zero for the full year. A $6 billion debt increase would increase Shell's gearing to about 18 percent, which would still be a very conservative debt level. I thus assume that due to a number of contributing factors (Shell likely being free cash flow positive in 2016, low cash portion of the dividend due to Scrip programme and ability to take on additional debt), Shell's dividend will be safe for the foreseeable future. I don't see a dividend cut coming.
Takeaway
Unlike most other energy companies, Shell remained profitable in the fourth quarter. The company's downstream division is reporting great results. With crack spreads being stable in Europe and Asia, Shell's downstream earnings will also not decline in the near future, unlike the downstream earnings of US-focused companies, which face lower crack spreads.
On the cash flow side, Shell is not doing too badly either, remaining free cash flow positive for the year. I believe the company's ample dividend (yielding eight and a half percent right now) will remain stable for the foreseeable future. Strong cash generation and the company's low leverage (which would allow for additional debt to fund the dividend if cash flows are not high enough) make a dividend cut unlikely.
Disclosure: I/we have no positions in any stocks mentioned, and no plans to initiate any positions within the next 72 hours.
I wrote this article myself, and it expresses my own opinions. I am not receiving compensation for it (other than from Seeking Alpha). I have no business relationship with any company whose stock is mentioned in this article.