Over the past few days, Mr. Market has been painting most all healthcare REITs by the same brush. Irrespective of the mood of the market, there is always opportunity lingering and intelligent investors can reap sound returns by maintaining a tactical approach to managing risk.
By ignoring the headline noise within the healthcare REIT sector, investors can seize opportunity by selecting sound securities that can be acquired with a distinct margin of safety. However it's not always price that differentiates a sound stock from a speculative one, sometimes data and reasoning can increase your chances, and that in turn, can lead to optimal portfolio performance.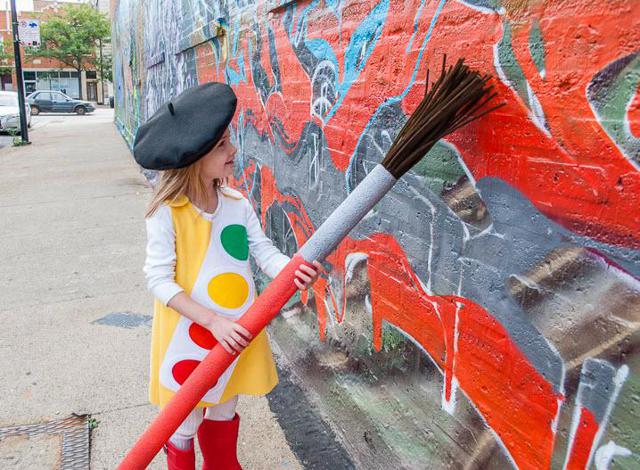 Click to enlarge
It's Not Time To Double Down On HCP
You may recall an article that I wrote earlier this week on HCP, Inc. (NYSE:HCP). In that article I explained that "HCP's competitive advantages are under attack." I went on to explain that HCP is essentially "on the ropes and the management team will have to put together a tactical battle to continue to grow the dividend."
To make it clear, I am maintaining a HOLD, not a SELL, and my rationale is based squarely on the future performance of HCP's skilled nursing portfolio. To put it bluntly, past performance does not necessarily insure future success. I disagree with Seeking Alpha writer/analyst, Bob Ciura, as he wrote:
Investors are ignoring the fact that HCP can still cover its dividend with FFO.
Furthermore, I argue that HCP is NOT "set up very well to capitalize" and I consider it foolish to "add more while everyone else rushes for the exits."
Why?
It's clear that another ManorCare rent cut is needed based upon the now more apparent reimbursement environment. Why?
Because the SNF environment has become weaker leading to reduced reimbursement rates and patient days. ManorCare's fixed charge coverage declined to 0.97x in 2H15 and as I referenced in my recent article, the ongoing litigation with the DOJ cost $9m of litigation fees in 2015 (and Kindred's recent$125m settlement is the most recent comp).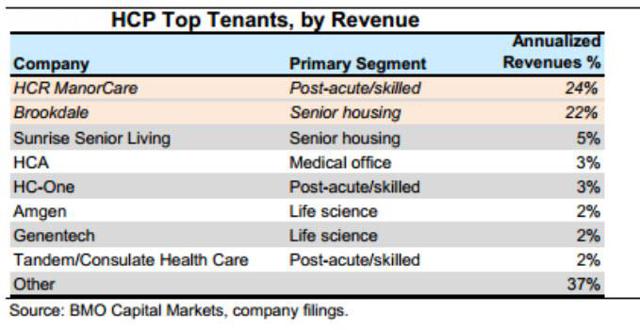 Click to enlarge
Also, tenant coverage ratios have declined with HCP's 2nd largest tenant Brookdale (22% of revenue) EBITDAR rent coverage at 1.03x from 1.06x in 3Q15, and Four Seasons' (NASDAQ:LOAN) fixed charge coverage declining to 0.80x from 0.96x. HCP applied its Four Seasons' December 2015 interest payment against the principal amount, further reinforcing my view. (HCP will not recoup its original £136.8m investment).
Given the risks associated with HCP's significant exposure to ManorCare and Brookdale, I believe that there will be "more pain" before "more gains". In other words, I am not anticipating for HCP to bounce back and there is a possibility (in my opinion, 1%-20%) that the company will cut its dividend.
Fitch Ratings, in affirming the company's issuer default rating, modified its outlook to "negative." The price of credit default swaps on the company's five-year senior debt skyrocketed to 235.53 bps as of Feb. 10, from 109.00 bps a week earlier, according to S&P Global Market Intelligence data.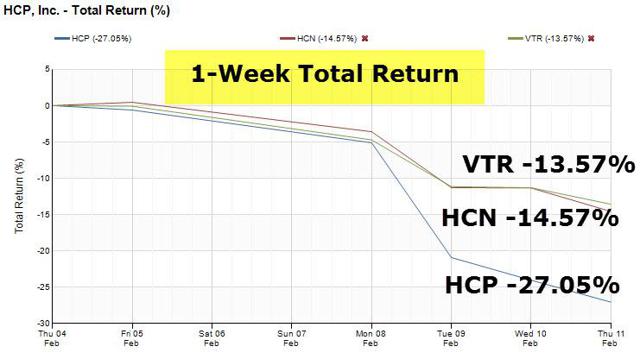 Click to enlarge
And even as HCP President and CEO Lauralee Martin called the resolution of the ManorCare situation the company's "highest priority" and announced the hiring of Barclays Inc. as an adviser, most all health care REITs traded down. Ventas, Inc. (NYSE:VTR) shares fell 6.9% between the Feb. 8 trading close and the close on Feb. 10, and Welltower Inc. (NYSE:HCN) fell 8.0% over the same period.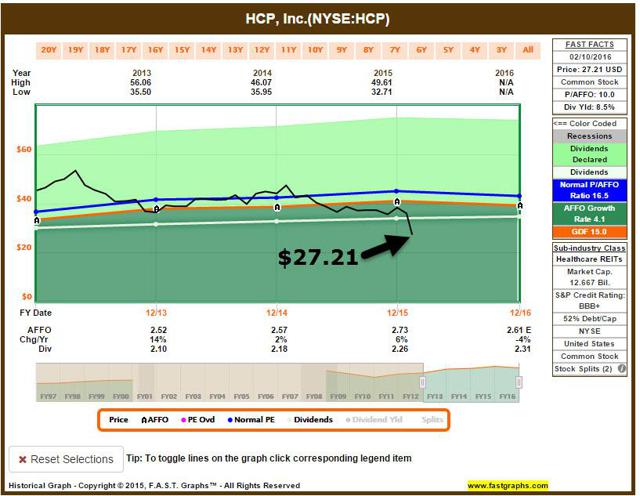 Click to enlarge
All Healthcare REITs Should Not Be Painted By The Same Brush
Remember, the "big 3" healthcare REITs represent around 65% of the total market capitalization of the healthcare sector. That means that when one big domino (i.e. HCP) falls there's a chain reaction that impacts most all other healthcare REITs.

Click to enlarge
Although HCP has some immediate concerns - fixing its poorly orchestrated skilled nursing leases with little room for slippage - many of the other healthcare REITs do not have the same risks. I agree with Ciura that the healthcare sector is "fueled by an undeniable demographic shift" and investors should seek to capitalize on the opportunity, without the overhang related to highly concentrated operators with problematic coverage ratios.
But what about Omega Healthcare Investors (NYSE:OHI)?
As you recall, I wrote an article on OHI two days ago, and a day before the company released its Q4-15 earnings.
It's true that OHI has the same "high risk" skilled nursing properties as HPC. In fact, OHI has around 90% concentration in skilled nursing facilities, compared with around 24.6% for HCP. However, there are a few notable differences:
OHI has a much more diverse portfolio than HCP. As one of two "pure play" skilled nursing REITs (CCP is the other one), OHI owns 932 operating facilities with a diversified operator base. The top operator, Genesis Healthcare (NYSE:GEN), generates around 7% of OHI's revenue consisting of 58 facilities in 13 states with an annualized Q4-15 rent of around $51.5 million. Conversely, HCP's two largest operators - ManorCare and Brookdale - generate a combined 46% of total revenue.
OHI's GEN EBITDARM and EBITDAR coverage for the 12-month period ended December 31st was 1.72x and 1.26x respectfully (this calculation does not include any adjustments for any rehab margins). OHI's overall trailing 12-month operator EBITDAR coverage as of Q4-15 remained stable at 1.4x versus 1.4x in Q2-15.Alternatively, ManorCare's fixed charge coverage declined to 0.97x Brookdale's (22% of revenue) EBITDAR rent coverage also declined to 1.03x from 1.06x, and Four Seasons' fixed charge coverage declining to 0.80x from 0.96x. In other words, there is little margin for error as it relates to HCP and as noted above it is highly likely that HCP will be forced to continue to reduce rent (which ultimately could lead to a dividend cut).
OHI has net lease agreements with all of its operators and that means that OHI does not take on operator risk. Conversely, HCP has operator risk making it riskier, especially with troubled tenants like ManorCare. Given the coverage ratios associated with OHI's skilled nursing portfolio there is reduced likelihood that OHI will be required to renegotiate its master leases. Also, on the recent earnings call OHI said that it had an agreement to "either sell or release six of the existing GEN facilities on or before March 2017. It is expected that GEN coverage will ultimately improve with these dispositions and revenue will not be materially altered."
The worst case scenario for OHI is that GEN files bankruptcy; however, OHI said it was confident it could obtain new leases "in no time at all". It seems to be that Mr. Market is assuming this worst case scenario for OHI and perhaps the sell-off is partially reflected as a call on GEN's survival. As noted in a previous article, I plan to dig deeper into GEN's balance sheet and income statement to get a sense of the BK vulnerability and long-term survival prospects.
In addition to OHI, I believe there are a few other healthcare REITs that should be considered. As I said, many of these REITs are being painted by the same brush as HCP and they deserve better shelf space. In addition to OHI I also like LTC Properties (NYSE:LTC) and National Health Investors (NYSE:NHI). Both are small cap REITs and have written on them recently: LTC article HERE and NHI article HERE.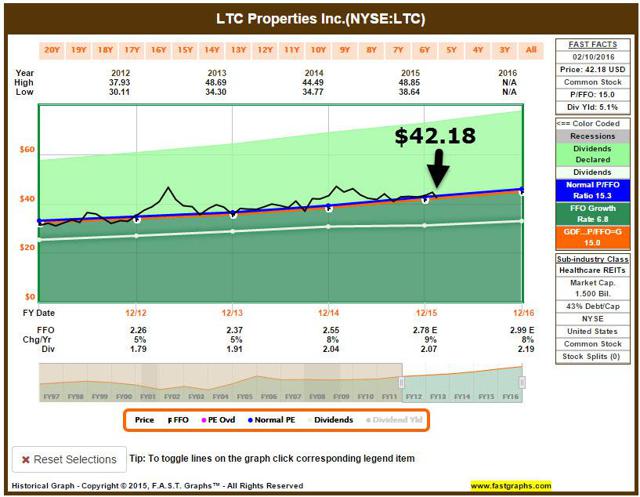 Click to enlarge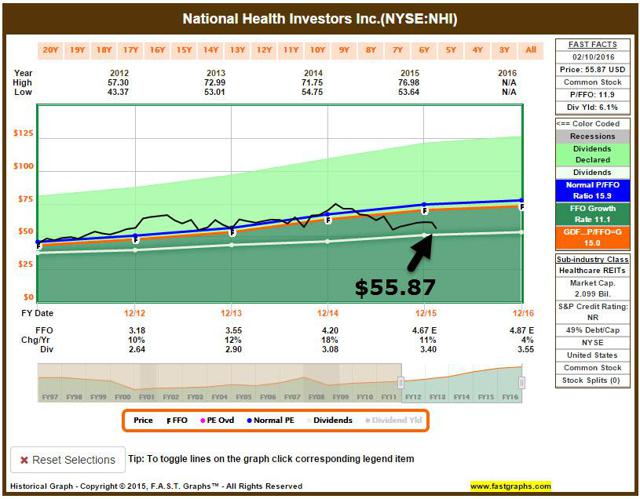 Click to enlarge
Just What The Doctor Ordered
Historically, medical office buildings, or MOBs, have been considered the most defensive sector within healthcare real estate but also benefit from significant macroeconomic tailwinds - not just the aging population, but also the rollout of the Affordable Care Act and strong healthcare employment growth.
These buildings are generally located around hospital campuses or in key community locations and are leased to multiple physician groups that generally refer to each other, making it very hard for doctors to move. These core locations and high level of tenant retention makes for very steady and consistent cash flow growth over time, key to maintaining dividends over time.
From a growth standpoint, MOBs will benefit from some of the strongest tailwinds over the next 10 years. MOBs certainly will benefit from the fact that the U.S. population is getting older and seeing the doctor more. However, MOBs are uniquely positioned to benefit from the continued rollout of the Affordable Care Act which is adding up to 40 million additional insured individuals who will access care. This is causing employment in the healthcare sector to grow almost twice as fast as the broader U.S. All of these trends will lead to higher demand for cost-efficient MOB space.
So what sets MOBs apart from other healthcare real estate?
The first is that they are traditional real estate where REITs can operate their properties and where location, tenant mix, and supply and demand rule the day. The good news for MOBs are that demand for space is increasing and new supply remains limited allowing MOB owners to grow their property cash flows 2 to 3% on an annual basis (HTA has been over 3% for 12 consecutive quarters!).
Click to enlarge
Additionally, REITs like Healthcare Trust of America (NYSE:HTA) are able to operate their own properties and are not dependent on a third party operator for performance. When times are difficult, we have seen the difficulty REITs have had when they can't control their performance - this is important given the recent experience of HCP and Sabra.
From a cash flow perspective, Senior Housing and SNF operators only generate cash flow to cover their rent payments by 1.5x on a good day. For MOBs, that number is closer to 10x! That kind of cash flow cushion provides great support that is difficult to ignore.
Finally, MOBs have the lowest exposure to government reimbursement or changes in reimbursement patterns. On average, physicians receive only a very small portion of their overall revenue from Medicare and Medicaid, limiting the impact of sudden changes in reimbursements that are impacting other sectors, like skilled nursing facilities.
This is a great asset class that has stable and growing cash flows. What's also great is that public REITs like HTA have a significant opportunity for continued public growth. There are over $350 billion worth of MOB's in the U.S., with less than 15% of that held by public REITs. This compares to most other asset types where REITs and institutional buyers own 40 to 50% of the total.
In summary, there is a lot headline noise reflected in the healthcare RET sector today. I strongly suggest taking a more tactical approach when it comes to this asset class and pay very close attention to the operators within the various sub-sectors.
Specifically, there are continued challenges related to the skilled nursing and senior housing sectors and intelligent investors should pay close attention to these revenue drivers. Most importantly, investors should also remember to pay close attention to diversification - both from an operator perspective and from a portfolio allocation perspective. Now is not the time to be "cute" and try "doubling down" on HCP. Also ask yourself this question, "what don't I know that could hurt me?"
Author's Note: I'm a Wall Street writer, and that means that I am not always right with my predictions or recommendations. That also applies to my grammar. Please excuse any typos, and I assure you that I will do my best to correct any errors if they are overlooked.
Finally, this article is free, and my sole purpose for writing it is to assist with my research (I am the editor of a newsletter, Forbes Real Estate Investor), while also providing a forum for second-level thinking. If you have not followed me, please take 5 seconds and click my name above (top of the page).
The only guarantee that I will give you is that I will uncover each and every rock I can in an effort to find satisfactory investments that "upon thorough analysis promises safety of principal and satisfactory return. Operations not meeting these requirements are speculative." (Ben Graham)
Disclaimer: This article is intended to provide information to interested parties. As I have no knowledge of individual investor circumstances, goals, and/or portfolio concentration or diversification, readers are expected to complete their own due diligence before purchasing any stocks mentioned or recommended.
Source: SNL Financial and FAST Graphs
Disclosure: I am/we are long O, DLR, VTR, HTA , STAG, GPT, ROIC, HCN, OHI, LXP, KIM, WPC, DOC, EXR, MYCC, BX, TCO, SKT, UBA, STWD, CONE, BRX, CLDT, HST, APTS, FPI, CORR, NHI, CCP, WSR, CTRE, WPG, KRG, SNR, LADR, HCN, HCP.
I wrote this article myself, and it expresses my own opinions. I am not receiving compensation for it (other than from Seeking Alpha). I have no business relationship with any company whose stock is mentioned in this article.