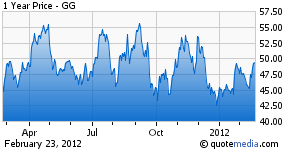 Goldcorp (NYSE:GG) recently released fourth quarter and full year earnings for 2011 while providing conservative guidance for 2012.
Fourth quarter gold production totaled 687,900 ounces at a total cash cost of $261 per ounce while for the full year revenues increased by 43% to $5.4 billion on gold sales of 2.5 million ounces. Adjusted earnings per share were $0.66 for the fourth quarter of 2011 and $2.22 for all of 2011.
Development projects continue to advance with Eleonore receiving a Certificate of Authorization from the provincial government in Quebec and Argentina approving and Amended EIA for Cerro Negro.
More importantly, exploration efforts yielded significant success in 2011 as Goldcorp increased proven and probable gold reserves by 8% to 64.7 million ounces more than replacing 2011 production. Measured and Indicated gold resources increased to 28.2 million ounces. Also, 80% of the reserve growth came from drilling success with the final 20% due to rising gold prices making areas more economic.
Silver reserves have exploded with proven and probable reserves leaping to 1.77 billion ounces and measured and indicated resources climbing to 418 million ounces.
Exploration efforts across the board at Goldcorp's various properties cost only $14 per ounce, much cheaper than through buying a junior despite the depressed market prices in the junior space.
In terms of specific properties, gold reserves at Cerro Negro more than doubled to 4.5 million ounces. Los Filos jumped by 42% to 7.8 million ounces and Porcupine increased by 23% to 4.1 million ounces of gold.
Work at Penasquito continues as projected and remediation efforts at Pueblo Viejo after last year's rains do not appear to hinder mine start-up which is scheduled for mid-2012.
Goldcorp provided 2012 production guidance of 2.6 million ounces of gold with 4.2 million ounces by 2016.
Problems at Penasquito and Pueblo Viejo constrained Goldcorp's stock price last year as the market refused to look past the problems, missing the real story.
Last year Goldcorp was able to hold down operating costs despite operating in inflationary environments in the Americas. The ability to control costs will continue to be an issue but if Goldcorp can keep costs at or near budget the market will soon wake up to the margin story as gold prices continue to increase.
There are a number of ways to value a mining firm. You can look at reserves in the ground, adjusted earnings, dividend yield and adjusted operating cash flow, among others.
The reason to buy Goldcorp is the entire company. The mine portfolio is full of cornerstone projects that would make any junior jealous. On an adjusted PE basis Goldcorp sells for roughly 22.5 times earnings, high but justified given the forthcoming cash flows from Pueblo Viejo and Penasquito ramping up to full production. The 1% dividend yield is an added bonus as the dividend pays monthly and has been increased three times in the last 15 months.
Disclosure: I am long GG.