Realty Income (NYSE:O), often called "the Monthly Dividend Company," has been on fire in 2016, already up 15% for the year. Besides offering a steady income stream given its triple net REIT nature, this stock is also one of the more consistent growers of the dividend. I believe Realty Income can continue to outperform given the quality of the recently reported Q4 2015 results.

Click to enlarge
FFO grows nicely, fueled by new investments
Funds from operations ("FFO"), the key metric for a triple-net REIT such as Realty Income, increased to $177.9 million, or $0.71 per share, up 24.0% and 11% from last year. Adjusted for various one-time items, adjusted FFO ("AFFO"), was $170.0 million, or $0.68 per share, up 17% and 5% from last year.
That Realty Income was able to grow its FFO per share at a double-digit clip for the quarter is frankly amazing for the REIT sector and blew away guidance which was calling for mid-single digit growth.
Much of this growth came from new investments as same store rents grew by only 1.3% to $197.8 million. Realty Income's acquisitions and investments totaled $204.2 million in 104 new properties and properties under development or expansion during Q3. These are 100% under lease with a weighted average lease term of ~10.9 years, with an average lease yield of 7.1%.
On the capital raise front, Realty Income sold ~11.5 million common shares at $46.88 each in October, raising ~$517.0 million. The company also sold 714,301 shares via its ATM program raising $35.8 million, and 42,922 common shares via its DRIP, raising another $2.1 million. In total, Realty Income raised ~$555 million in fairly low cost capital in Q4 2015, well above its actually spending. Given that the company had ~$1.76 billion of capacity on its revolver, this leaves plenty of dry powder for growth.
As for portfolio occupancy, which is another key metric for REITs, Realty Income saw this number come in at 98.4%, flat from last year. When measured by rental revenues, the "Economic occupancy" rate was 99.2%, again flat from last year. The weighted average remaining lease term for the whole portfolio was unchanged at 10.0 years, down slightly for last year.
Dividend coverage remains strong -- look for more dividend growth going forward
For 2015, Realty Income generated FFO per share of $2.77 and AFFO per share of $2.74. With dividends paid at $2.271 per share, this resulted in a dividend payout ratio of 82% of FFO and 83% of AFFO, below the long-term average payout ratio of 85%-90%.
Realty Income's 2016 guidance has FFO at $2.82 to $2.89 (1.8% to 4.3% growth) and AFFO at $2.85 to $2.90 (4.0% to 5.8% growth). With the recent 5% dividend increase, Realty Income's current dividend rate is $2.382. This results in a forward dividend payout ratio of 83% of FFO and 83% of AFFO (using the midpoint of guidance range). Again, this is below the long-term average payout ratio which leaves room for even more dividend growth.
Keep in mind that Realty Income grew its FFO/AFFO for 2015 at a much faster rate than it indicated it its initial guidance. Growth for 2015 was ~7% for both metrics, while the early guidance range called for just 3-5% growth. In other words, Realty Income may be sandbagging expectations.
If Realty Income were to grow its FFO/AFFO by 7% in 2016, the dividend could end up as high as $2.50 per share (5% above current levels) using a 85% payout ratio.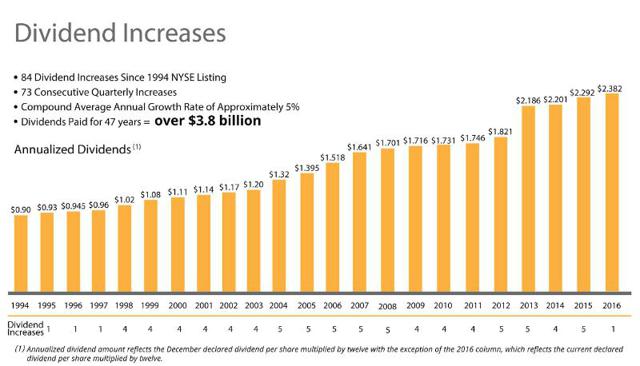 Click to enlarge
Conclusion
Realty Income's results and strong guidance were rewarded by the markets, sending shares higher by 6% on an otherwise big red day. Though, I am getting worried that the stock is getting overvalued. Typically, triple net REITs trade for ~15x forward FFO -- Realty Income is currently trading at ~21x multiple. The dividend yield is also fairly low at 4%. As a result, I would wait for the stock to go on sale before initiating a position.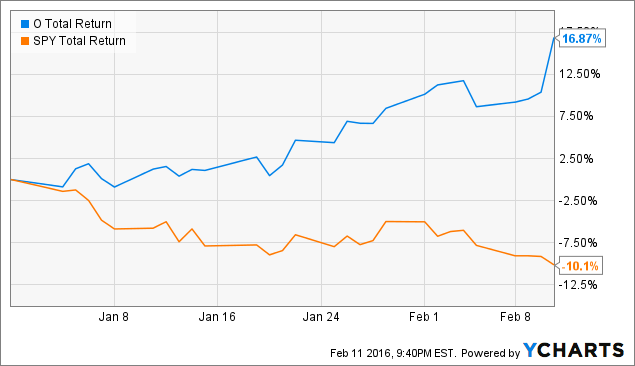 O Total Return Price data by YCharts
Disclaimer: The opinions in this article are for informational purposes only and should not be construed as a recommendation to buy or sell the stocks mentioned. Please do your own due diligence before making any investment decision.
Disclosure: I am/we are long O.
I wrote this article myself, and it expresses my own opinions. I am not receiving compensation for it (other than from Seeking Alpha). I have no business relationship with any company whose stock is mentioned in this article.