Introduction
I recently recommended investors purchase SunEdison (NYSE:SUNE) for the long haul. While my thesis has not changed, the company's equity has been hammered, mainly due to a massive dilution. SunEdison's debt was always known to be a problem, and a big one at that. The company's method of handling it, while potentially beneficial in the long run, was devastating when coupled with a broader downturn in the markets, especially solar.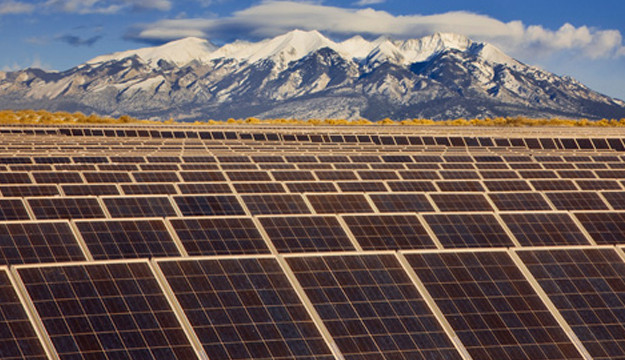 The goal of this article is to discuss the company's most recent business update, along with my reasoning for why the long thesis for SunEdison still holds true.
Vivint Solar
Vivint Solar (NYSE:VSLR) has been the biggest thorn in SunEdison's side. The announced acquisition of the company sparked fears that the company's debt growth is getting out of hand, leading to the start of this entire sell-off.

Click to enlarge
While I don't think we should be throwing any parties, SunEdison has managed to renegotiate the Vivint Solar deal to significantly reduce its costs, especially its cash costs. Under the new terms, the cash consideration has been reduced by $2.00 per share, followed by a subsequent $0.75 increase in the stock consideration.
While this action will be more dilutive to SunEdison shareholders, it will significantly cut back on the debt taken on by the cash requirement (a $200 million reduction). Personally, if I were the company, I would look at backing out of the deal in exchange for a cash payment. I believe SunEdison would be able to back out of the deal and save on the debt, should it be able to offer some consolation to Vivint Solar.
At the same time, the company has received a commitment from Blackstone (NYSE:BX) to provide a $250 million facility to fund future growth. The $300 million Vivint Solar non-recourse Term Loan, along with the $795 million TERP loan both remain fully committed by their respective banks despite a lawsuit by David Tepper. The transaction is expected to close in the next quarter.
Asset Value
Now that we have talked about Vivint Solar along with the introduction to SunEdison, it is now time to talk about SunEdison's assets. These assets, along with its projects, represent the control the company has to pay back its immense debt.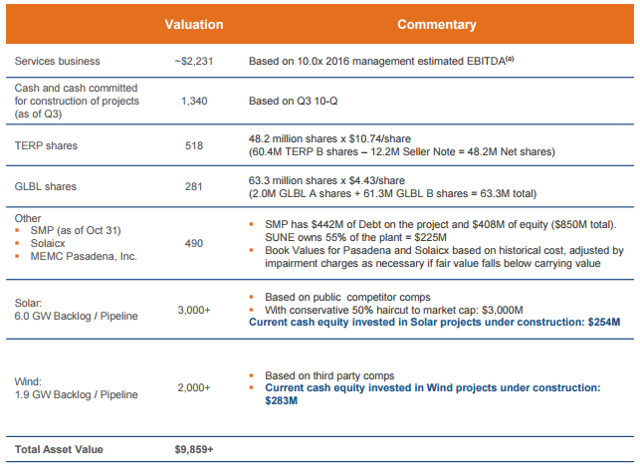 Click to enlarge
(SunEdison Backlog - SunEdison Investor Presentation)
Its total projects amount to almost $10 billion, with more than $5 billion coming from solar and wind projects. The company also has almost $1 billion worth of assets from the shares of its yield co, equity that amounts to more than SunEdison's market cap.
With the recent Paris Conference, many billions more will be dumped into equity, which should increase the demand for solar and wind projects. At the same time, it is worth noting that the company's solar projects have been conservatively halved. Assuming these contracts gain their full value, that will mean billions more for SunEdison.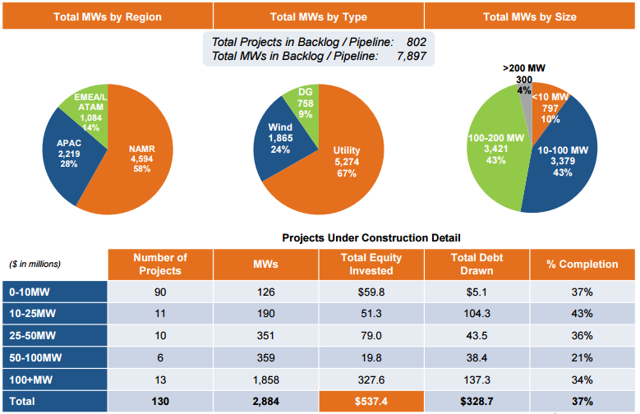 Click to enlarge
(SunEdison Projects in Progress - SunEdison Investor Presentation)
The company is currently working on building a number of projects, 13 of them significant projects valued at over 100 megawatts. Through these projects, it has invested almost $540 million in equity and is drawing down $330 million worth of debt. That is a relatively high debt-to-investment ratio.
At the same time, SunEdison has had its projects reach almost 40% completion. While still slow, these projects should bring immediate income upon completion, especially if they are sold to the yield co. The company also has a large number of future projects in the backlog that should provide immediate income, especially if it can pass on these projects to the yield co.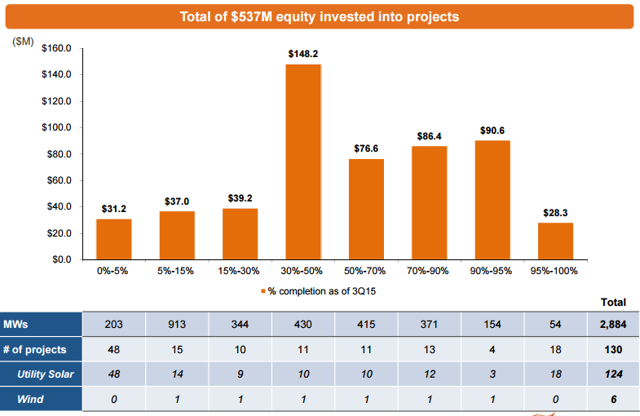 Click to enlarge
(SunEdison Equity Investments - SunEdison Investor Presentation)
Let us finish the asset discussion section by talking about the equity invested into projects based on their completion stage. SunEdison has a total of 130 projects under construction, amounting to 2884 megawatts worth of power. The majority of these projects are utility solar, while a smaller number are for wind. Due to the relatively economical nature of wind compared to other renewables, I am surprised the company does not focus more on its wind backlog.
Out of this, a total of $537 million is invested, with the largest portion invested in projects 30-50% complete as of 3Q 2015. While the company has not provided any timeline of how long these projects will take to complete, a substantial portion of the investments ($118.9 million) is more than 90% complete.
Liquidity
So far, we have introduced SunEdison before talking about Vivint Solar and the value of SunEdison's assets, specifically the project backlog and the investment / time frame for completion of these projects. The last section I want to finish up with is a discussion of the company's liquidity.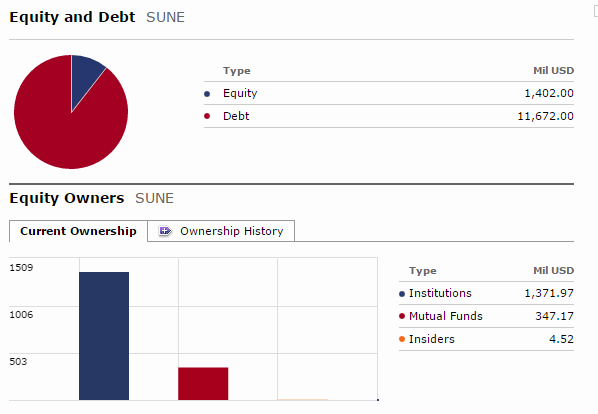 (SunEdison Equity and Debt - Morningstar)
Let us start by getting an overview of SunEdison's equity and debt. The company has $1.4 billion of equity of $11.7 billion of debt. Out of the equity owners, the majority is owned by institutions, meaning the sharp sell-off that we've seen recently is less likely to continue. However, the debt remains a substantial problem that needs to be addressed for it to continue growth.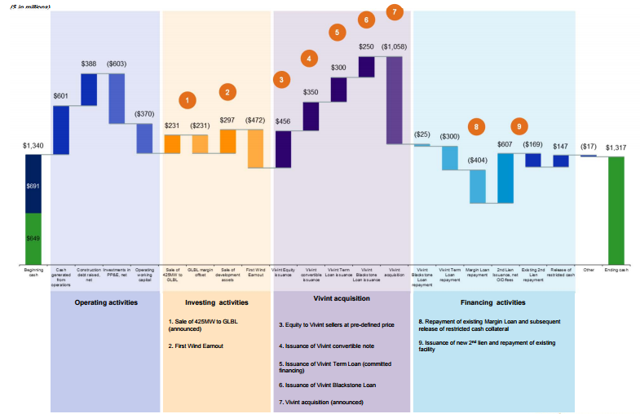 Click to enlarge
(SunEdison Cash Changes - SunEdison Investor Presentation)
The above image shows SunEdison's 1-year aggregate cash changes from 3Q 2015 to 4Q 2016. The company expects its cash pile to remain roughly constant, dropping by 2%. A substantial cash cost is the Vivint Solar acquisition, which will be handled by issuing debt. I think it is time for SunEdison to sit down, pull a Kinder Morgan (NYSE:KMI), and pay off its debt before continuing growth.
Conclusion
SunEdison has had a difficult time recently, mainly on account of an equity dilution, followed by a broader market sell-off. However, despite its horrendous debt load, it has managed to decrease its costs related to Vivint Solar.
At the same time, the company has a large number of growth projects ahead of it and due to be completed soon. These projects should be immediately accretive to SunEdison's earnings, especially if passed down to its yield co.
For interested investors, I recommend opening a position or doubling down at this time.
Disclosure: I am/we are long SUNE.
I wrote this article myself, and it expresses my own opinions. I am not receiving compensation for it (other than from Seeking Alpha). I have no business relationship with any company whose stock is mentioned in this article.