Accounting for 100% of the four IPOs so far this year, biotechs appeared to be the one sector able to generate demand from public investors. But demand is weaker than it seems. Of the nearly $400 million raised, insiders publicly indicated on 31% of proceeds, which is about 50% higher than the 2013-2015 average. However, we speculate that the remaining $275 million purportedly bought by new investors is actually much lower. Earlier, crossover investors have likely had meaningful participations on these IPOs, which they did not have to disclose in registration documents. In the case of last week's Editas Medicine (NASDAQ:EDIT), the biotech's filing showed no insider buying, but SEC filings by insiders Viking Global and Deerfield Management earlier this week suggest that existing owners bought at least 17% of the deal.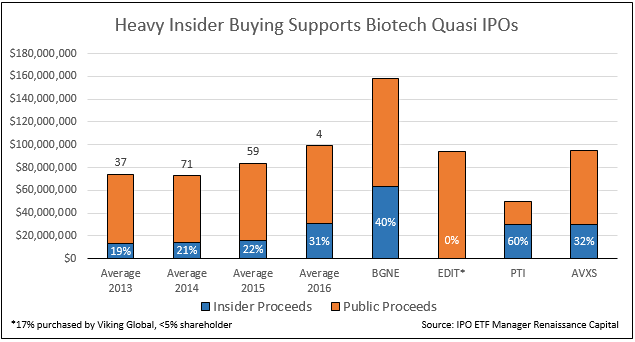 This week's two IPOs, AveXis (NASDAQ:AVXS) and Proteostasis (NYSE:PTI), both broke issue on the open, while last week, BeiGene (NASDAQ:BGNE) fell below its offer price. After the extreme losses, which suggest that there is not enough institutional demand to outweigh selling pressure from buy-and-flip investors, biotech IPOs could have trouble finding any public buyers, even if insiders prop up the majority of the deal.
Investment Disclosure: The information and opinions expressed herein were prepared by Renaissance Capital's research analysts and do not constitute an offer to buy or sell any security. Renaissance Capital, the Renaissance IPO ETF (NYSEARCA:IPO), the Renaissance International IPO ETF (NYSEARCA:IPOS), or the Global IPO Fund (MUTF:IPOSX), may have investments in securities of companies mentioned.