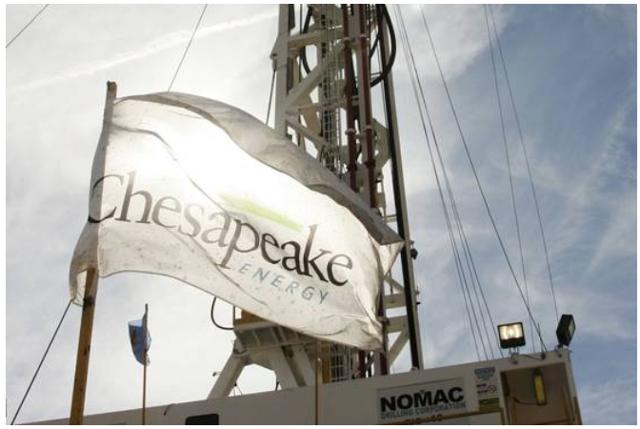 Click to enlarge
Courtesy of the Author
Bankruptcy Fears Quashed
On Monday, February 8, Chesapeake Energy (NYSE:CHK) the number two U.S. gas producer reported that it has no plans to file for bankruptcy. Fears of bankruptcy saw shares halted as they plunged 50% to $1.50 per share after the trade publication Debtwire reported that the firm of Kirkland & Ellis were engaged to assist the company to deal with financial weaknesses.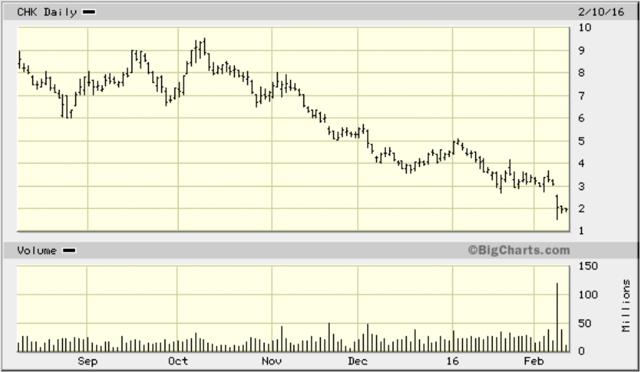 Click to enlarge Chart Courtesy of the Author
Financial Weakness
Financial weakness is reflected in considerable company debt in the face of limited earnings. Staying power is in doubt. In the current low gas and oil price environment, there are dark clouds on the horizon. One of the darker clouds is more than $10 billion dollars in bond debt with an equity market value of only $1.2 billion. With $1.8 billion in cash, there are sufficient funds to pay a $500 million debt due March 2016. But an additional $1.3 billion debt is due in 2018.
With low natural gas prices pressuring needed cash flows, the ability to support its operations as well as meet debt obligations are producing a severe crunch. Furthermore, the company is in a poor position to profitably sell off assets to provide badly needed funding.
Carl Icahn is on the company board and remains a major shareholder of common stock with influence regarding managerial decisions. Clearly, a major task is to manage debt by striking deals to renegotiate reductions by rolling maturities out further and reducing operational costs wherever possible.
Taking Action
Chesapeake is working with advisors to reduce its debt The company recently completed a debt exchange that converted $3.8 billion of unsecured debt into second-lien notes, but the new securities declined on the secondary market. Additionally, CHK suspended its dividend, an action that signals severe difficulties for any major company. Workforce reductions of 15 percent also contributed to preserving needed cash. In addition, the value of some oil and gas assets were written down. The result was a downgrade by Standard & Poors to CCC+ last month.
Reverberations
There have been reverberations in other markets due to the precarious debt difficulties CHK is experiencing. Commitments to pay $2 billion a year for space on pipelines has had a devastating effect on Williams Companies Inc, (NYSE:WMB) whose shares fell 34 percent on February 8. Energy transfer Equity (NYSE:ETE) fell 25 percent.
History
Chesapeake's problems did not originate with the recent plunge in oil, although that has placed them in a very precarious position. This company was a Wall Street darling that symbolized the U.S. fracking revolution, but it has experienced difficulties during the last 4-5 years.
That history stems back to the co-founder and past CEO, Aubrey McClendon who is credited with an audacious style. Under his management, CHK borrowed millions in order to buy up and exploit vast untapped gas fields. The bull market for natural gas peaked at $8 per thousand cubic feet by 2008.
Then the roof fell in as gas prices plunged to $4 and Chesapeake found itself in grave debt. By the end of 2008, company debt had spiraled to $13.2 billion and shares had lost 80 percent of their value. The company has been selling off assets ever since and trying to manage keeping off the brink.
Take Away
About 40 energy companies entered bankruptcy in 2015. Chesapeake appears to be on the brink unless oil and gas prices rise this year. Analysts take a dim view of this prospect citing that many new wells are money losers and CHK is operating in "zombie mode"- slowly burning off cash and unable to grow. The key question is: will the liquidity questions get resolved? Unless that happens, Tim Rezvan, an equity analyst at Stern Agee said it is "hard to justify any equity value" until that question can be answered.
The current shareprice as I write is 1.66 and this may be tempting to very aggressive investors with a long time horizon to see if CHK can ride out the storm. In my view, such an outcome will require significant borrowing and oil price appreciation. I am not confident that CHK will accomplish both of those requirements. As an investor, CHK violates my first two rules of investing, risk aversion and buying weakness.
Disclosure: I/we have no positions in any stocks mentioned, and no plans to initiate any positions within the next 72 hours.
I wrote this article myself, and it expresses my own opinions. I am not receiving compensation for it (other than from Seeking Alpha). I have no business relationship with any company whose stock is mentioned in this article.