Stocks continued their slide on Thursday with many of them falling to new 52-week lows. The Dow Jones Industrial Average shed 255 points, or 1.60% and closed at 15,660 points in VERY weak trading. The S&P 500 slumped 23 points and finished the day 1.23% lower at 1,829. Some companies, though, got hit way harder than the average stock.
Take Bank of America (NYSE:BAC), for instance, whose stock has gotten clobbered this year so much it made investors' heads spin. Bank of America's stock crashed almost ~7% on Thursday as global stock markets went into a tailspin yet again on concerns that the global economy is ripe for a downturn. Fears over a U.S. recession also got the best of investors yesterday who pushed Bank of America to a depressing new 52-week low of $10.99.
Bank of America has now shed close to 34% (!) of its value since the start of the year, which is unreal.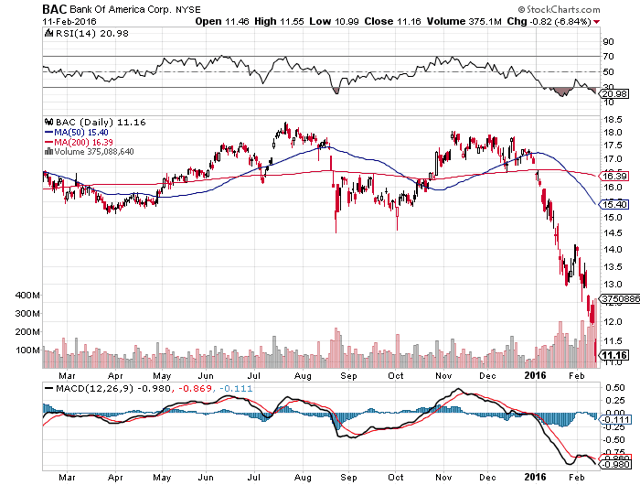 Click to enlarge
Source: StockCharts.com
Rate policy a major risk factor
Bank of America will profit from an increase in the U.S. benchmark interest rate, just like most banks with interest rate-sensitive earnings will.
Higher interest rates mean higher net interest margins originating from Bank of America's loan book. Hence, with the Fed kicking off the interest rate cycle in December, chances were that a slow, yet gradual increase in rates would lift Bank of America's profits, and by extension, its share price.
Economic data has so far not shown that the U.S. is heading for a recession: U.S. real GDP expanded at a moderate rate of 0.7% in the fourth quarter of 2015 according to the Bureau of Economic Analysis, and the unemployment rate came down to 4.9% in January after employers extended their job-creating streak and added 151,000 new jobs to their payrolls.
But what if the Fed uses the current market turbulence as an excuse to not hike rates, or slow them down? The Dow Jones Industrial Average is officially in a bear market, which might influence the Fed's decision to (not) raise rates in 2016.
Since a slower-than-expected pace of increases in interest rates is going to have an adverse effect on banks' net interest earnings, the Fed's rate policy is a major risk factor for bank stocks in 2016.
How low can it go?
To tell the truth: I liked Bank of America at $15. And why wouldn't I have liked Bank of America at $15?...The stock sold for a 30%+ discount to accounting book value. Now, BAC sells for 50 cents on the dollar. And Bank of America's shares might even drop a little further in the coming days and weeks since investor sentiment has only gotten worse with yesterday's meltdown.
Another 10% decline in U.S. stock prices is totally within the realms of possibility at this point in time in this confused market.
Your Takeaway
I have doubled down on Bank of America twice in the last few months, and, admittedly, have been too early. It is true that I didn't catch the bottom here, but that doesn't make my choice to invest in Bank of America a bad one yet.
I am prepared to double down on Bank of America again, but believe the market has the potential to continue its slide and correct another 10%, which could see BAC dipping below $10. Therefore, I am going to put in a limit buy order for ~$10 a piece in the coming days.
Disclosure: I am/we are long BAC.
I wrote this article myself, and it expresses my own opinions. I am not receiving compensation for it (other than from Seeking Alpha). I have no business relationship with any company whose stock is mentioned in this article.