It has been a while since I last discussed CYS Investments (NYSE:CYS). The mREIT has struggled with the rise of volatility in interest rates and the overreaction by the markets from expected Federal Reserve actions. Nevertheless, while its stock price may not reflect it, CYS has been able navigate this volatility while maintaining shareholder value. This was put on display with the recently posted Q4 numbers.
Core earnings improve, boosting dividend coverage
Quite surprisingly, CYS was able to increase its earnings power sequentially in Q4 2015 while lowering leverage. Core earnings plus drop income came in at $0.29 per share, split between $0.27 core earnings and $0.02 drop income). This was 7.4% higher versus the $0.27 per share posted in Q3 2015 but down 6.5% from the $0.31 per share in Q4 2014. Leverage was 6.77x, versus 6.87x last quarter and 6.44x last year.
CYS was able to grow earnings due to slightly wider interest rate spreads, including drop income and after hedges. These improved to 1.43%, versus 1.40% in Q3 and 1.34% in Q2. This was a result of rising rates during the quarter, a trend which has largely reversed during Q1 2016. In addition, the company benefited from lower prepays as higher rates made refinancing less attractive for homeowners.
With CYS's dividend at $0.26 per share, the company had a strong 1.12x coverage ratio for the quarter, up from 1.04x in Q3 and 1.03x last year. Though, as noted above, with rates falling in Q1 2016, CYS's earnings power is likely to decline which could impact the dividend going forward.
Book value falls, but still a positive economic return
As for CYS's book value, this key metric came in at $9.36 per share, down 2.3%, or $0.23 per share, from $9.59 per share in Q3 2015. Though, when adding back the $0.26 per share in dividends, CYS's economic return (changes in the book value plus dividends) for the quarter was still positive at $0.03 per share, or ~1% when annualized.
CYS's book value fell due to the value of its agency paper falling as rates rose, offset partially by hedges and the impact of share buybacks. Given the trend for Q1 2016, these losses may have been largely reversed.
Share buybacks are the best use of capital
At current prices, CYS is trading at a nearly 30% discount to its book value. As a result, it makes a ton of sense for the company to engage in large share repurchases. In this regard, CYS did not disappoint in Q4.
CYS repurchased over 3.05 million shares for $23.1 million in the quarter at an average price of ~$7.54 per share. For the year, CYS repurchased 10.56 million shares for $87.7 million, an average price of $8.28 per share. These are massive amounts, representing ~2% of the float repurchased during the quarter and ~7% for the year.
At the current discount to book value, the best use of capital for CYS is share buybacks. Indeed, I estimate that CYS was able to add from $0.03 to $0.04 per share accretion to its book value from these buybacks. With $160.8 million remaining on the share purchase authorization, CYS could buyback another 23.6 million of its shares, or ~15% of the float.
Conclusion
While less than a 1% return is not ideal, I still believe CYS performed well enough in Q4 given the extreme volatility it faced. This was a period where the Federal Reserve raised rates for the first time in ages, despite no clear signs of inflation, and was even guiding for up to 4 more increases in 2016. While that talk has obviously faded, the damage done by this added volatility was still very much felt.
Furthermore, with the Fed now walking back its 4 rate hike forecast, CYS could see the value of its agency paper rise. Rates appear to no longer be heading higher in the US. Instead, much like in other developed countries, there is now chatter about deflation, including open questions about the feasibility of negative interest rates.
Indeed, CYS's CEO Kevin Grant made clear his thoughts about the mess created by the Fed:
"The Fed has spun themselves into a rhetorical pretzel. They've yet to find a way to incorporate the plummeting participation rate and their views around full employment and they see the commodity route as transitory. I cannot find a single research paper at any of the Fed offices that examines the demographics, technology or regulatory timing."
With the 10-year rates now approaching 2013 levels, CYS's and other mREITs will be in for one heck of a ride.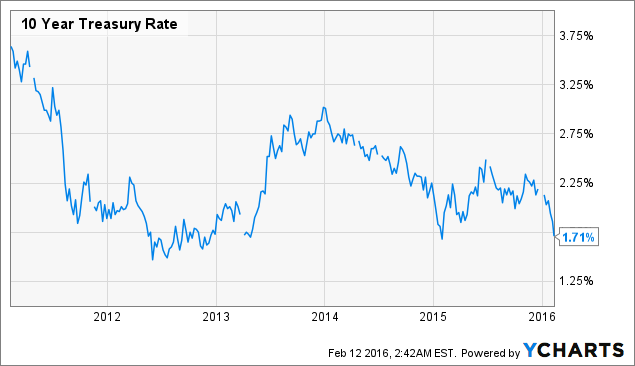 10 Year Treasury Rate data by YCharts
Disclaimer: The opinions in this article are for informational purposes only and should not be construed as a recommendation to buy or sell the stocks mentioned. Please do your own due diligence before making any investment decision.
Disclosure: I am/we are long CYS.
I wrote this article myself, and it expresses my own opinions. I am not receiving compensation for it (other than from Seeking Alpha). I have no business relationship with any company whose stock is mentioned in this article.