How many comets can you name?
Most people can come up with one.
Halley's Comet is a "periodic" comet. It returns to earth every 75 years. Most of us get to see it once. Some people could potentially see it twice.
Last time it was here was 1986. Its next visit will be 2061.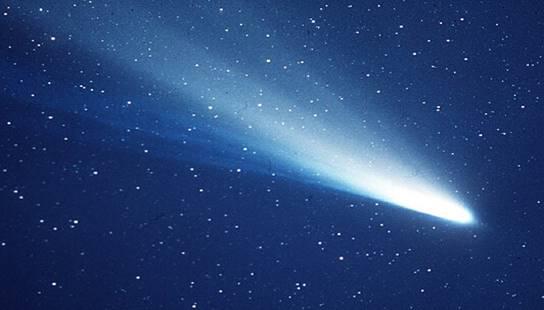 Source of image: NASA
We aren't here to talk about comets though. We are here to talk about investing.
In 2015 the investment world saw the equivalent of a Halley's Comet.
Seth Klarman's Baupost Capital had a down year for just the third time in its 33 year history. Klarman's down years happen a little more often than a visit from Halley's Comet….but not much.
Klarman having a down year gets us pretty excited to dig into his portfolio to try and root out some unfairly beaten down opportunities.
What Happened To The Baupost Portfolio In 2015?
In 2015 the flat performance of the S&P 500 masked a "stealth bear market" that lurked beneath the surface. During the year the largest 10 stocks in the S&P 500 went up on average by 23% while the other 490 stocks declined by 3.5%.
This sets a value investor up for underperformance.
This reminds us of the days of the technology stock bubble in the late nineties. During the tech bubble the S&P soared higher on the back of the performance of a few extremely overvalued technology stocks while many attractively valued stocks struggled.
Many value investors like Klarman struggled during the late nineties because they avoided the overvalued technology companies. We all know how that eventually played out, the tech bubble crashed and value stocks outperformed by a wide margin.
As Klarman points out in his year end 2015 investor letter, if you exclude the S&P 500's top performing stocks in 2015 (as of mid-December) the average stock had declined 18% from its 52 week high. A 20% decline is considered a bear market, so most stocks were already there.
Klarman Took Another Hard Look At His Holdings
When an investment you are holding drops in price you have three options. You can sell, do nothing or buy more.
In the latter stages of 2015 Seth Klarman took a very hard look at some of his holdings that had experienced share price (not necessarily intrinsic value) declines.
Here is how he described the process to his investors in his letter:
"...our Public Investment Group analysts, in particular, are as busy as they've been in a number of years... we re-underwrote and even expanded our analysis, and followed our customary intellectually honest process… we feel fortunate to be in a position where we have been able to add -- at increasingly steep discounts -- to many of our most compelling positions."
His firm has redoubled its efforts to make sure it completely understands the true value of what it owns. What they have found is that the market has presented some great opportunities to own more of some of these holdings.
Given Klarman's track record over thirty years odds are that he understands the value of his core holdings far better than does the market.
Our review of Klarman's holdings reveal two already large holdings of his that we believe he may have doubled down on during the fourth quarter. Those companies are Cheniere Energy (NYSEMKT:LNG) and Pioneer Resources (NYSE:PXD).
At the end of September 2015 Baupost held 22.7 million shares of Cheniere which were worth nearly $1.1 billion. That made Cheniere Baupost's largest disclosed equity position at that time.
Since then the stock price has been cut in half from over $50 to $25.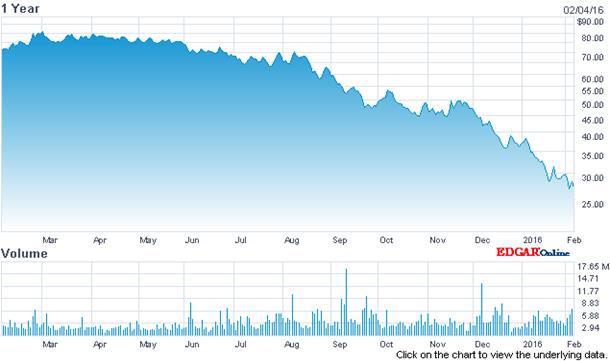 Image credit: Nasdaq.com
That is interesting.
Even more interesting is that the SEC filings reveal that Baupost was happy to hold Cheniere at over $80 and was buying more at least as high as $76.
Today investors can buy Cheniere one third of the price at which Klarman was buying.
A further point of interest is that with 22.7 million shares Baupost controls 15% of Cheniere. That gives Klarman considerable influence in steering this company in a way that is favorable for shareholders and could result in a positive outcome for the share price.
In the above referenced letter Klarman indicated that he had increased his stake in Cheniere. Given his track record we believe investors should have this stock on their short-list for further investigation.
Time Is The Friend Of The Value Investor
Like every investor Klarman doesn't enjoy his positions moving against him in a major way. He does however realize that it is an inevitable part of this business.
"Value investors must be strong and resilient, as well as independent-minded and sometimes contrary. You don't become a value investor for the group hugs. Indeed, one can go long stretches of time with no positive reinforcement whatsoever. Unlike some other fields of endeavor, in investing you can do the same thing as yesterday but achieve completely different reported results. In the long run, the research and analysis you perform should overcome market forces; the fundamentals ultimately matter. But in the short run, markets can trump effort and insight."
Those were again words from Klarman's most recent letter to investors and provide wisdom for us all to remember.
We believe the best place to find investment ideas is in the portfolio of investment greats like Klarman. Further, the best time to be looking at these portfolios is when they have had a tough run and have given each position another hard look.
Building a diversified portfolio made up of picks from these top managers in our opinion is a strategy that almost every retail investor could benefit from.
Disclosure: I/we have no positions in any stocks mentioned, and no plans to initiate any positions within the next 72 hours.
I wrote this article myself, and it expresses my own opinions. I am not receiving compensation for it (other than from Seeking Alpha). I have no business relationship with any company whose stock is mentioned in this article.