The news of a significant sale of shares by an insider is noteworthy alongside what I view to be the best floor set in many months. Stefan Kaluzny of Sycamore Partners has sold 6.3 million shares which would suggest a pretty low level of confidence in ARO's future. I look at the current floor set and see evidence of a marked level of improvement in execution. Is it too little too late…? Aeropostale (NYSE:ARO) has pretty much completed its conversion to Spring '16 products along with the rest of the mall. I have to give it good marks on several fronts. The company is once again practicing good focus and discipline. Both Guys and Girls are key items driven with good color management. There are fashion and novelty items but there are a minimum of them versus the try-too-hard abundance of them on the floor at times during the fall/winter floor sets. In my book, that translates into lower levels of risk, higher levels of sell through, and higher maintained margins. BUT, there is a lot of road to travel before all this good news is realized. I wrote a series of articles last August full of praise for the indications of a turnaround that I thought I saw at that time. The articles I wrote in September, October and November were back to talking about disarray and a total lack of focus and discipline. The pain of the Q3 numbers is now known and while ARO has reaffirmed its guidance for Q4, those Q4 numbers are not numbers that will prove to be satisfying in the long term. So my comments now are about the current floor set. It's well done. It gives primacy to key items. It utilizes a strong range of very saleable colors. There are definitely fashion and novelty items, but they are given supporting roles, not starring roles. If the same level of focus and discipline and balance are executed on the next several floor sets, there ought to be some good to very good news to review many months out.
A Trilogy of Mistakes
There are at least three ways to go wrong on fashion. The first is to try so hard to be different that you succeed, and your core customer is bewildered. The second is to then execute too many of these bewildering items. The third is to buy these bewildering items too deep. Bad fashion bought in too much breadth and too much depth. Three strikes. And ARO committed this painful trilogy of mistakes a couple of times last fall/winter, especially on the Guys side. I scratched my head when the questionable styles hit the floor and had my suspicions confirmed when the promotional posture took these items to painfully low prices within 2-3 weeks. The Guys side of the floor had several woven's and a couple of sweaters that it just could not give away. Those items are not just painful in and of themselves. They kill the buzz for the whole floor. They are off notes that create a very real dissonance on the floor. The good news is that now, right now in the new floor set, I don't see any of these try-too-hard head scratching items. The assortments are balanced between the classifications and cohesive in their color stories. There are no SKUs that are bewildering outliers. LOTS of tops go with LOTS of bottoms. ARO is executing focused and disciplined story-telling. And 10 days into the new set, there is no evidence of deeper-than-usual pricing.
The Calendar… The Learning Curve
It is worth remembering that what is seen on the floor today was largely in the pipeline while BTS was unfolding last August. You can't start from scratch on September 1st based on all the lessons learned from the entire month of August. There is a whole array of testing, fabric positions, production reservations and air freight models that could play in how today's assortments came to life, so hat's off to ARO for using all the tools in the tool box. And part of it may be as simple as they just never pulled the trigger on the trickier styles that may have been under consideration. The lack of sell-through on those items would have been obvious from the day they hit the floor last August. That was a lesson learned early in the month.
Below, ARO's front feature table. A fresh, palette-cleansing story anchored by key items.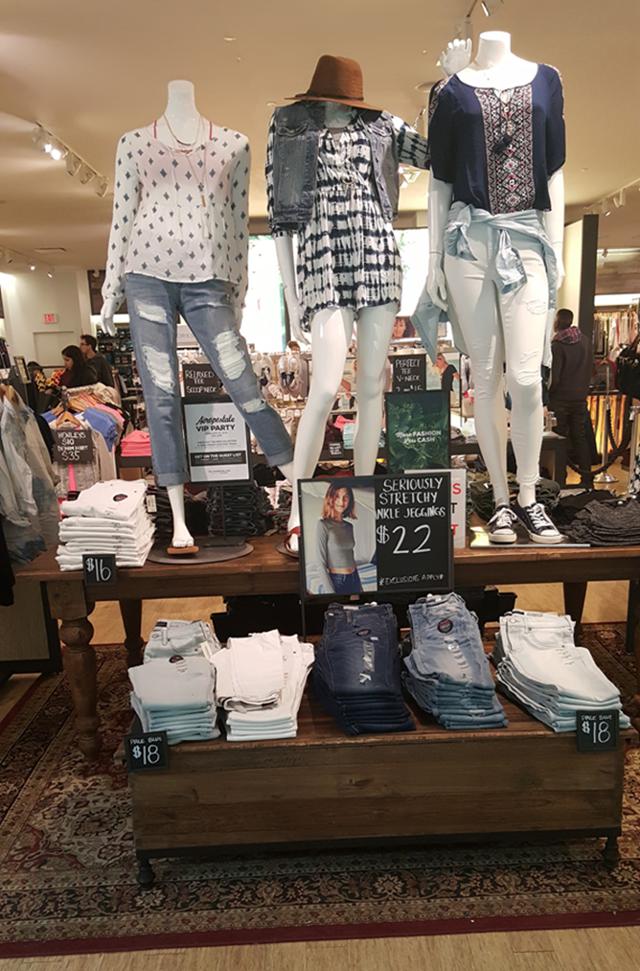 Click to enlarge
Below, the backside of that same front feature table.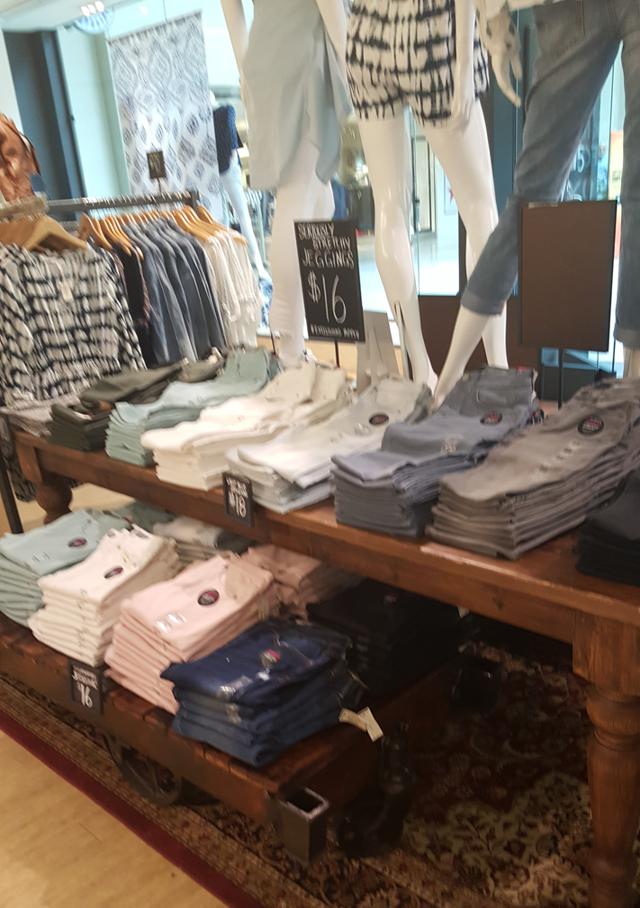 Click to enlarge
The spreadsheet below shows the final recap of how many of the mall retailers ended the month of January in their conversion process. It's an easy read, but Lululemon (NASDAQ:LULU), Anthropologie (NASDAQ:URBN) and Hollister (NYSE:ANF) deserve high marks for 100% conversion. Several retailers made it to 90% or 95%, including American Eagle (NYSE:AEO), Urban Outfitters, Ann Taylor (NASDAQ:ASNA), and Express (NYSE:EXPR). Gap and Banana Republic (NYSE:GPS) are stories unto themselves and were covered in separate articles.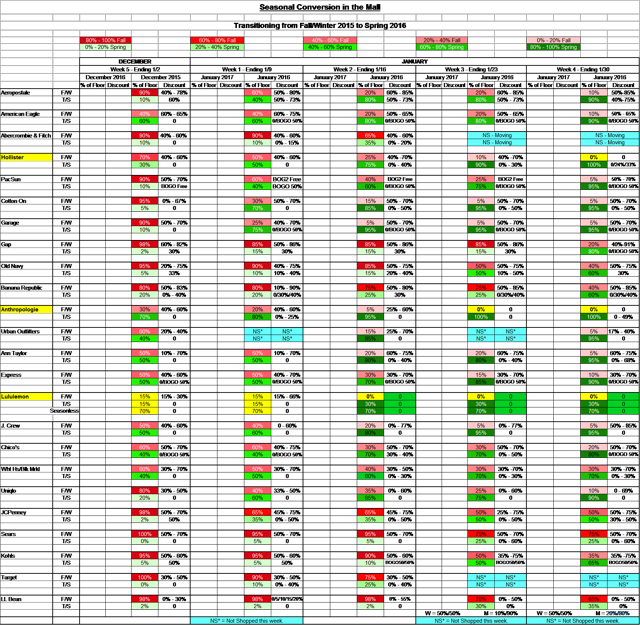 Click to enlarge
PacSun (NASDAQ:PSUN) is a teen retailer that my partner and I visit as often as we do AEO, ARO and ANF. But I have written almost zero about PSUN because there never seems to be much that is newsworthy on the floor. It has been 8 months of 2-3 visits a week and I have clear snapshots in my head (and computer) of multiple floor sets at each of the teen retailers. I have very few shots taken at PSUN for the simple reason that there rarely seemed to be anything memorable happening on the floor. Yes, they have solid presentations of denim, and on the guys side, they have the requisite joggers. That should be a given. But beyond that fundamental start, it's tough to go back to arms-length and talk about "stories." It could be as simple as being reminded of the foundational difference between the teen retailers. AEO and ANF are strictly about their own brand. PSUN is branded. AEO and ANF tell great item and classification stories. AEO makes great use of color. PSUN tells brand stories. And they are strong brands… Diamond, HUF, OBEY, Brixton Adidas and Nike on the Guys side. On the Girls side, they offer Brandy Melville, Kendall & Kylie, OBEY and Bullhead Denim. The Girls side is more interesting by virtue of the range of product offered. The Guys side tends to be an on-going sea of t-shirts and hoodies. ARO, AEO and ANF get criticized for their logo t's. PSUN is an ocean of brand-themed and novelty t's. And it feels like PSUN's assortments dwarf the others, but the assortment is so wide ranging that it all blurs together after a while. If the mission in Guys is to be a t-shirt destination, then I get it…sort of. In fact, they don't even offer polo's in either Guys or Girls. It's an outright shunning of anything remotely preppie. It's a move for a distinctly different personality than the other teen players. And that's a good thing, a very good thing. But the next step of great story telling is still critical. It needs to be a little more elevated than segmenting t-shirts by brand.
Pictured below: The front feature tables at PacSun. The story-telling lacks a…story.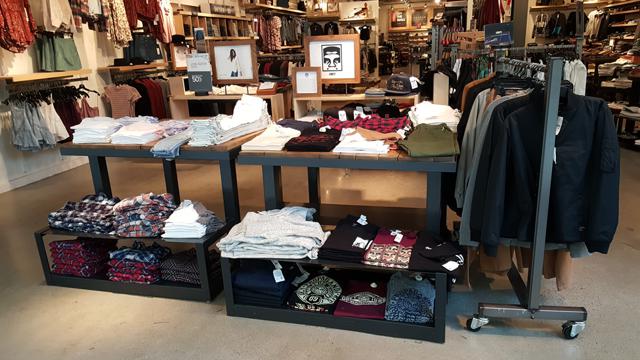 Click to enlarge
A secondary table on the Guys side.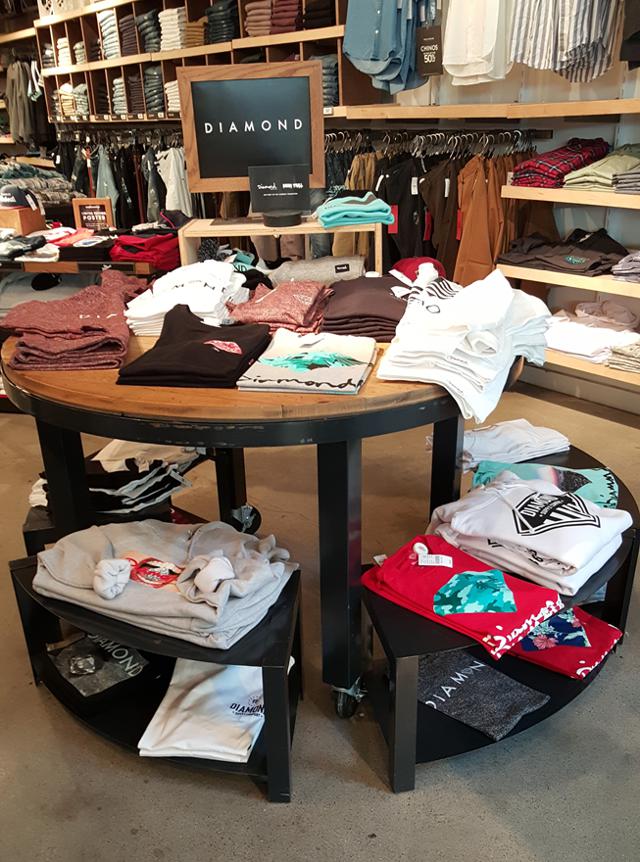 Click to enlarge
Another secondary table on the Guys side. Another underwhelming story.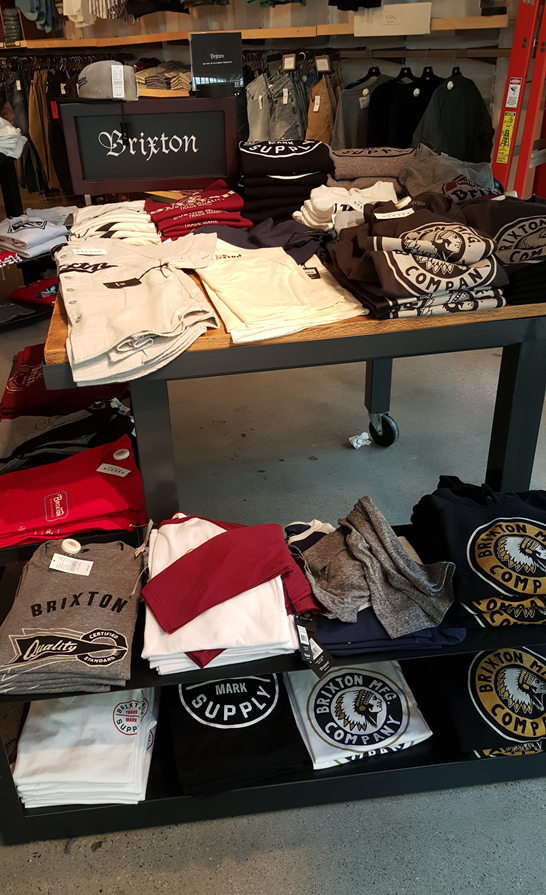 The Girls denim wall at PacSun: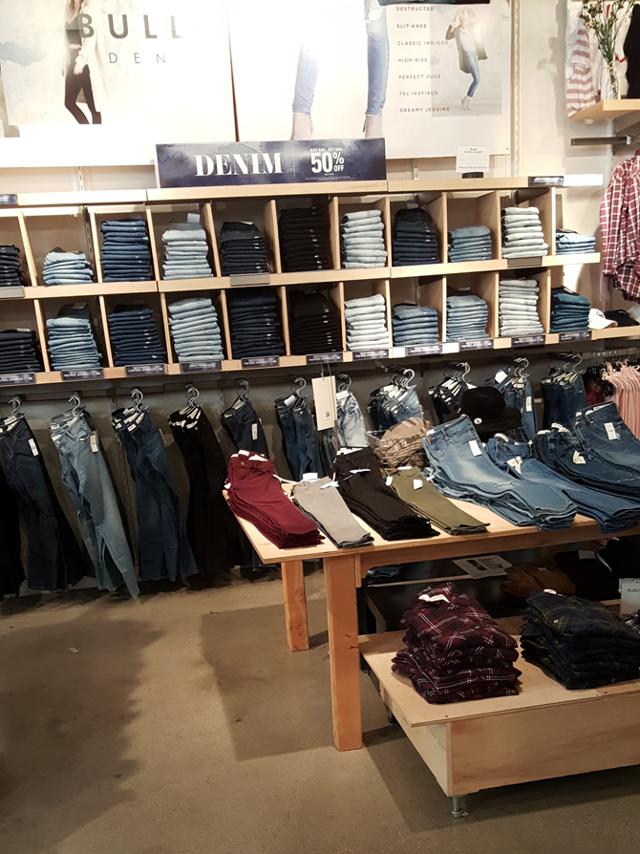 Click to enlarge
How PSUN chooses to set up its stores is one thing. It may be simpler to review a quick snapshot of pricing by classification. The brief spreadsheet below compares ARO, Hollister, and PSUN for their primary price points by classification. It is very quickly obvious that PSUN is addressing a whole different subset of the teen market than ARO. And Hollister is clearly more value sensitive than PSUN but not trying to be the entry price point.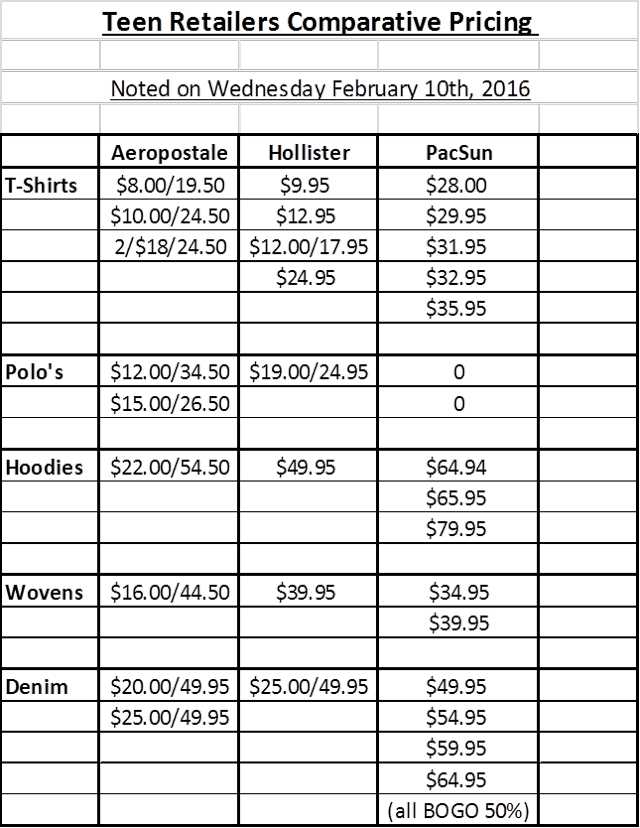 Click to enlarge
Conclusion: ARO and PSUN are two teen retailers that find themselves on the ropes, both with stocks bouncing around $0.18-$0.20 in the last week…both in search of their reason for being, their relevance with the teen customer. They talk to different segments of the teen community with completely different business models. Aeropostale did its fair share of experimenting over the course of the last 6 months. It ventured outside its comfort zone as it probed for a differentiating point of view. I think the lessons learned on the Girls side were incremental. The new floor set shows a commitment to both depth and breadth in Stretchy that was not maximized at BTS. I think the lessons on the Guys side were painful. Guys product has been cleaned up, simplified and has moved away from contemporary as promised. This new Spring '16 floor set would indicate a solid level of focus and discipline emerging out of those lessons. But, I said that very same thing last August only to watch disarray (experimentation?) pound focus into the floor boards over the course of September and October. So here we are again with the pendulum in a healthy spot. If disarray can be kept on the editing floor, ARO might again be on its way to healthy footing. PSUN is different. If they have been experimenting and probing for new footing, it hasn't been evident in the east coast stores we visit. There is no evidence in the current floor set that suggests results materially different from the trailing quarters, and we won't hear about Q4 until later in March.
Disclosure: I/we have no positions in any stocks mentioned, and no plans to initiate any positions within the next 72 hours.
I wrote this article myself, and it expresses my own opinions. I am not receiving compensation for it (other than from Seeking Alpha). I have no business relationship with any company whose stock is mentioned in this article.
Additional disclosure: Articles I write for Seeking Alpha represent my own personal opinion and should not be taken as professional investment advice. I am an experienced apparel merchant, not a registered financial adviser. This article endeavors to give timely and ongoing color to the unfolding retail experience, not financial advice.
Editor's Note: This article covers one or more stocks trading at less than $1 per share and/or with less than a $100 million market cap. Please be aware of the risks associated with these stocks.