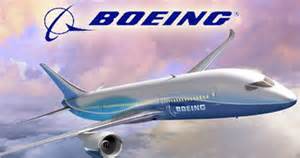 I've been long Boeing (NYSE:BA) for some time now as I have felt the company's backlog and margin expansion over the long term would drive the stock higher. After Q4 earnings the stock was crushed and as it traded for $118, I said it was at a trough valuation. After yesterday's sell-off due to an investigation by the SEC, however, BA is now down to $108, a multi-year low. In addition, some interesting developments have occurred in the currency markets that have distinct relevance to BA's bull case.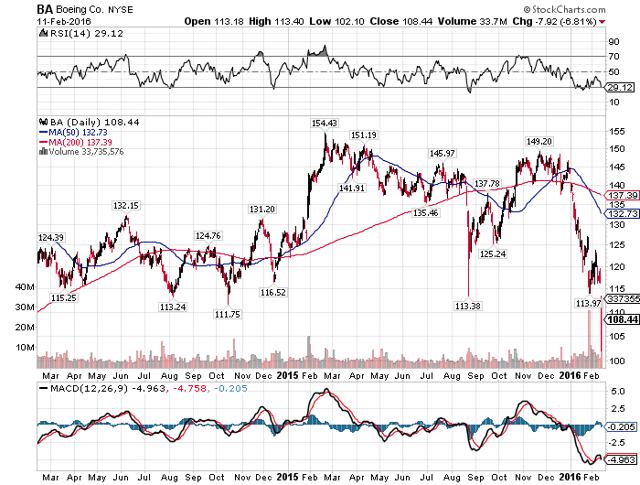 Click to enlarge
When I saw the report of the SEC investigation I was obviously concerned. This is never a good thing but it is important to remember that these investigations happen all the time. It is the SEC's job to make sure that what companies report is true and accurate and part of doing that job is to investigate sometimes. That doesn't mean BA did anything wrong; it just means the SEC is gathering information. Of course, if some wrongdoing is found, that's a totally different story but BA sold off so harshly in response to the news, I have to think any actual damage that may occur from settling charges from the SEC would be mostly priced in. Also keep in mind that if something does happen, it would likely be a long time from now as these things aren't exactly fast developing stories.
In addition, the SEC investigation stems from the way BA accounts for revenue and expenses for its aircraft and given how GAAP works, those numbers are widely open to interpretation. Unless BA just blatantly lied to investors - an outcome I have a very difficult time believing - it will be very challenging for the SEC to prove wrongdoing. To be honest, I don't think there is any way BA comes out of this with some sort of penalty; I think the SEC will either find nothing or fire a warning shot and tell BA to potentially alter the way it accounts for certain line items. I don't like SEC investigations either but I think the fear here is way overblown. BA isn't some no-name biotech startup that sells stock for a living; this is a real company that has been around a very long time with a lot to lose and I seriously doubt management would put the company's investors at risk by doing something stupid.
There was also news this week that BA is looking to cut jobs as it has been ceding share to rival Airbus of late. BA is looking to cut its costs to preserve operating margins and that is certainly critical at a time when revenue is at risk. Job cuts are always tough and we don't yet know the extent of the damage but BA is being proactive in terms of reducing costs to meet the current state of demand and that is positive for long term margins, a key piece of the bull argument.
Speaking of Airbus (OTCPK:EADSY), the forex market has been very kind to BA's European rival and the opposite to BA itself as the dollar moved significantly higher last year. The reason for the move was, of course, the Fed's interest rate hike in December and chatter stating that it would raise rates four times in 2016. As virtually every other major central bank in the world is still becoming more accommodative - not less - the dollar rallied. That made BA's jets relatively more expensive to customers outside of the US while Airbus' wares were cheaper because the Euro was tanking. But with the Fed backing off of its rate hike cadence somewhat in recent days, the dollar has continued its pullback and that is great news for BA.
This three-month chart of the dollar against the euro shows the magnitude of the move the dollar has seen in recent weeks and it is quite good for BA and quite unfavorable for Airbus.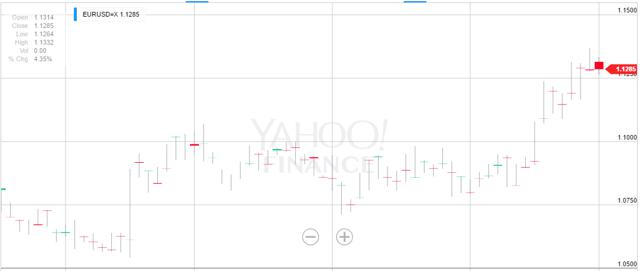 Click to enlarge
This sort of move turns the tables on Airbus and makes its planes suddenly more expensive and the inverse for BA, reversing a major headwind for BA from last year. Should this move continue or even just fail to be unwound, BA's results for 2016 will look a lot better as it can potentially take back share from Airbus and also see a smaller revenue headwind due to currency pressures.
I'll add that BA broke through very strong support at the $112 level that had been tested several times in the past couple of years and did so convincingly. The stock hit $102 yesterday before bouncing into the close so that was positive action but BA needs to clear the zone of former support rather quickly or it will become resistance. I am surprised the stock was so eager to bust through such a strong zone of support but it did and that concerns me. As much as I think the fundamental case for BA is strong, the price action in the stock worries me.
Overall, I think the positives outweigh the negatives here as BA trades for 11.5 times forward earnings, a multiple it hasn't seen in a very long time. The sell-off due to the SEC investigation is almost certainly overblown as no wrongdoing has even been asserted yet, let alone proven. And recent moves in the forex market are an unequivocal positive for BA in a variety of ways. I don't like the fact that the stock plunged through $112 but if it can recover quickly, perhaps a bottom will have been made at $102. That remains to be seen but I'm still positive on the stock and if the dollar remains weaker, BA has a big leg up on Airbus to take share back in 2016.
Disclosure: I am/we are long BA.
I wrote this article myself, and it expresses my own opinions. I am not receiving compensation for it (other than from Seeking Alpha). I have no business relationship with any company whose stock is mentioned in this article.