Although the stock market has been on a clear downtrend since the beginning of the year, Wal-Mart WMT has been up approximately 6.5% in the same period. Currently trading around $65.35, WMT has a quarterly dividend of $0.49 equating to a yield of 3.00% with the potential for a 2016 increase. Although the stock may have some downside, the thesis for this article is that WMT will continue its uptrend in 2016 and beyond.

As most of us already know, WMT is one of the biggest retailers in the world with a market capitalization of approximately $210 Billion. Amazon (NASDAQ:AMZN) currently has a market capitalization of approximately $230 Billion and is predominately an online retailer, whereas WMT has always been a bricks and mortar company now moving into the online channel. As many people already know the basics of this widely covered company, I will not go over them. Instead, I will go over a few specifics which may be catalysts to the upside.
Although year 2015 was clearly not a great year for WMT's stock performance, it allowed the company to address a few things. First, the company announced store renovations and large capital expenditure spending. Second and most recently, Wal-Mart has announced the closure of several of its smaller stores, reducing its smaller operations while focusing on the bigger stores with better economies of scale. A move that may add to the short term pain, but will allow better long term results in the years to come.
While this was happening in the latter half of 2015 and early 2016, the stock price was punished, reaching a low of $56.30 and yielding (at that time) 3.48% - better than a 10 year "A" rated bond. Given the yield and long term solvency, including the ability to pay dividends, the income coming from WMT is in my view absolutely rock solid for any income investor. Similar to Coca Cola (NYSE:KO) or a Kellog (NYSE:K), the buyers of the stock may be buying because of the low volatility and sustainable dividend yield, potentially not expecting much growth - effectively, it is an income play. This assumption may not be correct, but let's not jump ahead. Below, you will find on a yearly basis the low and high prices for each year as well as its given yield and payout ratios.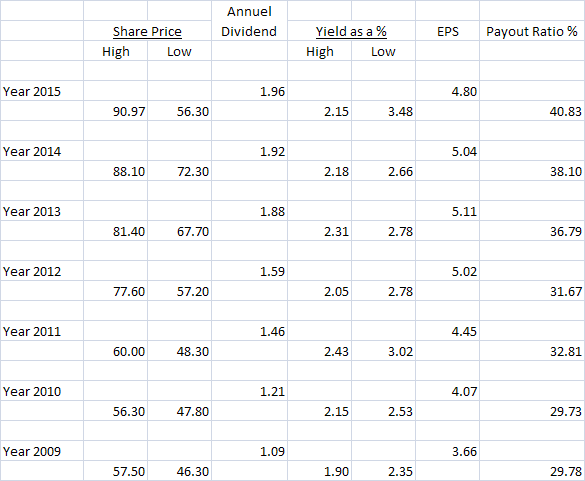 Wal-Mart's payout ratio has increased to 40% and may remain steady for the next 2 years, given the increase in capital expenditures that are currently planned. WMT however, retaining 60% of its earnings has been successful in maintaining a great balance sheet and steady ROE, between 20% and 25% in the past 4 years. The Financial Leverage Ratio has remained steady or declined slightly in the past 4-5 years, leaving WMT room to buy back shares in an accelerated manner should they so choose. The financial leverage ratio is Average Total Assets / Average Shareholders Equity, meaning a higher number is more leveraged. The numbers from 2011 to 2015 (estimated for 2015) are as follows:
2011: 2.52
2012: 2.69
2013: 2.67
2014: 2.59
2015: 2.54
A share buyback would allow a higher financial leverage ratio and increased ROE. As the company has announced it would retire shares in the coming months (and has in the past), it is part of the investment thesis that this will be executed. The shares outstanding have decreased every single year since at least 2005 (I did not go back beyond 10 years). In 2005, shares outstanding were 4,165 million and are as of the end of the third quarter 2015, 3,210 million. This is a decline of 23% of the float since 2005. Further, this represents many less shares that WMT has to pay dividends towards, allowing the snowball effect to further more buybacks.
The last key component to be looked at is the opening up of the online sales channel. Although the fear is the cannibalization of the existing in store sales, (something to be expected) it is nothing to fear. By allowing customers to buy online and have items shipped to them or picked up in the parking lot, there may be less foot traffic in the stores, leading to less impulse purchases. Those visiting the stores however will have a better shopping experience and hopefully buy more. The real opportunity however lies in new clients going to Wal-Mart online and discovering the bargains for the first time.
Currently in North America, a higher percentage of the population resides in cities where Wal-Mart stores are not able to be conveniently located due to their sizes and the high cost of rent. This is a more affluent consumer which may value the online shopping convenience much more than going to a store and waiting in line. The potential for Wal-Mart to now sell online and deliver directly to the customer is huge. The online shopping will open Wal-Mart up to a whole new type of consumer located in major urban centers, which was never before possible. Although the margins online are smaller than in store, this is a move which will increase sales significantly more than what is needed in terms of capital spending and the infrastructure to support it. The infrastructure is already there for the store network and is adapted at a lesser cost to the online distribution. The will lead to growth in revenues and earnings for WMT.
Below you will find the low and high prices for WMT on an annual basis and the earnings per share. This will show the range of P/E multiples for WMT at any given time. The 2015 EPS amount of 4.80 is an estimate as 4th quarter profit has yet to be reported. Given the share buyback and normalized earnings, I believe it is likely WMT will produce normalized earnings of $5 per share (excluding the large investment in CAPEX) in 2016, and given the range of multiples, P/E could stretch to 16x earnings. This gets us to a stock price of $80 per share or a 22% upside in addition to the dividends.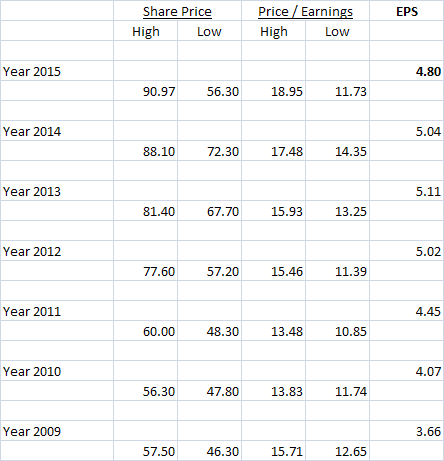 Conclusion
Although there may be headwinds for the long case in WMT, I believe this investment could produce all in annual returns of 20% or more in the coming 3 years. Having bought at a price just under $65 myself, I feel fantastic about this rock solid long term investment.
As always, your comments are appreciated.
Disclosure: I am/we are long WMT.
I wrote this article myself, and it expresses my own opinions. I am not receiving compensation for it (other than from Seeking Alpha). I have no business relationship with any company whose stock is mentioned in this article.