Hello everyone, I hope you have had a profitable start to 2016. If you have, then you are definitely in the minority given the market action. But, when there's blood in the streets, volatility traders can do very well.
We have previously discussed how shorting volatility during the highest percentile events can offer the best probability of success over the proceeding periods of time. You can read that article here.
Current Situation
For the basis of discussion we will use one of my favorite volatility vehicles, the ProShares Ultra VIX Short-Term Futures ETF (NYSEARCA:UVXY). For more information on how UVXY performs, please check out The Beginners Guide to Volatility. UVXY is a two times leverage version of its non-leveraged counterparts which in the short volatility world offers more decay.
Typically the decay of contango will sink UVXY giving traders very little time to hold the investment while betting on gains in volatility. However, recently we have seen a sea change towards backwardation. Backwardation will support and aid UVXY over time. See the chart below: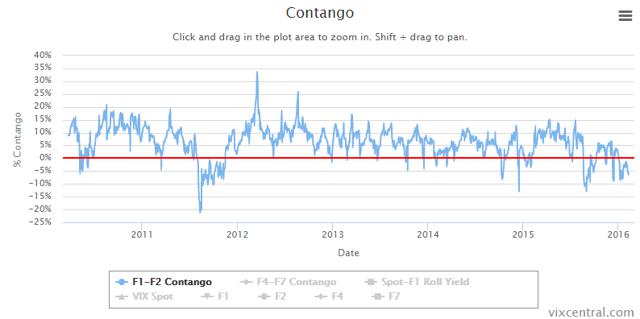 In the latter part of 2015 and into the beginning of this year, backwardation has presented itself much more often than in years past.
If you would have purchased UVXY back in November 2015, you would be up roughly 126%. From backtesting, I have calculated that UVXY would have risen 199% in 2011 and 1079% in 2008. You can review those results here.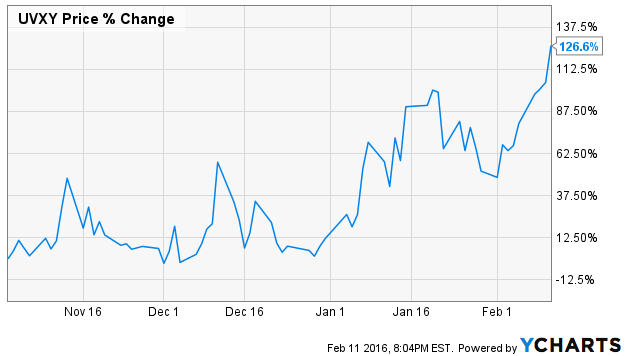 Compared to 2011
I want to compare what we are currently experiencing to what happened in 2011 in terms of market conditions and volatility. To me, it feels like 2011. We aren't actually in a confirmed recession, yet there is fear and panic about a potential recession. Let's start with market conditions.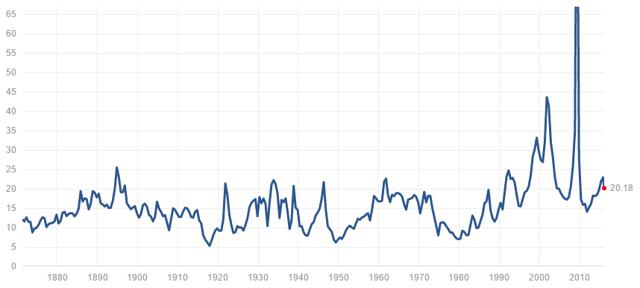 Chart obtained from multpl.cpm and the 20.18 P/E ratio for the S&P 500 is as of 2/11/2016.
In 2011, stocks were cheaper. We remain in a short-term (last few decades) acceptable price to earnings ratio for the S&P 500 but remain well above the 2011 mark. This is a personal concern for me when thinking about shorting volatility. I would prefer stocks to be a little bit cheaper. Just remember that no matter where the market is, there will always be that one person who claims its going to fall another 100 points. Keep value and earnings potential in context.
Below you can see the current volatility picture and market situation in two different views.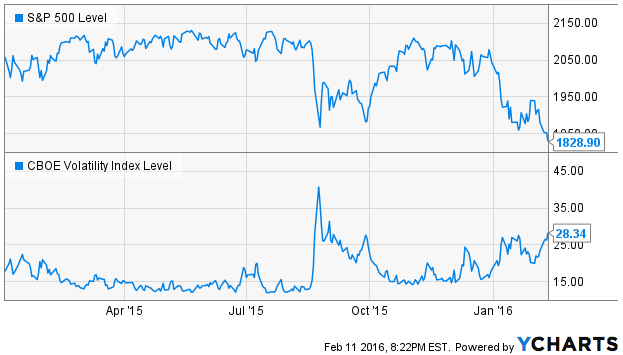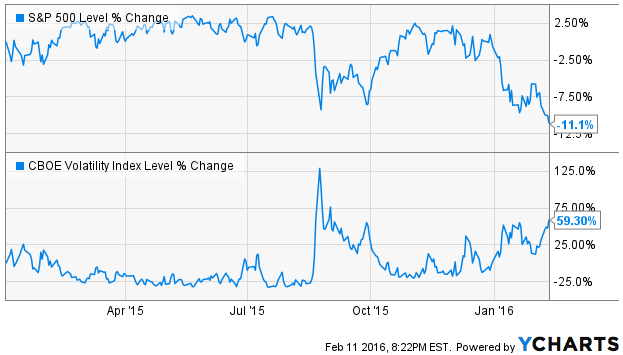 Below you can see the same two views with the 2011 market conditions: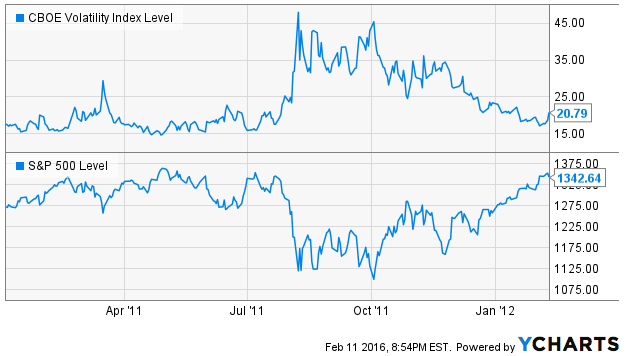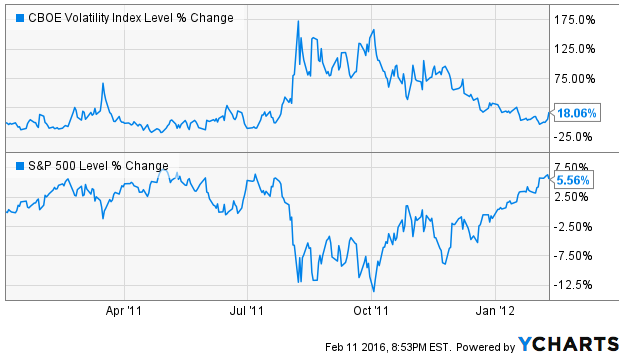 In percentage terms, the correction in 2011 was larger than current market conditions. This is why we have a backtested gain of 199% for UVXY in 2011 and are currently sitting at a 126% gain here. Also in 2011 you will notice the high low swings in volatility that would have provided many opportunities to short volatility, exit a position, and then repeat. These large swings weigh on both pro and invest volatility ETFs.
Analysis
Here is what I currently see. The market is continuing to face global headwinds. The oil effect has had a profound impact on current conditions but it isn't the only story. We have previously discussed that the full context of volatility events is essential especially if you are initiating a short position. You can view that article through my author page here on Seeking Alpha.
We discussed months ago that this market event was economic in nature. Economic events drag on over longer periods of time and do not have immediate resolutions resulting in a swift pullback in volatility.
I have stated from the beginning that your eye should remain on the U.S. employment numbers. Those numbers continue to remain positive which shows underlying strength in the economy. I found earnings calls over the last several weeks concerning because many executive teams spoke about cost cuts that involved layoffs. Those layoffs have not begun to have any impact on weekly jobless claims but they could in the coming months.
Scenarios
I wanted to discuss the only three possible scenarios over the next few months. Either the market takes another leg down due to worsening employment, the market finds it footing and remains unchanged, or the market rebounds thanks to a cut in oil production and positive economic news. I believe that in the latter two scenarios, UVXY will fall.
Backwardation
The elephant in the room lately has been backwardation. Backwardation is currently near 8%. With its leverage, that is a 16% (minus standard deviations) gain in UVXY if futures hold the same yield curve over the next month. Plus you have expiration coming up next week which could further support UVXY. Many volatility shorts are not currently taking this into proper consideration.
My Thoughts
Before I get the comments about saying the market will go up, down or stay the same let be clear about my record here on Seeking Alpha which I hope by now speaks for itself.
When volatility first began to increase significantly towards the end of December, you had contributors all around the web flooding the airwaves about shorting the VIX. My advice was then and has always been to remain patient and let the opportunity come to you rather than trying to make something happen. Here is a chart of my recent thoughts.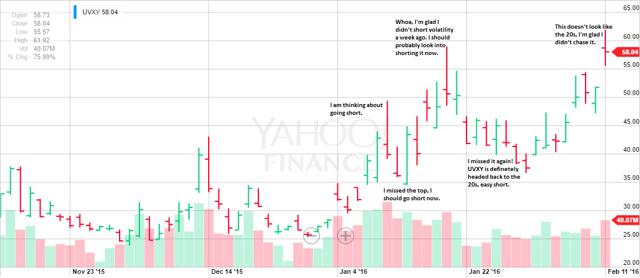 There have been many times over the past few months where I have kicked myself for either not locking in gains when I had the opportunity, or feeling left out of the pull back. But, then I sat back, took a deep breath and followed my own advice. My volatility portfolio is up 2% for the year (the general portfolio is down about 5%). For someone who has only written about shorting volatility, I am proud to only be up 2% given the year we have had so far. There are many situations where I could have made greedy emotional decisions resulting in a large loss of capital.
Do not chase falling knives in this volatility environment. It can and will turn around to stab you back. The volatility event we are currently experiencing is setting up to be a once in 5-10 year event. There will be a very good opportunity to short volatility and make a very good return on your investment. The higher volatility climbs, the better the outcome is going to be on the other side.
But, economic conditions must be monitored in order to correctly time the outcome. We can only go by the data we have right now. That data is mixed with spending weak and employment strong.
My economic eye is on employment, the dollar, and oil.
The entire premise and theory of my volatility investing strategy is to find events that provide high probabilities of success when shorting volatility. I want to be in and out of those trades as quickly as possible which is usually around a month.
If volatility futures were to settle back to around 20, that would equate to UVXY falling to the high 20's. If we see futures push into the mid 30's than we could easily see UVXY in the low 90's.
We have had very little political issues to deal with. This is a red card. Things could be going great with volatility until Russia decides to send a few tanks into a neighboring country and let's not forget about North Korea. Political events are always wildcards but present great opportunities to short volatility, unless it escalates to war. You can read more about political volatility events in my library here on Seeking Alpha.
Conclusion
I believe the comment section of my articles can often trump the content of the actual article. Feel free to add to the discussion below. The last volatility piece is up to almost 500 comments and its genuinely great professional dialogue.
I am going short volatility. It's just a matter of when at this point. I hope I am able to catch the top, if not I will end up missing the opportunity because I'm not going to chase anything here. I look forward to what your plans are and I again urge patience and capital conservation here during these uncertain market conditions.
One final thought! The Chinese market has been closed all week for their holiday. Global markets have hit the sell button all week and there might be some pent up selling once the Chinese market opens. The U.S. market is closed Monday.
If you enjoyed this article, please follow me here on Seeking Alpha for a range of volatility education and news that you can actually use. Thanks for reading!
Disclosure: I/we have no positions in any stocks mentioned, but may initiate a short position in UVXY over the next 72 hours.
I wrote this article myself, and it expresses my own opinions. I am not receiving compensation for it (other than from Seeking Alpha). I have no business relationship with any company whose stock is mentioned in this article.